Transformational Experiences
The global cruise industry continues to amaze with innovative vessels, exotic destinations and groundbreaking technology.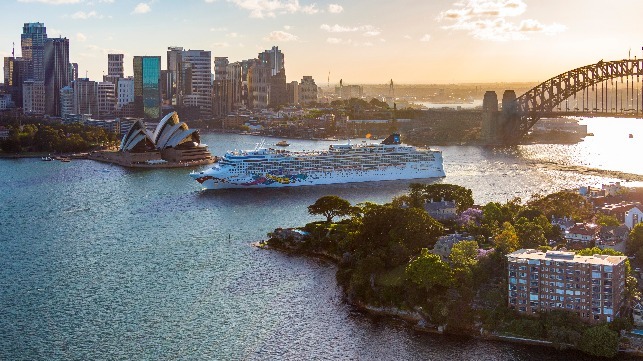 (Article originally published in Jan/Feb 2018 edition.)
Current data shows cruise travel is steadily on the rise with a projected 27.2 million passengers expected to set sail this year. What are they seeking? The Cruise Lines International Association (CLIA) says one of the key demands is the desire for "transformational experiences": "From cultural immersion and voluntourism to extreme adventures, those returning from a cruise will have shift in perspective and a sense of accomplishment. Some upcoming cruise itineraries include the opportunity to indulge in local cuisine, guided tours through small villages and even visits inside private homes. Thrill-seekers can fill bucket lists with chances to swim with sharks in South Africa, ride a Harley Davidson in Alaska or mingle among penguins in the Arctic."
The "New Europe"
Azamara Club Cruises, the upmarket subsidiary of Royal Caribbean Cruises, will immerse its guests in some of "the most photo-worthy experiences" when its new vessel, Azamara Pursuit, debuts in March. The ship will visit 61 destinations including 15 maiden calls – many in South America. Guests can go stargazing in the Atacama Desert of Chile and dine in the oldest inhabited house in all of the Americas, built in 1536 during the Spanish conquest of Peru. The experience will be hosted by a 17th generation family member.
Australian travel company Chimu Adventures says South America is fast becoming the "new Europe" and a more than once-in-a-lifetime destination. There's a top-five bucket list: the Amazon, Iguazu Falls, the Galapagos, Rio de Janeiro and Machu Picchu.
The company says that clients who want to go cruising in South America are generally aged 50+, define themselves as cruisers and are wealthy. They are also well-traveled. When they opt for a South America cruise they have been to the continent at least once before and are returning. Cruisers to South America have usually been on an Antarctica cruise as well.
CLIA cites the desire for cold destinations as a key trend in the industry, but growth elsewhere defies any simplistic view of destination choice. More than 20 luxury cruise ships operated by 17 international cruise lines will call at South African ports, for instance, in the 2017/18 cruise season. South African cruise passenger throughput is anticipated to increase to one million passengers by 2025. A study by management consultants Grant Thornton cites increased demand for new destinations and increased interest in African cruise destinations in particular.
Demand is not limited to the Southern Hemisphere. The Seychelles has become one of the most sought-after destinations in the Indian Ocean, and Abu Dhabi welcomed a record 315,000 cruise passengers in 2017. Cruise tourism in the Arabian Gulf as a whole has experienced explosive growth over the past five years with more ships and more destinations expected this year.
Destination by Design
Celebrity Cruises, another Royal Caribbean brand, is aiming for transformational accommodations on its new vessels, which are designed specifically for their destinations. The line's Celebrity Edge, due to sail the Caribbean in December 2018, features "infinite" verandas that turn guest quarters into a seamless space from the room's door to the water's edge. The touch of a button gives guests open-air access to the sea.
Celebrity CEO Lisa Lutoff-Perlo says: "Design is one of our pillars, and as you look at the ships across our entire fleet, they are designed more like boutique hotels than any other cruise ship that you might see. As we thought about Celebrity Edge, we really wanted to amplify the pillar of design, but we also have destination as another of our pillars. With the introduction of Celebrity Edge and the opportunity to design a new ship, we merged these two pillars. This led to a lot of outward-thinking features on the ship that are quite different from our other ships."
She adds that "The epitome of designing with the destination in mind has been our Magic Carpet, which is something you'll only find on Celebrity Edge. The Magic Carpet can be positioned on Decks 2, 5, 14 and 16, and I don't think you'll get a better view of the ocean or any of the ports that we visit than you'll find on Celebrity Edge."
Last November Celebrity unveiled plans for another vessel, Celebrity Flora, designed specifically for the Galapagos Islands. The 100-guest vessel will offer seamless sea-to-shore transport via the "Marina," the primary point of access to the ship, which can accommodate up to three Zodiacs at once. This will reduce transit time to and from shore and allow more time for guests to explore the islands.
The vessel will feature a floor-to-ceiling, glass-wrapped Observatory. Darwin's Cove and the Naturalist Center will provide information on the destination, wildlife and environmental efforts, and the Discovery Lounge will be home to naturalist presentations and excursion information. Guests can participate in a guided astronomy tour or enjoy starlit skies on their own from the Stargazing Platform. The vessel is due for delivery in 2019.
New Capacity, New Markets
In what can only be described as wishful thinking in other shipping segments, the demand for cruises tends to increase in defiance of economic cycles, says cruise consultancy G. P. Wild, and the continuing acceleration of growth in the cruise segment's orderbook shows that confidence remains strong. The influx of new capacity continued at a high level during 2017 with 10 ships added to the global fleet. Over the nine years from 2017 to 2025, new capacity will total 88 ships and 245,000 berths. This equates to an annual average of 10 ships and 27,000 berths, peaking at nearly 41,000 in 2020.
Along with growing capacity are growing source markets, particularly China and Australia. However, G. P. Wild says that a number of other markets, including India, currently have very low market penetration and a clear potential to play a larger role in the future. CLIA data indicate that the number of Indians cruising increased by 144 percent between 2012 and 2016. However, the number traveling in 2016 – 121,000 – represents a market penetration of just 0.013 percent of the adult Indian population, or barely one in 10,000.
While cruise lines have yet to tailor their vessels to this emerging market, they are clearly targeting Australasia. Norwegian Cruise Line debuted Norwegian Jewel in Australia last year. The vessel has been designed to appeal to the relaxed Australian attitude with no set dining times, no formal dress codes, plenty of entertainment, and accommodation options to suit all budgets.
Senior Vice President Steve Odell says the line's recent arrival in Australia reflects a long-term focus on the Australasia region that includes China as well. "Norwegian Cruise Line also launched Norwegian Joy, our first purpose-built ship for China in mid-2017. This was significant as it marked our official entry into the Chinese cruise market. Norwegian Joy features an innovative design with amenities tailored to provide a 'First Class at Sea' experience for Chinese guests."
He notes Alaska as another key growth area. "Despite Alaska's being traditionally seen as a cruising destination for senior travelers, our newbuild Norwegian Bliss caters to all ages and makes multigenerational voyages an appealing option for families keen to enjoy an exciting, once-in-a-lifetime holiday together."
Sharing Experiences
Where would transformational experiences be without the ability to record them and share them with friends? CLIA cites another key trend for 2018: a rise in traveler-friendly onboard technologies. Several cruise lines are introducing wearable technology for cruise guests that provides a personalized and seamless experience while on board. Ranging from keychains to bracelets to necklaces and more, wearable technology on cruises interacts with sensors on the ship to do everything from turning on the lights on as a passenger approaches her cabin to acting as a security agent.
In December, Norwegian announced the introduction of the next generation of its booked guest mobile application, the "Cruise Norwegian" app, designed to be the ideal travel companion from day of booking to day of disembarkation. Among the benefits, Norwegian says, are that friends and family can stay connected on board, groups can organize meet-ups and share their favorite photos with everyone in their party, and those wishing to check-in with loved ones back home can make calls to nearly every country in the world.
The satellite communications industry is keeping pace as well. Marlink, a major provider, said it supplied more than half a gigabit per second of throughput last December on its global Sealink VSAT network for MSC Cruises' new ship MSC Seaside. The vessel is the fourteenth in the Swiss-based company's fleet and the second new ship to come into service over the past year, the first being MSC Meraviglia, which enjoyed a then-record-breaking 300 Mbps service on her maiden voyage in July.
Marlink provides connectivity for MSC Cruises' entire fleet in an optimized, dedicated "cloud of bandwidth" on its continuously expanding Sealink network of 25 satellites and 32 overlapping beams. Tore Morten Olsen, President Maritime for Marlink, says, "The cruise industry will soon expect throughput in gigabits and not megabits, which is why we are pushing the borders of what the current technology can offer our cruise customers."
And so the race for innovative new vessels, exotic destinations and groundbreaking technologies continues to be, well, transformational. – MarEx
Wendy Laursen is the magazine's Asia-Pacific Editor.
The opinions expressed herein are the author's and not necessarily those of The Maritime Executive.