The Pulse of Global Trade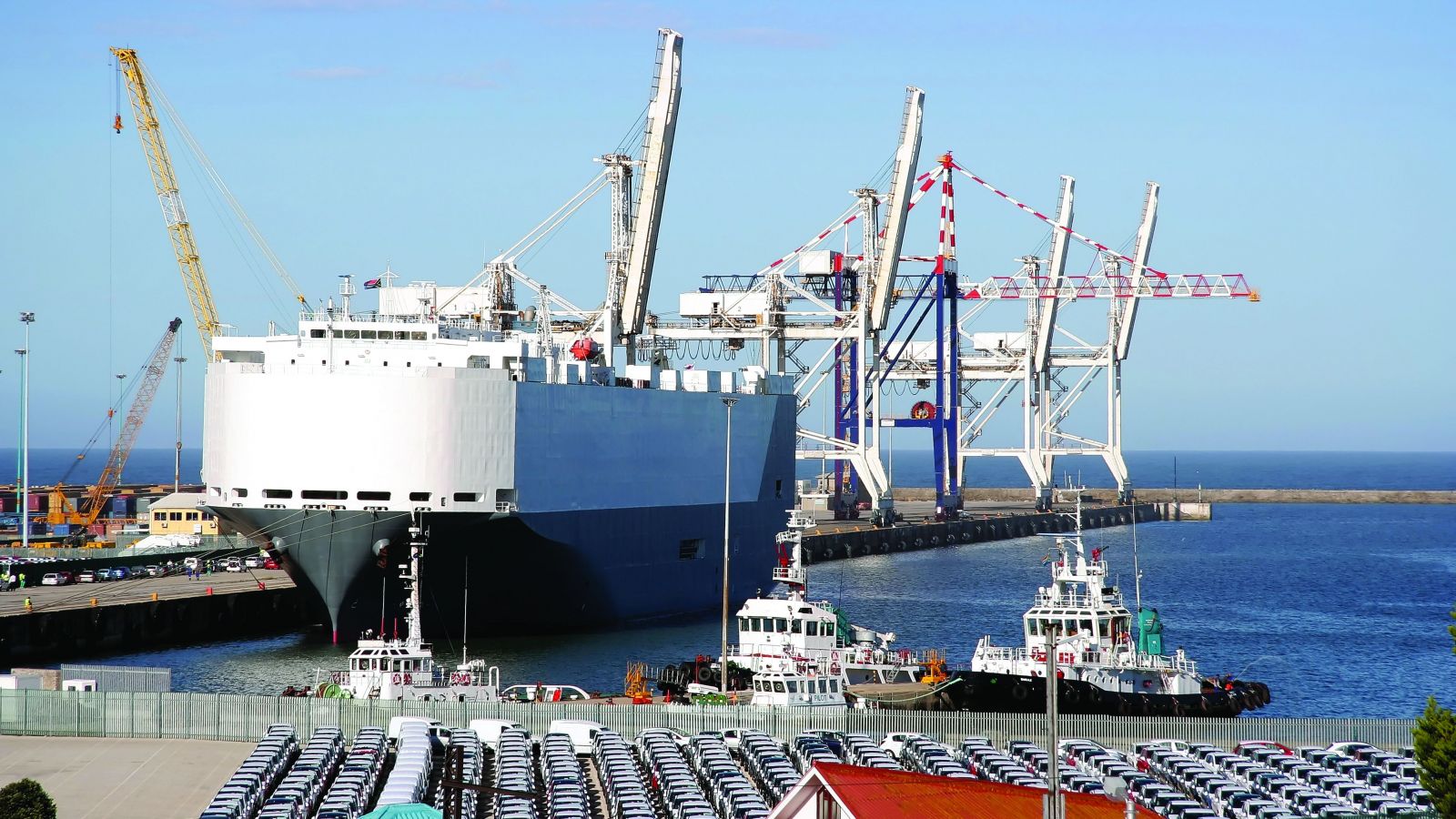 (Article originally published in May/June 2015 edition.)
The roll-on roll-off sector shows the economy is strong.
Fitbit is the latest craze in so-called "activity trackers," wearable devices that monitor everything from the number of steps you take in a day to the amount of calories you burn to how restless you are when you sleep.
Ro-Ro is to the world economy what Fitbit is to personal health. The pulse of Ro-Ro shipping says much about the condition of the global marketplace. And seven years after the economy's collapse, the Ro-Ro diagnosis is that the economy is healing and goods are moving across the oceans at an accelerating pace.
"For the Ro-Ro shipowner I think the future is very bright," says Rick Powers at the Maryland Port Administration in Baltimore. Adds Kristin Decas at California's Port Hueneme: "We've seen significant growth over the last three years and our overall Ro-Ro portfolio is at an all-time high."
Ro-Ro Rising
Port administrators, shipowners and terminal operators in the U.S. and Europe say they are witnessing a resurgence in business not seen since 2006. For the record, Ro-Ro is cargo that can be rolled on and rolled off vessels rather than shipped in containers or bulk. Automobiles, tractors, construction and farm equipment, and even giant generators and turbines loaded onto trailers are rolled on and off ships.
"The Ro-Ro industry has rebounded strongly since the recession of 2008 and 2009," states Bill Jakubsen of the Georgia Ports Authority, particularly when it comes to automobile makers or, in the parlance, Original Equipment Manufacturers. "OEMs worldwide are making vehicles at record levels. With the average age of a vehicle around 10 to 11 years, the Ro-Ro sector will continue to be strong for the foreseeable future."
According to Port Hueneme's Decas, "We're up 66 percent so far this year on high-and-heavy equipment including tractors and farm equipment. It's a huge jump, and I think it's an anomaly. But certainly we're very pleased with the throughput numbers. And for the last three years the port's automobile Ro-Ro business is up as well."
Port Hueneme cannot accommodate the mega-container ships handled by nearby ports like Long Beach and Los Angeles. It's located between the L.A. basin and Santa Barbara, and its largest car carriers are about 800 feet in length and cannot draft more than 35 feet and typically transport 2,500 to 4,000 vehicles. The port's overall traffic is up about nine percent over last year.
"Some of that is related to our port being less congested," says Decas. "With the massive congestion of the large ports in the L.A. basin, our port has become a strategic alternative for both perishables and heavy equipment."
Imports Rule
For the U.S., the trade winds are decidedly in one direction – onshore. Imports far outweigh exports.
Brian Hogan oversees Ro-Ro operations for Ports America, a stevedoring company in forty-one ports throughout the U.S. Last year the company handled 2.3 million automobiles and 226,000 tons of heavy equipment. Much of that came through its terminals in Jacksonville, Florida and Brunswick, Georgia. Imports accounted for approximately 65 percent of that traffic versus 35 percent for exports. Hogan blames the lopsided numbers on America's economy, which is still robust relative to the rest of the world.
"The dollar is extremely strong," he says. "Consequently, exports take a hit. Construction in the Middle East, for example, has not gone down dramatically. So we're sure they are purchasing from the European and Koreans."
Bob Wellman of ACL, which operates Ro-Ro vessels along the East Coast, Canada and Europe, agrees: "A stronger dollar makes foreign products cheaper in the States, and our vessels are loaded with imports. But exports have been challenging."
Baltimore is the largest U.S. port for Ro-Ro. Last year it handled about 800,000 automobiles and was the leading harbor for heavy equipment tonnage, mainly imports. Maryland Port Administration's Rick Powers points to China as a major factor in the trade imbalance.
"Everything was set up to feed China," he notes. "But China has pulled back significantly, so all the big mining programs down in Brazil with iron ore, in Australia with coal and iron ore, Chile with copper ore, all that stuff has really pulled back." That has blunted demand for mining, construction and other heavy equipment manufactured by American companies like John Deere and Caterpillar.
Changing Direction
Meanwhile, Japanese and German automakers have been importing comparatively fewer vehicles to the U.S. In fact, they are exporting more because of plants built in southern states like Alabama, Georgia, North and South Carolina. Ro-Ro carriers that once began voyages in Europe or Japan are now exporting vehicles made in America. BMW and Mercedes are exporting 4x4s built exclusively in their U.S. plants. Japanese car makers are doing the same.
"The idea initially for Japanese car producers with U.S. plants was to make cars for the U.S. market only," says Powers. "They weren't here to export. Over time that has changed, so now you are seeing all the big Japanese automakers exporting automobiles out of the U.S."
Whether products are being shipped in or out, the bottom line is Ro-Ro traffic is growing. Twenty years ago the Port of Galveston's Ro-Ro business was miniscule. Wallenius Wilhelmsen Logistics (WWL) was the only shipper calling there. Growth since then has been exponential, says Captain John Peterlin III, Galveston's Senior Director of Marketing and Administration: "We've grown since 1995 when we had just Wallenius with two Ro-Ro calls per month to approximately 20 Ro-Ro calls a month. WWL still accounts for the vast majority of traffic, but we now have five primarily Ro-Ro carriers that call on Galveston regularly."
Until now, most of Galveston's Ro-Ro business has been agricultural and construction equipment. The port's only automobile trade was in used American cars shipped by Höegh Autoliners to West Africa and the Middle East. In April, ground was broken on a new Vehicle Processing Center at the WWL terminal. Next year 30-35,000 new BMWs are expected to be off-loaded at the site. "We look to Ro-Ro to be one of our key growth sectors," states Peterlin.
Capacity Issues
As traffic burgeons, technology is sprinting to keep pace. With ports, channels and the Panama Canal expanding to handle monster vessels, Ro-Ros are getting bigger. Car carrier capacity has grown from 5-6,000 vehicles to more than 8,000. They are also more fuel-efficient and greener, in large part due to stringent new international rules on sulfur emissions in Europe and North America.
Size is a critical issue for carriers like ACL, which also operates ConRo vessels that carry not only Ro-Ro cargo but containers as well. The company is building five new ships. "The ships we're operating now are about 30 years old," said ACL's Wellman. "So they were built to fit world trade 30 years ago. World trade keeps growing."
While the company's vessels visit many of the world's larger ports, they also navigate harbors and canals that still cannot accommodate ships longer or wider or with a deeper draft than its current fleet. The challenge was to increase cargo capacity without increasing the size of the ships. "We were able to come up with a footprint that's about the same size as it is today," Wellman explains, "but with much greater carrying capacity – 35 percent more carrying capacity."
Different Kind of Business
Ro-Ro is a niche business largely immune from the competitive pressures of larger sectors like container and drybulk. Baltimore's Powers says a major factor in favor of Ro-Ro owners is that it is much less cutthroat than container shipping: "It's much different than container lines. It's a smaller business with fewer players and is managed differently." Let's hope it stays that way. – MarEx
Joe Collum is an Emmy Award-winning journalist based in South Florida.
The opinions expressed herein are the author's and not necessarily those of The Maritime Executive.