The Automated Terminal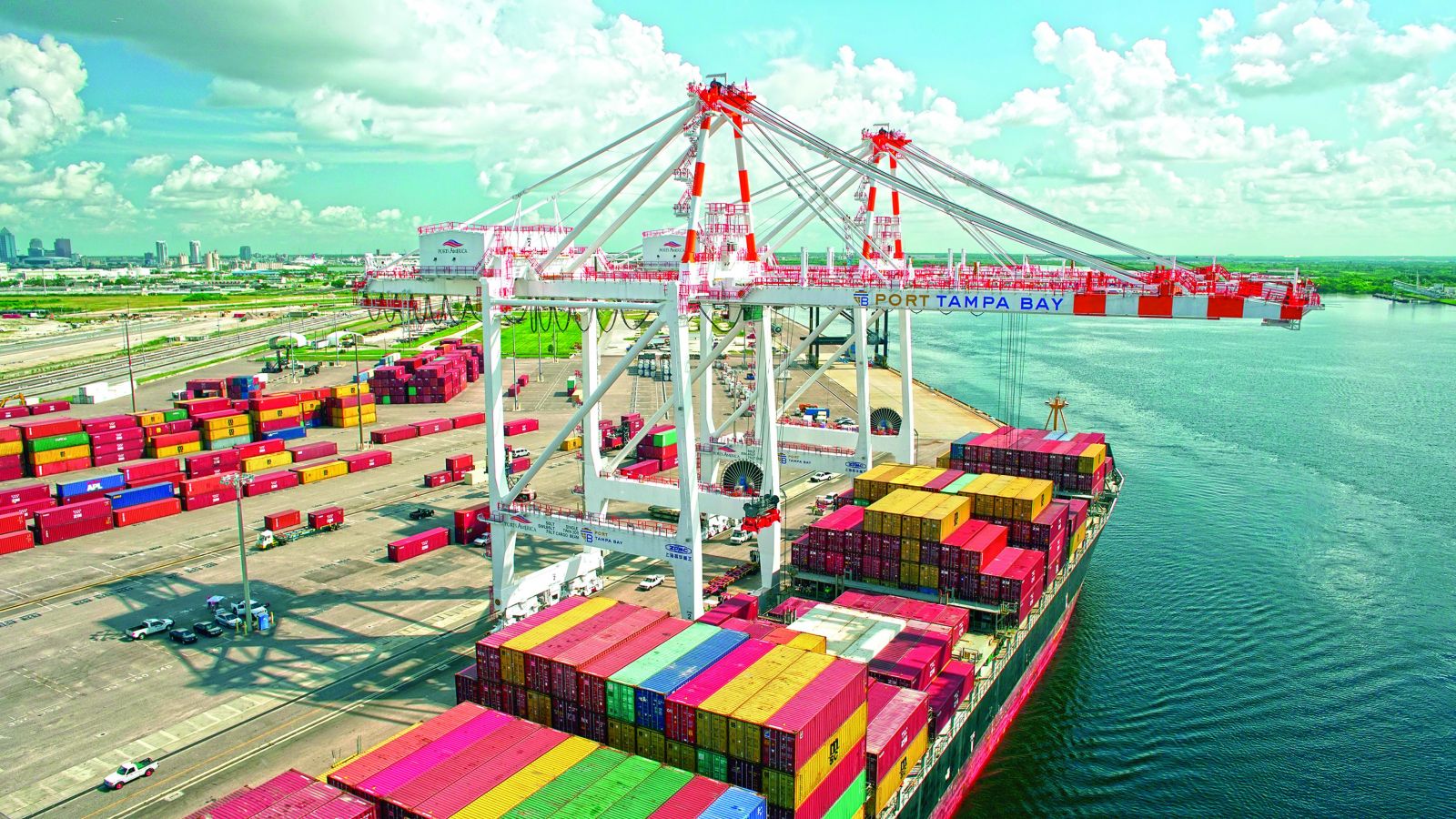 (Article originally published in Sept/Oct 2016 edition.)
Ports like Singapore, Hamburg and Baltimore are leading the way in terminal automation.
By Wendy Laursen
Singapore's Pasir Panjang Terminal's third and fourth phases of development, expected to be operational by the end of 2017, are specifically designed to test innovations such as zero-emission, fully-automated electric yard cranes. Expected to handle 50 million TEUs annually, the terminal is a proving ground for the 65 million-TEU development at Singapore's Tuas Port that will ultimately replace it.
PSA Singapore Terminals is leading the development at Tuas, which will incorporate even more automation, intelligent control systems and sustainable technology than Pasir Panjang. As part of its ongoing efforts to test new technologies, PSA Singapore recently announced investment in 22 new battery-powered, automated guided vehicles (AGVs) for Pasir Panjang, bringing the fleet to 30. Operating 24/7, the vehicles move containers between the quayside and container yard without human drivers.
Stowage Solutions
PSA's parent, PSA International, has already signed up to try XVELA's cloud-based vessel stowage and collaboration platform. XVELA's system provides improved, actionable visibility of stowage-related information and greater connectivity between terminal operators and shipping lines. Terminals will be able to access departure stowage plans as ships leave the previous port, allowing them to allocate resources and resolve potential issues early.
XVELA users have access to thousands of ship configuration files from Interschalt's library of ship files. The open ship file standard across the XVELA and Interschalt platforms allows all stakeholders in the stowage process to work from identical, validated specifications for each ship – improving safety, accuracy and consistency. It also eliminates the time and cost of duplicating ship files across stowage solutions on both the carrier and terminal side and reduces data errors caused by outdated or incorrectly configured files.
Other terminal operators committed to the XVELA trial include Modern Terminals Limited, the second largest terminal operator in Hong Kong; the Port of Tanjung Pelepas, Malaysia's most advanced terminal, located at the confluence of the main east-west shipping lanes; and Hamburger Hafen und Logistik (HHLA), which operates three high-performance terminals in Hamburg and one in Odessa, Ukraine.
"We can work better in all areas if we share available operational information with our partners," says Heinrich Goller, HHLA's Managing Director of Operations. "That's why we make a significant effort at many points to facilitate the transparent exchange of information. As we continue to prepare for ever-larger container ships, improved information-sharing and communication with ocean carriers and other terminals are crucial to successfully managing the increasing complexity of stowage-planning operations."
Hamburg's Vessel Coordination Center, a unique joint venture between HHLA and Eurogate Container Terminal Hamburg, represents yet another technology development for the port. The center coordinates the arrival and departure of mega-ships, feeder ships and inland vessels and features new coordination software that makes workflows as paperless as possible. In the future, the software will enable the center to interlink at a system level with business partners, terminals, shipping companies and other service providers in the port.
HHLA's Goller is also Managing Director of the center and says it acts as a central point of coordination for ship calls at the port: "Our core activity is to pool information and propose solutions so that ships can be handled efficiently. The introduction of coordination software will enable our staff to concentrate much more on their key tasks, as they will be relieved of repetitive manual processes."
Goller adds that "the standardized software will also allow us to interact much more closely with our partners, such as the Vessel Traffic Service Center. In doing so, we are taking another step towards further enhancing the performance of the Port of Hamburg through transparency and cooperation."
"Second Adopters"
While others around the world have been willing to lead with new technologies, some U.S. terminal operators and ports have gone on record saying they want to be "second adopters" as a matter of prudence. For them, the strategy makes sense given the significant softening in growth rates, the higher opex and capex associated with handling larger ships, and struggling carriers trying to push terminal-handling charges down.
APM Terminals led the development of the first semi-automated yard in the U.S. at Norfolk, Virginia in 2010 with the adoption of rail-mounted gantry cranes in conjunction with manual systems for container pickup and delivery. After that, TraPac Los Angeles completed an automation project in 2015 that uses AGVs to move containers.
The Port of Baltimore was recognized last year in an independent study in the Journal of Commerce as being the most efficient container port in the U.S. with the fastest rate of container moves – 75 per hour per berth. Truck turn times are also very efficient, averaging 30 minutes for a single move and under 60 minutes for a double move.
The port has state-of-the-art cranes and uses automation throughout its terminals. New Neo-Panamax cranes were installed in 2013, and Baltimore is one of only a few U.S. East Coast ports capable of accommodating the world's largest container ships.
Port Tampa Bay commissioned its two new post-Panamax container gantry cranes in July. Manufactured, delivered and installed by ZPMC of Shanghai, the new cranes allow the port to handle ships of up to 9,000 TEUs. Representing a capital investment of $24 million shared by Port Tampa Bay, the State of Florida and Ports America, the new cranes are part of the port's ongoing efforts to expand and diversify its cargo business, in particular the large and growing market for containerized cargo in the port's backyard – the Tampa Bay/Orlando I-4 Corridor region. Concurrent with the delivery of the new cranes, Ports America recently introduced its new proprietary state-of- the-art terminal operating system, M21, at Port Tampa Bay. The new system enables world-class productivity in terminal, yard and gate operations with real-time information for customers.
Together with terminal operator partner Ports America, Port Tampa Bay plans to quadruple terminal capacity from the current 40 acres (16 hectares) to 160 acres (64 hectares) and expand deepwater berth length from 2,800 feet (855 meters) to 4,000 feet (1,160 meters).
At Port Newark Container Terminal (PNCT), Ports America will invest $500 million before 2030 to double the number of containers moving through the terminal. PNCT has already doubled its on-dock rail capacity, purchased three super-post-Panamax ship-to-shore cranes and undertaken other upgrades to cement its readiness for ultra-large container vessels.
Last year, Terex Port Solutions installed 20 new Terex straddle carriers at PNCT, increasing the total number of Terex machines to 118. The new carriers feature eco-friendly diesel-electric drives and winter packages for enhanced operation even in extremely cold temperatures. Further expansion plans at PNCT include an improved gate facility, additional deep berths and more super-post-Panamax cranes.
Regulation as well as efficiency is driving the adoption of new technologies in California. OOCL installed tens of Terex Gottwald battery-driven AGVs at its Long Beach terminal several years ago. They meet zero-emission standards and were the first machines of their type in the U.S.
More recently, air quality rules from the California Air Resources Board are restricting the use of reefer container diesel gensets to the newest Tier IV models. As California is home to the port complex of Los Angeles and Long Beach and is a huge agricultural producer in its own right, it attracts a lot of reefer traffic. Sending an older genset into California now carries the risk of stiff fines, and ocean carriers are putting telematics devices onto their gensets to monitor and ensure compliance.
The Digital Port of the Future
Michael Dempsey, Vice President of Container & Port Solutions at ORBCOMM, a U.S. company that offers machine-to-machine (M2M) communications solutions, says M2M telemetry and the Internet of things (IoT) will lead to greater efficiencies in logistics networks and infrastructure.
"Live data as provided by M2M and IoT applications is increasingly seen as a prerequisite for the digital port of the future," he says. "Data generated from M2M and IoT applications can be shared, used and analyzed in new ways among multiple stakeholders in the port community. We will undoubtedly see many more examples of connectivity in the future ranging from telematics on trucks, trailers, chasses, gensets and containers to devices on cranes and other handling equipment."
He adds that "intelligent equipment" is the current mantra of global container terminal operators such as APM Terminals, who are all looking at how they can use new M2M and sensor technologies to get better insight into the location, status, performance and safety of their assets.
One interesting development is the use of trip-based security telematics to track shipments of bonded cargoes from the time they arrive at a port terminal to the point where the cargo is finally discharged and becomes liable for customs duty payments. This can also be after transport inland via a designated corridor or to a nearby free trade zone.
Intel, the computer chip maker that's now heavily involved in smart and autonomous vehicles, says the future is "sensors on everything" with a ratio of 10 sensors to every one device emerging as the "new normal." – MarEx
The opinions expressed herein are the author's and not necessarily those of The Maritime Executive.