Southern Points of Entry
AMERICA'S BREAKBULK PORTS ARE THRIVING.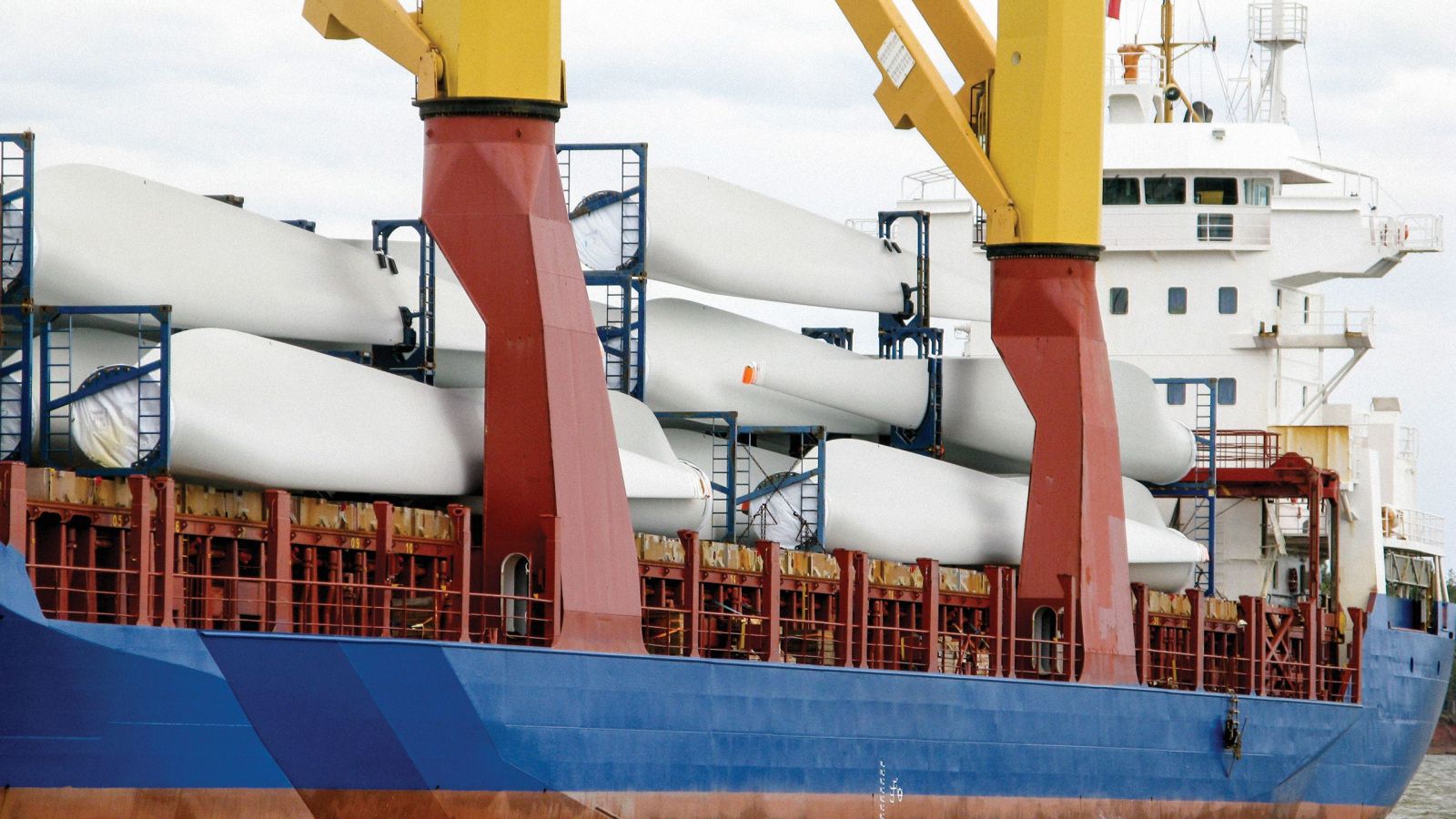 (Article originally published in Sept/Oct 2017 edition.)
For centuries prior to the advent of the intermodal container, the unloading process known as "breaking bulk," or extracting a portion of the cargo of a vessel, was the norm. Whether it be boxes, crates, drums, barrels, pallets, skids or wind farm equipment, these bulk items are transferred from ship to ground to market at a "break-in-bulk point." And although containers are now ubiquitous, the dry bulk trade totaled 4.9 billion tons in 2016, according to Clarkson's, or 44 percent of the world's seaborne trade.
As the world's largest economy, the U.S. is no stranger to breakbulk, so let's take a closer look at three of America's more important southern ports of call and how they handle the breakbulk trade.
Perhaps not coincidentally, these ports are located in three of the four largest state economies.
GATEWAY TO THE AMERICAS
In Florida, America's fourth-largest economy, the nonprofit Florida Ports Council (FlaPorts) serves as the professional association for Florida's fifteen public seaports. President and CEO Doug Wheeler says that FlaPorts, the "Gateway to the Americas," can handle any type of cargo, supports 900,000 jobs and generates more than $4.2 billion in annual tax revenue.
Over the last five years, the total economic impact of Florida's seaports increased from $101.9 billion to $117.6 billion, or 13 percent of Florida's GDP, and total jobs supported grew to 217,664. Every $1 of state investment yields nearly $7 in state and local tax revenues, a statistic that has prompted the state to dedicate an additional $2.8 billion for capital improvement projects over the next five years.
Wheeler says recent investments have made Florida's ports unrecognizable from what they were 15 or 20 years ago. Many have warehouse facilities and infrastructure capabilities that allow cargo to reach anywhere in the eastern U.S. in just four days. Tunnels, bridges and expressways allow trucks to bypass urban traffic. "In many cases, a truck can go from Florida to New Jersey without stopping at a single red light," he boasts. "On-site manufacturing, storage space for large bulk commodities, extensive berths with modern cargo terminals and perishable transport are all readily available."
Florida trades with almost every nation and handles 6.6 percent of U.S. global waterborne export trade. Wheeler says its ports export more than they import and have a significant trade surplus, unlike the rest of the country. Some interesting FlaPorts' breakbulk facts:
> The Port of Panama City is the nation's largest copper importer from Chile and other parts of South America;
> The Port of Fernandina is a national leader in wood and paper products within the Caribbean and exports wood pellets to Europe;
> JAXPORT recently facilitated a 70,000-pound statue from China and, for you chocolate lovers, it handles millions of pounds a year, and
> Port Everglades has implemented a Bluetooth metering project for counting trucks in coordination with the Florida Department of Transportation.
"PORT OF EVERYTHING"
Texas is the U.S.'s second largest economy and home to a number of important ports including Houston, Galveston, Corpus Christi and Brownsville. With its diverse cargo mix and built-in efficiencies, Galveston bills itself as the "Port of Everything," and its strategic location on the Gulf of Mexico provides direct access to and from Houston and the rest of America.
Having just marked the ninth anniversary of Hurricane Ike, which caused over $110 million in damage, the port escaped the majority of Hurricane Harvey's wrath. Damage from Harvey caused less than $1 million so far, according to the latest estimates, and the port was able to quickly rebound and relieve cargo congestion headed for Houston.
Senior Director of Marketing & Administration Captain John Peterlin says Galveston's unique value proposition is its geographic and intermodal connectivity. Situated at the mouth of the deepest natural harbor on the Texas coast, Galveston can feed trucking directly onto TX-275 and a dedicated four-lane highway that connects I-45 to the I-10 corridor.
Peterlin further emphasizes the rail connections with both the BNSF and Union Pacific. A subsidiary of the Santa Fe railway was in fact established in Galveston in the latter half of the 19th century with the intent of bypassing Houston traffic. This arrangement helped alleviate railway congestion while promoting greater access, velocity and clearance on the rails for oversized material.
The port has a rich history dating back to the early 19th century when it served as a safe haven and settlement for French pirate and privateer Jean Lafitte. Later the port was developed by the Galveston Wharf Company and purchased by the city in 1940. The purchase made it a Landlord Port, and it's considered a utility operated by the Port Authority through Enterprise Fund Operations and is not tax-supported.
Boasting the first on-dock rail line in the country, the port upgraded its specialized track in 2012 to accommodate the increase in wind energy components and other oversized cargo. Presently it can bring in 60 wind farm tube sections on a ship and send the entirety out on a single train. In addition to being a foreign trade zone (FTZ), the port has expanded and serves as a classification and manifest railyard that improves process efficiency and allows for quick cargo and traffic turnaround. The strategic planning process is ongoing in order to address priorities as they present themselves.
"THE SPECIAL ADVANTAGE"
California is by far the U.S.'s largest state economy, and it naturally boasts numerous big ports. The Port of San Diego is the nation's specialty cargo gateway to the Pacific and the first port of call on the West Coast for cargo vessels coming from Latin America. The port is the fourth largest in California and offers a natural deepwater and uncongested harbor with easy access to nearby interstates (I-5, I-8, I-15, I-805).
As specialists in breakbulk cargo, the Port of San Diego has what it calls "The Special Advantage," meaning on-dock Class I rail service, short and long-term storage, and experts capable of handling projects of any size in various cargo categories. From engines, turbines and propellers to steel, wind farm components, yachts, roll- on/roll-off, lumber, bagged commodities and – most importantly to national happiness – brewery equipment, the port can do it all and is gearing up for a major modernization project.
Its current facilities consist of the Tenth Avenue Marine Terminal and the National City Marine Terminal, and the aggregated 231 acres are scheduled to break ground this fall on the first phase of the upgrade.
Through a U.S. Department of Transportation TIGER grant covering $10 million of the $24 million in Phase 1 costs, the modernization is projected to increase current tonnage-handling by four times – up to 4.6 million metric tons – and support 524 new long- term jobs. Additionally, as one of 17 commercial "strategic ports" designated by the U.S. Department of Defense, the modernization will increase open space and provide greater flexibility for routine and emergency movement of military goods and equipment within a 48-hour notice during times of national emergency.
The enhancements will also enable local shipyards General Dynamics NASSCO and Marine Group Boat Works to shorten their supply chains for major projects. For example, the port recently handled eight shipments, totaling nearly 15,000 metric tons of cargo and valued at $60 million, in support of NASSCO's fulfilling a major contract to build LNG ships.
Marketing & Public Relations Representative Brianne Page ex- plains that the port's ability to specialize and respond to any type and size of project is in large part due to its skilled labor force and strong partnership with the International Longshore and Warehouse Union (ILWU). Partnerships with the union, BNSF and various ocean liner services allow for the expeditious movement of cargo after docking.
Page adds that consolidation and bankruptcies among liner carriers means more terminal space may soon be available in Southern California, and the port's modernization project is designed to benefit by growing its own operations, increasing efficiencies and diversifying its cargo portfolio.
With Bloomberg predicting that seaborne trade will more than double by 2030 – driven by China's expanding economy – ports will continuously require upgrading and expansion to keep pace. As regional competition in the Americas grows, those who position today for tomorrow will undoubtedly endure. MarEx
The opinions expressed herein are the author's and not necessarily those of The Maritime Executive.