Ship to Rail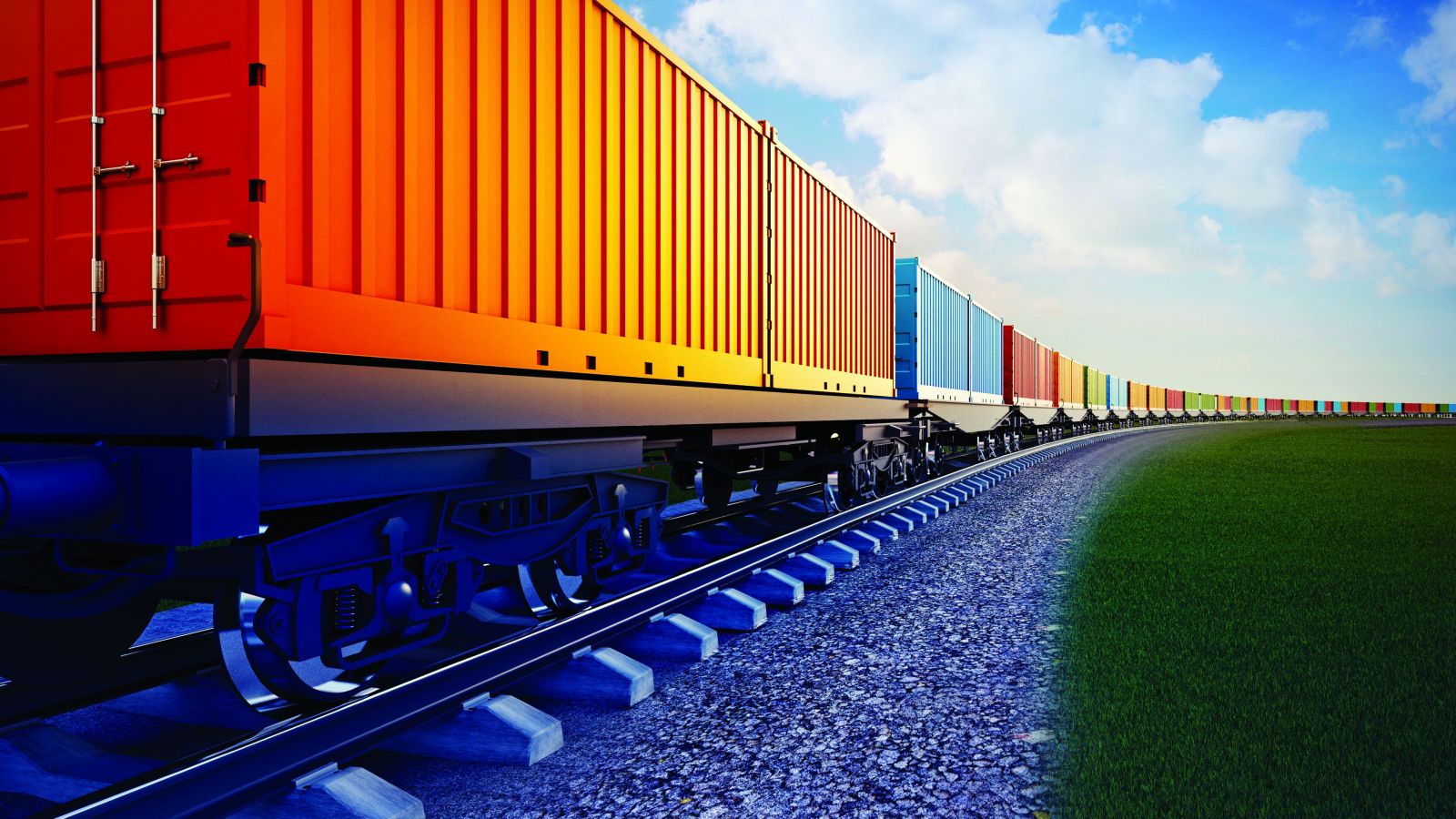 (Article originally published in Nov/Dec 2016 edition.)
New rail connectors are taking trucks off the road and speeding the flow of cargo from U.S. ports.
By Tom Peters
In the first 41 weeks of 2016, the Association of American Railroads reported that 10,610,470 intermodal rail cars moved over U.S. tracks. By the end of this year, according to the Intermodal Association of North America, there will be 60 million intermodal dray moves throughout North America. That's a lot of movement, and most of it involves transfers to and from U.S. ports of containers, bulk, breakbulk and oversized cargo.
Keeping cargo moving in a safe and efficient manner and – at the same time – reducing congestion to a minimum are major objectives in a highly competitive port environment. And they have taken on new urgency with the deployment of ever-bigger ships carrying more and more containers. It's a big challenge that most ports are not shying away from.
"Gateway to the Americas"
Meeting the twin goals of enhanced efficiency and reduced congestion means spending money – lots of it, both private and public – and members of the Florida Ports Council have been doing just that.
"Florida's 15 public seaports serve different markets and accommodate a variety of industries," says Council President & CEO Doug Wheeler. "There isn't a type of cargo our ports can't handle. In order to further our designation as the 'Gateway to the Americas,' billions of dollars were recently invested in Florida ports under the leadership of Governor Rick Scott and the Florida legislature. In addition, more than $3.5 billion has been allocated for future projects to continue to better position Florida as a global hub for trade."
As a result of the new investment, many Florida ports have warehouse facilities and infrastructure capabilities that allow cargo to reach anywhere in the eastern U.S. in just four days. Tunnels, bridges and expressways allow trucks to bypass urban traffic.
"In many cases, a truck can go from Florida to New Jersey without stopping at a single red light," Wheeler boasts. "On-site manufacturing, storage space for large bulk commodities, extensive berths with modern cargo terminals and perishable transport are readily available. By increasing channels to post-Panamax depths at strategic Florida ports, we can accommodate larger ships and more containers."
New Connectors
Florida's not alone in its efforts. The intermodal network at the new North Carolina State Ports Authority has been generating positive vibes as CSX plans to build a $272-million transportation hub, known as the Carolina Connector, in Rocky Mount. Paul Cozza, the Authority's Executive Director, calls the planned CSX hub great for both the port and the state. Cozza says the Port of Wilmington already has ondock rail and when the hub is established there will be direct service from the port to the hub.
"When this gets going we will likely see multiple daily trains going into that hub," he explains, "giving the port ready access to additional destinations. We will be routing up to the Northeast, Southeast and West, as well as getting into the heartland up to Chicago."
A second CSX connector, the Queen City Express, will run from Wilmington to Charlotte. "At the end of the year we will have direct overnight train service going out of here to Charlotte, which is an under-served market," Cozza says.
The Port of New Orleans (Port NOLA) continues to add to its intermodal efficiencies with the $25.1 million Mississippi River Intermodal Terminal, which began operation in March. Made possible by a $16.7 million federal transportation TIGER grant, the 12-acre container transfer facility can move 160,000 twenty-foot-equivalent units (TEUs) per year by rail, speeding the movement of cargo while enhancing safety and reducing carbon emissions.
Port NOLA President & CEO Gary LaGrange says these types of projects "enhance efficiencies, expand capacity and create new, high-paying maritime jobs." Being able to move high cargo volumes quickly and efficiently also helps attract new services to the port, such as CMA CGM's new weekly European service.
Automated Facilities
New Orleans Terminal and Ports America jointly operate the Napoleon Avenue Container Terminal, and both have recently implemented updated and fully automated appointment systems at the terminal's gate house. According to Matt Gresham, Port NOLA's Director of External Affairs, the system requires motor carriers to register by logging into the Web-based application to make an online appointment listing the container's booking or bill-of-lading number. Drivers and dispatchers receive text or email notifications on where and when to proceed.
The Port of Houston, which handles roughly two-thirds of all the container cargo in the US Gulf of Mexico, is investing mega-bucks to maintain its #1 position and keep the cargo flowing smoothly. Bill Hensel, Manager of External Communications, states: "We are investing an estimated $700 million over the next decade at our Barbours Cut Container Terminal to increase efficiency, facilitate larger vessels and double the container-handling capacity of the terminal within its existing footprint. We took delivery last year of four new super post-Panamax wharf cranes for Barbours Cut, and we're investing in wharf and container yard enhancements as well."
Houston's Bayport Container Terminal is also expanding to meet growing demand and attract new business. Billing itself as "the most modern and environmentally sensitive container terminal on the U.S. Gulf," it has ongoing expansion projects and a state-of-the art truck entry gate to streamline truck processing and provide customers with cost-effective and efficient cargo-handling. When fully developed, the terminal will have a total of seven container berths capable of handling 2.3 million TEUs annually on a complex that includes 376 acres of container yard and a 123-acre intermodal facility.
The Port of Jacksonville has completed its new Intermodal Container Transfer Facility (ICTF), which serves the TraPac Container Terminal at Dames Point and the Blount Island Marine Terminal. By providing for the direct transfer of containers between vessels and trains, the new $30-million ICTF speeds up the shipment process and reduces the number of trucks on the road. It promises to be a big boost to cargo movement, especially inbound Asian cargo.
The TraPac Container Terminal features new port infrastructure including roadways, terminal buildings, two 1,200-foot berths and six New Panamax container cranes. Vessels from Tokyo-based MOL and other carriers offer direct containership service between TraPac and ports throughout Asia.
JAXPORT recently took delivery of three new Chinese-built, 100-gauge cranes for the Blount Island Terminal, expected to be in operation by the end of this year. The new cranes are capable of reaching across 22 containers and handling the biggest ships currently calling the port. JAXPORT's long-term plan calls for the purchase of ten 100-gauge cranes for Blount Island over the next decade.
New Business
The Port of San Francisco reignited the flow of cargo over its Pier 80 with the signing of an agreement with Pasha Automotive Services (PAS), reports Maritime Marketing Manager Brendan O'Meara. The 15-year lease with PAS allows the import and export of vehicles by ship with on-terminal automobile preparation and detailing services.
The deal promises to transform Pier 80 from an underutilized asset to a thriving marine terminal, creating new revenue for the port and significant economic and employment benefits for San Francisco. Pasha hopes to increase vehicle numbers to 150,000 annually over the pier. – MarEx
Halifax-based Tom Peters is a frequent contributor to the magazine.
The opinions expressed herein are the author's and not necessarily those of The Maritime Executive.