Playing Catch-Up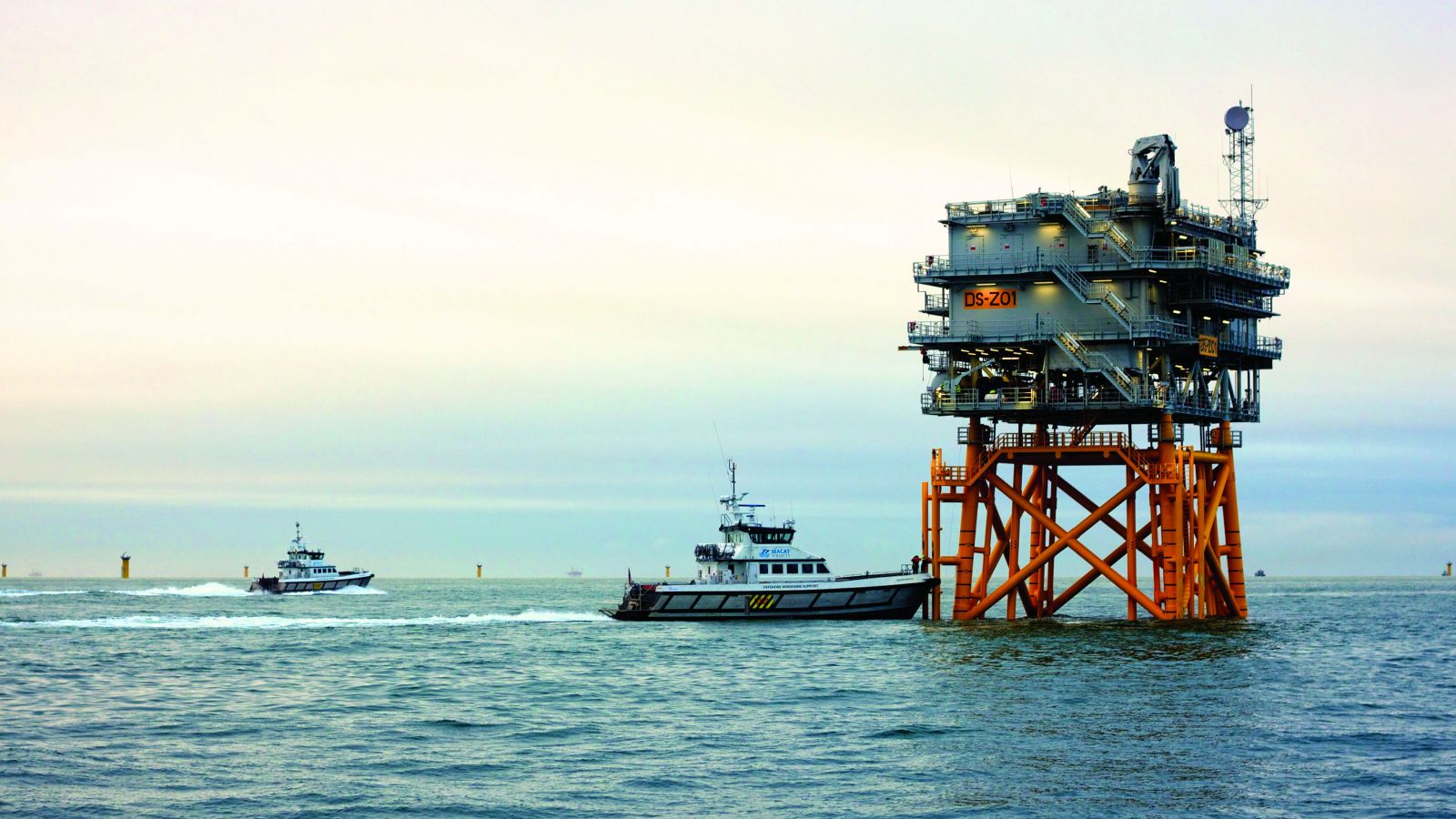 (Article originally published in Nov/Dec 2016 edition.)
The U.S. lags far behind Europe in the development of offshore wind, but Block Island is a start.
By Art Garcia
The first offshore wind farm was installed off the coast of Denmark in 1991. Since then, sixty-four more have been built in European waters, employing 58,000 workers. The U.K., Belgium, Germany and Denmark have taken the lead in harnessing and utilizing offshore wind. Today, 80 percent of Denmark's electricity is supplied by wind power.
With the world's greatest untapped offshore wind resources, the U.S. didn't get into the act until this October, when it began final testing of the giant turbines at its first offshore wind farm, Deepwater Block Island. The turbines will deliver power to the New England electric grid with commercial operations scheduled to begin in November.
Located three miles off the coast of Block Island in Rhode Island, the 30-megawatt Deepwater Block Island Wind Farm is a modest project with five six-megawatt turbines that can power about 17,000 homes with clean energy. Some European wind farms are as large as 300 turbines, each costing as much as $30 million to build, install and connect to a grid.
Nonetheless, the Block Island wind farm "is a landmark project in the U.S. renewables market that may open U.S. offshore wind resources and help launch the American offshore wind industry," says Kevin Walsh, Managing Director and Head of U.S. Renewables at General Electric's Energy Financial Services, one of Deepwater Block Island's financial backers. G.E.'s U.S. Renewables unit is the project's supplier of turbines.
Jonathan Waldron and Joan Bondareff of maritime law firm Blank Rome agree, writing in the firm's newsletter that Wind Block Island "is a giant step forward in the world of offshore wind in the United States. The future bodes well for U.S. shipyards, marine suppliers and labor for future wind projects."
The Push for Renewables
Concerned about climate change, many states are committing to renewable power. New York has a goal of obtaining 50 percent of its power from renewable sources by 2030 and is counting on large offshore wind farms to help reach its objective. A bipartisan bill calls for the state's utilities to come up with contracts with offshore wind farms to receive 50 times the power output of the Block Island facility.
In California, the Bureau of Ocean Management (BOEM) said in May that it would initiate planning with the state to establish an Intergovernmental Renewable Energy Task Force to look at opportunities for offshore energy development. California Governor Jerry Brown had requested formation of the task force in a letter to U.S. Interior Secretary Sally Jewell.
Brown noted that "While offshore renewable energy resources have not yet played a significant role in California's energy system, they present important potential future opportunities. There are significant offshore resources along most of California's coast that complement the profile of onshore solar resources, and new development in offshore wind technology – such as larger facilities that are not visible from land and present little to no adverse avian impacts – will likely make projects more viable." California is the 14th U.S. coastal state to form a renewable energy task force.
According to the National Renewable Energy Laboratory, areas off the West Coast of the U.S. and Hawaii hold "great renewable energy potential." The technical side "represents compelling market opportunity that would assist states in meeting many of their ambitious and critically important renewable energy goals."
Lessons Learned
The global leader in offshore wind is Denmark's DONG Energy, which recently installed its 1,000th offshore turbine. The milestone occurred at the German offshore wind farm Gode Wind 2, which is one of many that DONG fully or partly owns and operates in Denmark, the U.K. and Germany. DONG has installed more than one-fourth of the world's entire offshore wind capacity, and it built that very first windfarm 25 years ago at Vindeby off the Danish coast.
In the next four years it is set to build more offshore wind capacity than it built in the preceding 25 years. Today, every single one of the biggest wind turbines delivers almost twice as much energy as all of Vindeby.
Ian Baylis, Managing Director of Seacat Services, a U.K.-based offshore vessel operator and a leader in the European offshore wind sector, says U.S. companies can benefit from lessons learned in the established European sector: "As the market has evolved, so too has the technology, and today's offshore wind-support vessel is a far more advanced and versatile workboat, capable not only of ferrying technicians safely and at high speed to and from the site but also able to support a diverse range of on-site logistical operations. In this respect, U.S. operators will have a significant head start, able to take advantage of the latest vessel designs from day one."
In particular, he adds, the U.S. can avoid some of the early development challenges faced in Europe. The first offshore wind service vessels essentially were modified fishing boats that soon proved unsuitable for the demands of serving offshore construction sites in deeper waters.
America's first offshore wind project to be proposed and approved, the 468-megawatt Cape Wind project, was slated for construction in federal waters off the coast of Massachusetts in Nantucket Sound. It proposed 130 turbines built overseas by a division of General Electric. But fierce opposition from owners of oceanfront property, a loss of backing from state government, the collapse of financing and a tangle of lawsuits doomed the project. Cape Wind could be revived if new financing can be found, but nothing is on the drawing board at the moment.
Its supporters contended the project would reduce carbon dioxide emissions equivalent to taking 175,000 autos off the roads each year. The U.S. Department of Energy had taken the first steps toward issuing a $150 million loan guarantee to support its construction. Last July, a three-judge panel at the U.S. Court of Appeals for the District of Columbia Circuit threw out two government approvals for Cape Wind.
Despite its failure to launch, Cape Wind indicated that offshore wind "not only will provide a new, clean source of energy for the United States, it will reduce American reliance on fossil fuel, mitigate climate change and jump-start a new U.S. industry that will create thousands of clean energy jobs," stated Massachusetts Governor Deval Patrick.
Running the Gamut
Blank Rome's Waldron and Bondareff note that the Deepwater Wind project off Block Island successfully ran the gamut of regulatory hurdles for installing and supplying wind turbines, including the Jones Act cabotage law that requires the use of U.S.-built vessels where available. So what has the U.S. offshore wind energy business learned over more than two decades?
"They have learned a lot of lessons," says Bondareff. "They've certainly learned to work with companies that have done business in Europe. They're working with European suppliers on turbines and they're learning the smart ways to cut costs." She adds that the U.S. is playing catch-up in producing wind energy because of its abundance of natural gas and the development of fracking: "Europe did not have the same access to natural gas, so it would have to look to Russia for it. Rather than depending on Russia, they looked toward the sea and renewable energy."
The U.S. trails far behind Europe in offshore wind partly because, unlike Europe, it doesn't have a progressive wind policy. "Europe has passed laws that require a certain percentage of energy to come from renewable resources," states Dr. Joan Whitehouse, consultant in ocean planning at the nonprofit Ocean Conservancy. "While we have that for some states in the U.S., we don't really have a comprehensive federal energy policy yet. If we had a carbon fee, it would definitely promote offshore renewable energy projects."
Waldron at Blank Rome is "cheerfully, but cautiously optimistic. Overall, definitely optimistic" about the offshore wind industry's potential, but it's going to take a long time. "It's hard to see some of these projects funded alone," he adds. "Government will have to set tax credits, for one thing. It will take some time, but we're seeing progress." – MarEx
Art Garcia writes from northern California.
The opinions expressed herein are the author's and not necessarily those of The Maritime Executive.