Overland Express
Ports with an onsite rail connector have a big leg up in the competition for containerized freight.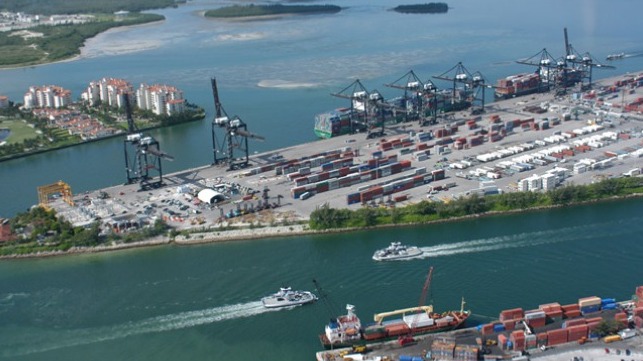 (Article originally published in Nov/Dec 2018 edition.)
Trucking dominates the business of moving boxes to and from container ports and has a big advantage: A truck can go virtually anywhere there's a road. However, its flexibility comes with a price. Truck drayage is the least fuel-efficient method to move a container. Over long distances, it's usually the most expensive. When combined with other modes of transportation in an intermodal network, on the other hand, it can be very cost-effective.
In the most common form of intermodal transport, the shipper uses a stretch of rail travel between the seaborne and truck-borne segments. At the port, the container is loaded onto a rail car and travels most of the distance to the customer's warehouse. Upon arrival at the rail terminal nearest the destination, it's lifted onto a trailer chassis for the "last mile" dray. Intermodal can be cheaper than over-the-road trucking for distances over about 500 miles, giving it the advantage on long-haul routes.
In the U.S., intermodal has taken on special urgency due to changes in the trucking industry itself. American trucking companies today face a trifecta of structural challenges: a driver shortage that's led to staffing problems and rising wages; strictly enforced hours-of-service limits for drivers; and the expansion of e-commerce, which has created soaring demand. Taken together, these factors have led to rising rates for truck transport, giving rail a wider advantage.
Serving Inland Markets
Since it offers cost advantages, an onsite intermodal rail facility makes a seaport more competitive for shipments to inland destinations. Rail can be cost-effective enough to open up markets on the other side of the continent, as the large U.S. West Coast ports well know. Despite the new, all-water route via the Expanded Panama Canal, the West Coast still handles the largest share of America's imported containers, thanks in part to its intermodal connections to the heartland.
The Port of Prince Rupert, British Columbia provides an extreme example of this long-distance model. Prince Rupert is located on the northern stretch of the Inside Passage, and there are few consumers in its own backyard. Virtually all of its imported containers travel by rail to Canada's interior and the U.S. Midwest, thousands of miles away.
The rapidly growing connector is driven by a combination of geography and efficiency. On a Great Circle sailing, Prince Rupert is closer than its competitors to Northeast Asia and benefits from a fast, affordable intermodal service across the Rockies. Shipping through Prince Rupert can shave days (and dollars) off the route from Shanghai to Chicago.
It's a successful strategy. With 26 percent growth in container volumes in 2017, Prince Rupert is the fastest-growing port for trans-Pacific trade in North America and keeps expanding to handle the additional volume. At full buildout, its DP World-operated container terminal will have a capacity of 2.7 million TEUs with plenty of room to expand. On the land side, rail operator CN (Canadian National) is investing billions in track and service improvements to keep traffic flowing through western Canada.
Regional Networks
Florida's biggest container ports benefit from a rail system tailored to their needs – the Florida East Coast Railway (FEC), which runs between Miami and Jacksonville. All its trains are dual-powered by diesel or clean-burning LNG, and 80 percent of its business is dedicated to intermodal freight.
Thanks to recent public and private investments, FEC now operates an on-dock rail service at PortMiami and an intermodal terminal at Port Everglades. With onsite access to rail and a connection in Jacksonville to CSX and Norfolk Southern, these ports can reach two-thirds of the U.S. population within four days. "The state's investment in on-port and intermodal facilities has shown that Florida can provide a cost-efficient way to bring in goods and transport them to the southeastern United States," says Jessie Werner, Vice President of Public Affairs for the Florida Ports Council.
Ever since Port Everglades opened its intermodal rail terminal in 2014, its container volumes have grown. The business is driven by trade with Latin America and the Caribbean, and imported cargoes center on those nations' products, notably apparel and perishable goods. It's among the largest ports in the nation for refrigerated cargo, and the rail terminal gives its reefer customers an intermodal option for northbound shipments.
FEC's new owner, Grupo Mexico, plans to capitalize on the reefer market. "We've been advised by Grupo Mexico that one of their key desires is to increase participation in the refrigerated sector," states Jim Pyburn, the port's Director of Business Development. "They're planning to invest millions of dollars in refrigerated rail cars and other specialized equipment for FEC. Port Everglades is already the fifth-largest reefer port in the U.S., and Grupo Mexico's investment is likely to move our services further up the rankings."
Port Tampa Bay, on Florida's Gulf Coast, has a direct connection to the Class I railroad CSX. Working together with energy firm Kinder Morgan and CSX, the port built a large rail terminal to handle long "unit trains" for shipping ethanol. Its construction also gave Tampa Bay the first unit-train-capable, on-dock intermodal terminal in Florida.
Tampa Bay's container cargoes have historically been a small part of its business, but the segment has grown since the port purchased new gantry cranes in 2016. Now it's ready to attract even more container services, ranging from the regional feeder vessels that serve Mexico's Gulf Coast all the way up to the megaships arriving via the Expanded Panama Canal. Tampa's fast, onsite intermodal connection with the rest of the Southeast is an additional selling point for potential customers.
Transcontinental Connections
Halfway around the world, in China, intermodal rail carries only a small percentage of domestic containerized freight. China's rail network is extensive and well-developed. But intermodal facilities are limited, and few of China's giant container ports are equipped with on-dock or on-terminal rail facilities. For example, the nearest rail terminal to Shanghai's new megaport, Yangshan, is on the far side of a 20-mile-long sea bridge.
Despite these challenges, intermodal volumes in China are poised to grow. Beijing is encouraging Chinese manufacturers and shippers to move away from truck transport to reduce pollution from diesel exhaust, especially during the smog-prone winter months. Its Ministry of Ecology and Environment recently announced a push to increase rail freight capacity by 30 percent over the next two years to meet this mandate.
The Port of Nansha, located across the Pearl River Delta from Shenzhen and Hong Kong, is among the first Chinese ports to fully integrate intermodal into its development. When completed in 2020, the Guangzhou Nansha On-Dock Railway will be the first of its kind in South China. Its 50-mile rail link will connect the port with Guangzhou manufacturers, the national railway network and the New Eurasian Land Bridge, an increasingly popular rail route from China to Europe. For a small number of westbound, high-value cargoes, the trans-Eurasian rail service is a good "middle option" between ocean shipping and air freight.
Once Nansha finishes its intermodal facility, the interconnections could open up novel possibilities. According to John Painter, President & CEO of Guangzhou Port America, one major footwear importer is thinking about shipping Vietnamese-made goods by sea to Nansha, then loading the containers onto rail cars and moving them overland to Europe.
The extra land-side connections will further support Nansha's ocean freight business, which is growing eight to ten percent annually. Nansha is rapidly moving up the ranks of the world's busiest container ports, buoyed by regional changes.
"When Hong Kong grew more congested in the 1990s, many businesses moved out to the Shenzhen area," says Painter. "Now that Shenzhen has become crowded too, many of those businesses are migrating out to the western side of the Pearl River Delta where costs are lower. Strategically, we are well-positioned to absorb these companies' cargoes, and with our on-dock rail capabilities we will help connect the hinterlands as manufacturing continues to push inland."
Nansha's value proposition is simple. Producers on the west side of the delta can keep trucking their containers to the Port of Shenzhen, two hours away, or they can use the Port of Nansha, which is closer and less costly to reach. According to Painter, many U.S. retailers save 30-50 percent on their Guangzhou-origin drays when they switch to Nansha, helping the port generate rapid growth in cargo to North America.
The shift is reflected in the numbers. Today, Nansha has nearly 100 container services and 15 million TEUs of annual volume with busy routes to Europe, Asia and Africa. The port has four services to the U.S. West Coast, and Painter says the market is ready for an East Coast call by early next year.
A Green Solution
The container freight market is highly competitive, both for seaports and shipping companies, and small cost differences add up quickly when multiplied over thousands – or millions – of container moves. For ports with the right infrastructure, intermodal rail can change the equation for shippers and attract new business even if the final destination is far inland.
And since rail emits much less CO2 per mile than trucking, intermodal is a straightforward way to reduce the carbon intensity of door-to-door shipping. As the industry looks for ways to meet ambitious emissions reduction targets, every extra contribution helps. – MarEx
The opinions expressed herein are the author's and not necessarily those of The Maritime Executive.