Modern Class: The Evolution of Class Societies
"Modernization is not merely about embracing change; it's about proactively shaping the future." –  ChatGPT4 
(Article originally published in May/June 2023 edition.)
(Article originally published in May/June 2023 edition.)
Dating back to the 1760s in London, classification societies, or "class," can be traced to the growth of maritime trade and the need for standardized rules and regulations to ensure the safety and seaworthiness of ships.
Today, class continues to play a crucial role in the maritime industry, providing technical expertise, conducting surveys, and certifying vessels and offshore structures to ensure their safety, reliability, public trust and compliance with international standards and regulations. As the world evolves, class is modernizing to maintain relevance and competitiveness. Here is a sampling of diverse verticals that International Association of Classification Society members are pursuing.
MS (Marine Spaceport) Voyager. Source: Space Perspective
Offshore Spaceports
For the last 70 years, the Houston-based American Bureau of Shipping (ABS) has helped lead the world in offshore wildcatting (drilling of oil wells in unproven and risky offshore areas) standards and requirements.
Today, ABS is building on its longstanding tradition with the first-ever international requirements for offshore spaceports. "We see ourselves at the forefront of future space travel for payload and tourism by helping set the standards for our clients," says Miguel Hernandez, ABS Senior Vice President, Global Offshore. "With significant growth in the sector, ABS is merging offshore technology with space exploration."
Asked about the motivation behind the publication of ABS's seminal "Requirements for Building and Classing Offshore Spaceports," Hernandez explains, "As we see a shift of these operations from historically government-centered to private-commercial, going offshore is the gateway to repeatability in terms of launch, recovery and the rapid reuse of space vessels."
A concept that SpaceX's CEO, Elon Musk, has advocated can save 30 to 70 percent of costs compared to the expendable, single-use rockets used by NASA. "We've developed a set of predictable requirements, from the ground up, to address the unique operational risk profile that prioritizes safety and allows innovation to flourish," Hernandez adds.
Last year, ABS signed a joint development project with SpaceX to review remotely controlled functions of autonomous drone ships used for booster rocket recovery at sea. Additionally, ABS is working with space tourism company Space Perspective to convert an offshore support vessel, the MS Voyager, that will function as the world's first marine spaceport for human space flight.
"We see space travel as a global business with the aerospace community," Hernandez says. "It's starting in America, but it's a global phenomenon. The oceans are enabling the future of the planet. With 70 percent of the Earth's surface covered in water, we're taking many activities offshore. Whether space launch and recovery, wind harvesting, seabed mining or fish farming, ABS is in front of all this."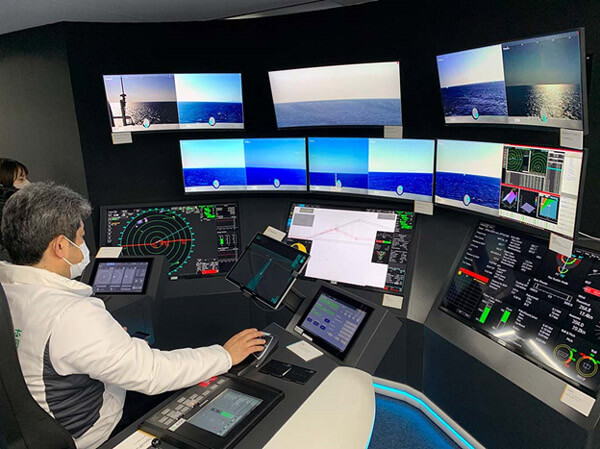 Remote Vessel Operations Center. Source: Nippon
Autonomous Ships & Carbon Capture
According to the IMO, a Maritime Autonomous Surface Ship (MASS) is a vessel that can operate independently of human interaction to varying degrees.
Last November, the 106th Session of the IMO's Maritime Safety Committee met to adopt a non-mandatory goal-based MASS Code to take effect in 2025 with a mandatory code expected to enter into force on 1 January 2028.
Yukihito Fujinami, Director of the Research Institute at Japan's ClassNK, is leading its MASS efforts, including the Nippon Foundation's MEGURI 2040 Fully Autonomous Ship Program, which, since early 2022, has been completing "berth-to-berth" navigation tests in one of the most congested areas in the world, Tokyo Bay, utilizing the container ship SUZAKU.
Japan has set an ambitious goal of having domestic MASS by 2025. "We have only two years. We need to rush!," Fujinami exclaimed at Singapore Maritime Week 2023. He says that MASS seeks to address vital social issues related to the shortage of seafarers. Those interested can find expanded details of ClassNK's MASS Project Team's technical and safety framework in its recently published white paper, "Towards MASS Social Implementation."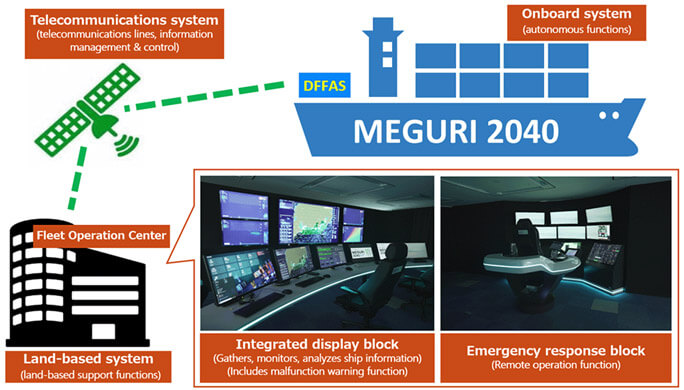 The Nippon Foundation's MEGURI2040 Fully Autonomous Ship Program. Source: Nippon Foundation
Another vertical being investigated by Fujinami's team is that of shipboard CO2 capture and storage (SCCS) systems. A Japanese government report predicts that shipping will still produce significant CO2 in 2050 despite global carbon-free fuel initiatives, such as ammonia and hydrogen. And although
Estimated per-type share of fuel used in international shipping based on carbon recycling methane expansion scenario. Source: ClassNK, "Guidelines for Shipboard CO2 Capture and Storage Systems"
SCCS has not yet been incorporated into the IMO CO2 emissions regulatory framework, discussions are underway to include it in Energy Efficiency eXisting ship Index (EEXI) and Carbon Intensity Indicator (CII) regulations.
In joint research with Mitsubishi Heavy Industries and Kawasaki Kisen Kaisha onboard the MV Corona Utility (an 88,000-ton bulker), an SCCS system's performance was tested. Spoiler alert: The system needed was extensive, would incur a hefty energy penalty and required massive capacity for CO2 tanks as the volume/mass of produced exhaust liquid CO2 is almost three times that of heavy fuel oil.
However, the CO2 captured onboard could protect against costly carbon credit offsets and be used in agriculture, the food industry or production of synthetic methane. In April, ClassNK published a three-part guideline on SCCS addressing systems, safety and economic evaluations ("Guidelines for Shipboard CO2 Capture and Storage Systems").
Corridors to Net-Zero
Addressing the needs emerging from the introduction of the E.U.'s Emissions Trading System (ETS) and the CII, class society DNV has launched its Emissions Connect data management platform for engine emissions data verification.
Due to be phased in from 2024, the E.U.'s ETS will require the Document of Compliance (DoC) holder, usually the ship manager, to surrender E.U. Allowances (EUAs) of annual emissions. Additionally,
the CII rating measures how efficiently a vessel transports goods and passengers. The EU ETS exposes DoC holders to significant economic risks as emissions costs are factored into stakeholder contracts to ensure fair distribution. CII influences charter terms and impacts balance sheet risk and shareholder value, access to capital and commercial attractiveness. Therefore, collecting, managing and sharing accurate and reliable data is critical.
"A key target for us is for Emissions Connect to serve as common ground for commercial agreements, including charter party Carbon Intensity Indicator (CII) clauses and carbon credit transactions," says Knut Ørbeck-Nilssen, CEO Maritime, DNV. "We already see that the tool brings value to operations and decision-making processes within the industry."

Estimated per-type share of fuel used in international shipping based on carbon recycling methane expansion scenario. Source: ClassNK, "Guidelines for Shipboard CO2 Capture and Storage Systems"

However, despite various global initiatives derived from the Paris Agreement, DNV's recent "Transport in Transition" report echoes the Japanese government's finding that fossil fuels will still retain a significant market share in shipping through 2050. Broken down, DNV expects shipping's oil dominance to be replaced by an energy mix of 50 percent low and zero-carbon fuels, 19 percent natural gas, 18 percent biomass and four percent electricity (battery).
When asked how industry will facilitate the transition, Ørbeck-Nilssen says, "The true fuel of the future is collaboration. Working together to create a sustainable future for the maritime industry, we can use mandatory requirements such as carbon pricing, incentives and tax credits to bridge the cost gap between fossil and low-emission fuels. The expected strengthening of the IMO's ambitions in 2023, followed by ship-specific requirements and fiscal policies, both nationally and internationally, can establish the demand needed to deploy available technologies."
He says DNV's Alternative Fuels Insight platform provides valuable data on fuel transitions, infrastructure and costs. Its research and projections, such as the annual "Maritime Forecasts," contribute to understanding and planning for the maritime energy transition.
Innovation Incubators
Launched in 2021, Bureau Veritas' Singapore-based iCARE (innovation Centre of Alternatives & Renewable Energy) serves as a conduit for regional innovation and competitiveness.
According to Mike Watt, BV's Director of iCARE, "As shipowners and ship managers look to adopt new digital products and increase the connectivity of vessels to support IMO greenhouse gas strategy, ensuring cyber resilience is paramount. When looking to implement new technologies, especially different energy-saving devices (ESDs), having precise and reliable data is essential to understand the baseline for gauging the effectiveness of those technologies."
That's what iCARE does. "iCare combines all elements such as carbon capture, fuel cells, wind-assisted propulsion, alternative fuels, nuclear and many other solutions and links them with its digital approach to decarbonization," says Watt. "In addition, as vessels become more and more connected to deliver the required data, BV's SmartShip notations are useful and give piece of mind that the systems meet cyber-resilience requirements."
To foster technological advancements and develop innovative solutions for maritime and global supply chains, BV is also a key member of the ZEBOX consortium. Founded by CMA CGM, ZEBOX consists of a start-up incubator, accelerator and venture fund and recently established its fifth hub, ZEBOX Asia Pacific, in Singapore.
"Start-ups bring fresh approaches from outside maritime that are rapidly driving technical solutions with proven success in other sectors, and it's happening monthly, not yearly," Watt states.
Modern Class
Spanning more than two-and-a-half centuries, class continually modernizes with the world around it. From spaceflight, autonomous ships, decarbonization and digitalization to innovative start-ups, these societies are demonstrating what it takes to remain at the forefront of progress. The sky's the limit for what remains beyond the horizon. – MarEx
Frequent contributor to The Maritime Executive Sean Holt is based in Singapore.

The opinions expressed herein are the author's and not necessarily those of The Maritime Executive.