Healthcare Connections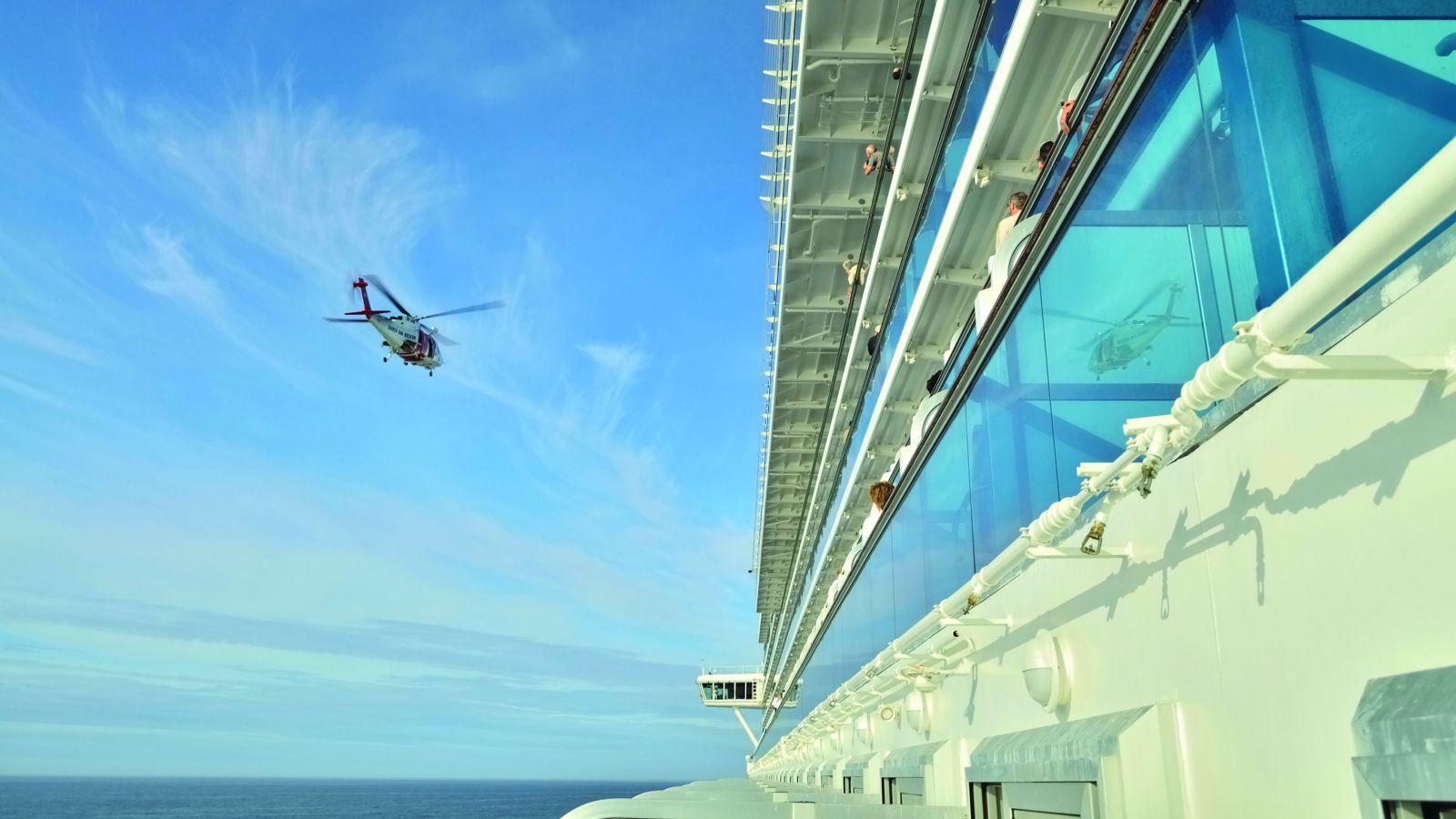 (Article originally published in July/Aug 2016 edition.)
Increased broadband availability at sea is improving seafarers' health.
By Wendy Laursen
Maritime broadband company KVH Industries recently stated that India will have 500 million Internet users by 2017 and the Philippines has the fastest growing Internet population in the world, up more than six-fold in the last five years. Health providers are making use of this increased connectivity to advance high-tech telemedicine options. But it's also using it to advance simpler options to improve seafarer health – like reminding them to brush their teeth.
A 2013 Yale University study conducted with Future Care showed that dental problems were the most common ailment reported by seafarers. A follow-up study in 2015 put the figure at 23 percent of all cases.
Family Doctor?
It's a statistic that hasn't escaped Dr. Toby Abaya, Medical Director at Health Metrics in the Philippines. In a developing nation like the Philippines, many seafarers don't have a family doctor. As a screening center, Health Metrics often takes on that role, a role that can sometimes mean Abaya does indeed remind seafarers to brush their teeth, drink their water, eat healthy food and do some exercise.
These reminders start during Pre-Employment Medical Examinations (PEMEs), but with the advent of greater connectivity onboard they also come at sea through social media and, in the future, from a special platform being developed by Health Metrics.
The reminders are targeted and based on medical evidence. Health Metrics and Health Futures Foundation published a study on the health of Filipino seafarers in 2015. Analyzing data from 400,000 deployments and over 6,000 medical repatriation cases, they found a number of things to remind seafarers about. Engineers have an increased risk of kidney stones, for example. Deck accidents are more likely to occur in the first few months at sea.
About eight percent of the seafarers in the study were diabetics, although only one percent of repatriations were diabetes-related. "Diabetics will take care of themselves while they are on board, so we realized that one of the more important thrusts is really to educate and inform them on diet and exercise."
There's an app for just about everything seafarers would need to monitor their health, says Abaya, but how well they engage with these tools without prompting is another story. It's still more important to have someone reminding you.
Remote Diagnoses
Diagnosis of illness at sea remains difficult, and Health Metrics' study highlighted a common example. Gastrointestinal problems accounted for nearly 20 percent of all medical repatriations. The problems were commonly reported as abdominal pain without a clear diagnosis. When the researchers reviewed the cases, they found that most patients were cleared by local physicians in Manila one or two days after repatriation. Many reported to have even felt well upon arrival, indicating that the captain or physician probably could not make a clear diagnosis and decided to repatriate the affected crew member.
It used to be that, once away from port, a seafarer's health depended on the medical capabilities of fellow sailors. These skills have been enhanced over the years by legislation requiring relevant training and proficiency in reading medical guidance books. Today, greater communication means a qualified doctor is usually within radio contact. But to be fully effective, clarity of communication is essential.
To this end, the first totally new medical book aimed at seafarers this century is about to be published, and it will be supported by videos and a Web-based electronic platform. The Medical Guide for Seafarers was produced by Seahealth of Denmark and is designed both to work as a stand-alone guide and to interact with maritime healthcare systems like Radio Medical.
The book is purposefully simple. It is not designed to be read cover-to-cover, rather for the seafarer to be able to navigate efficiently through it so that when a situation arises, minimum time is wasted and both seafarer and shoreside doctor are communicating effectively about diagnosis and treatment. The 38 chapters cover just about everything from a toothache to a fatality.
Although the use of telemedicine is becoming increasingly common, problems remain, says Pat Bond, Claims Director at Thomas Miller Claims Management (TMCM) in Scotland: "Free radio medical services are not what they were, and some of the commercial operations might leave a vessel waiting an hour or more before they actually get a doctor on the line." TMCM claims to counter that by offering telemedicine services that promise a doctor on the line within minutes.
The newest developments reach cruise ships first. AIDA Cruises has partnered with Rostock University Medical Center to offer radiology services. Via a satellite connection, the ships' doctors can send x-rays and ultrasounds to specialists ashore and hold telephone conferences regarding diagnosis.
Princess Cruises is setting up a similar service with Cleveland Clinic in the U.S. Its telemedicine suite also includes vital signs' monitors such as electrocardiogram machines that can be read remotely in real time.
Digitization
There is a growing move towards the digitization of health records as connectivity increases globally. U.S.-based SphereMD has a data management platform that allows access to a variety of data on crew health, case management, port resources and fleet-wide trends. The platform can also be licensed to other clinics so that a fleet could have worldwide visibility in medical care, including pre-employment medicals.
Future Care's Director of Risk Management, Lawrence Jacobson, expects remote medical technology will proliferate, become less expensive and more portable. As this occurs, the collection and storage of personal health information will be increasingly digitized. Accessible storage and retrieval will become more prevalent, allowing seafarers to transport their information with them around the world. "The treatment provider will have access to the seafarer's medical history, vastly improving the quality of care," says Jacobson.
He also expects increased focus on preventive and wellness care onboard due to the improved availability of affordable medical technology and societal and legal pressures, such as the Maritime Labour Convention (MLC). Future Care's wellness program includes managing chronic conditions by reviewing the PEME, scheduling remote consultations, and periodic reviews of medications – both personal and in the ship's medicine chest.
"The health benefits to the seafarer of such management, as well as the financial benefits to the shipowner, are obvious and include improved health, both immediate and long-term, decreased lost worktime, reduced shoreside medical appointments and reduced unscheduled repatriations," says Jacobson.
Mental Health Issues
Greater connectivity is boosting mental health offerings too. Mental illness among seafarers is a growing concern and can be associated with other conditions such as cardiovascular disease and stomach and back problems.
Innovative Maritime EQ Center (IMEQ) in Greece emphasizes that medical examinations usually involve an evaluation of mental health status but might miss certain personality and psychological factors related to the onset of mental disorders. IMEQ has developed a suite of assessments for evaluating and monitoring these factors. The company has also created a unique online platform that enables seafarers to take mental health assessments.
The company provides a crisis response center with psychologists and psychiatrists on standby. Seafarers can contact the center online to seek assistance for issues such as dealing with violent or aggressive behavior on board.
The potential for initiatives using greater connectivity jumped earlier this year with Inmarsat's launch of Fleet Xpress, the first globally available, maritime high-speed broadband solution. Inmarsat Maritime President Ronald Spithout says everyone now wants connectivity everywhere, including at sea, and he predicts an eight-fold increase in marine data traffic between now and 2020.
Inmarsat says Fleet Xpress will empower third-party application providers to develop a host of new and innovative applications. The company is running seminars to encourage programmers to develop more online apps for shipping and has highlighted crew welfare as a key target area. There is scope to tailor bandwidth for limited periods and obtain bandwidth on demand. This will enable telemedicine applications to make more efficient use of their otherwise very high bandwidth requirements.
A Higher Standard?
With the growing availability of services, the industry is already coming to expect a higher standard of care at sea. The Sustainable Shipping Initiative (SSI), a coalition of companies from across the industry, has now developed the concept of a seafarers' onboard charter – a best practices guide that can be adopted by operators to further enhance the welfare of seafarers beyond the mandatory requirements of the MLC. The charter covers issues relating to accommodations, recreation, Internet connectivity and catering.
To support the voluntary implementation of the charter, SSI is working with its shipowner and charterer members to develop a rating scheme that would recognize and favor operators that adopt more progressive approaches to crew welfare. Seafarers are also expected to vote with their feet. The Internet is not likely to be just a "nice-to-have" option for long. – MarEx
The opinions expressed herein are the author's and not necessarily those of The Maritime Executive.