Gene Seroka, Executive Director, Port of Los Angeles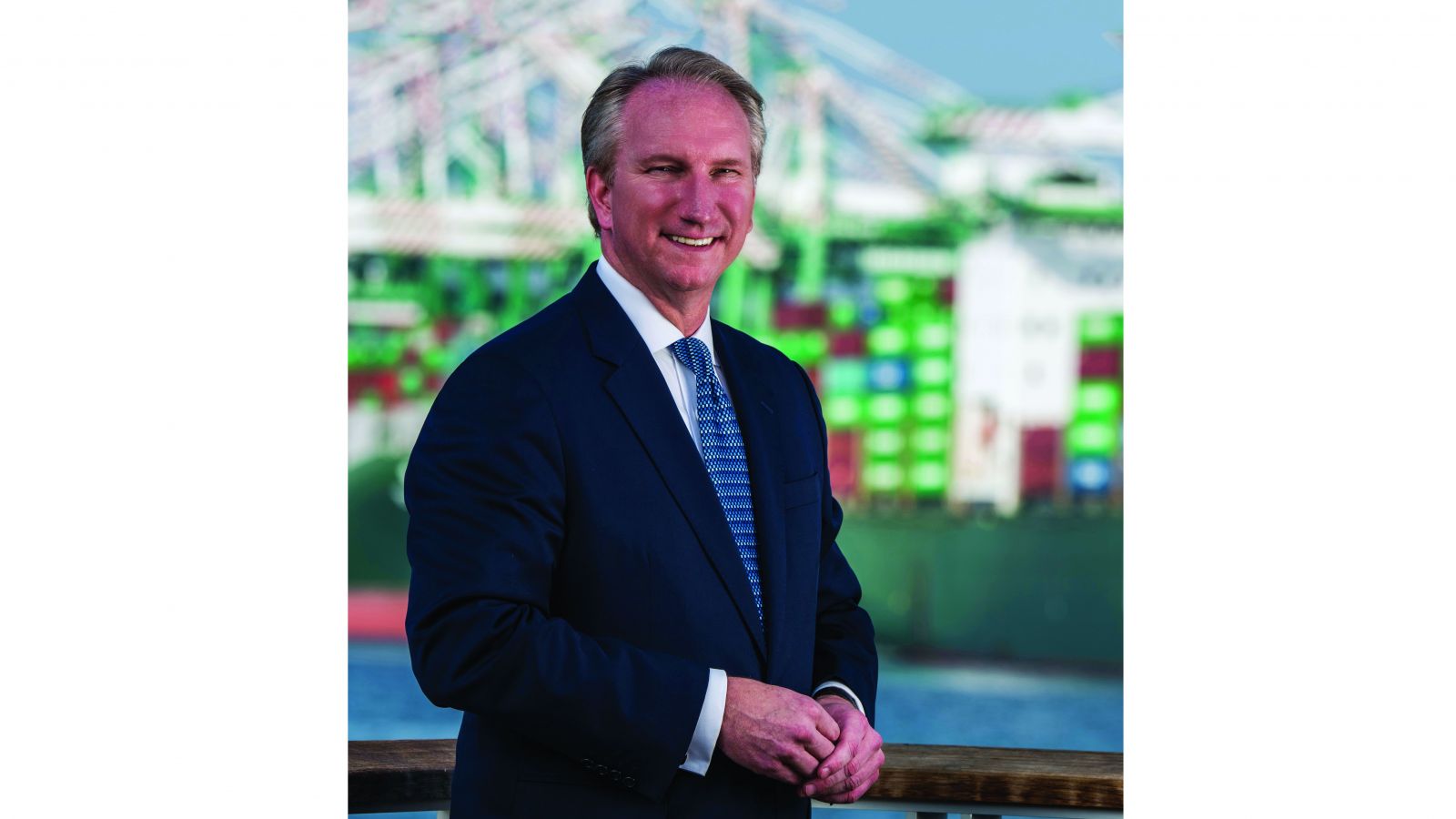 (Article originally published in Sept/Oct 2016 edition.)
The head of "America's Port," the largest in the Western Hemisphere, says his goal is to stay ahead of the curve in an industry that's changing every day.
By Jack O'Connell
Tell us about yourself. Where did you grow up?
I grew up outside New Orleans and graduated from the University of New Orleans with an undergraduate degree in marketing and an MBA. Then I went looking for a job but I couldn't find one because the price of oil had sunk to $10 a barrel and no one was hiring. It was the late 1980s. Finally I got a call from a headhunter who said American President Lines was hiring, and that's how it all began.
Then what?
I spent 26 years with APL and lived all over the world – China, Indonesia, Singapore, Dubai. They're the seventh biggest container carrier in the world. Today they're owned by CMA CGM. And then two years ago I was tapped by Los Angeles Mayor Eric Garcetti to be the Executive Director of the Port of Los Angeles.
How did your experience with APL prepare you to be a port director?
Well, I'm still learning every day, that's for sure. But I think the knowledge of the supply chain, the network of contacts in the shipping industry – all that helped. But on the job having a great staff, an ultra-supportive mayor to whom I directly report, and a great Board of Harbor Commissioners have all helped me grow into this job and hopefully make an impact.
So you report directly to the mayor?
I do.
Because the port is owned by the city?
It is. The Port has 7,500 acres of property including 43 miles of waterway that are held in trust by the people of California. That trust is managed by the City of Los Angeles and bequeathed to the Harbor Department of which I am in charge.
What's it like being a port director? What's a typical day like for you?
Well, I think to capsulize it, it's an awesome responsibility. Not only are we the largest container port in the Western Hemisphere, but we have seven other distinct lines of business. We have a community here that is also really supportive of our endeavors, and we owe a lot to that group of folks. And then we have a strong commitment to environmental stewardship. So the responsibilities are quite heavy but in a good way, and the work effort is all going for the right purposes.
A typical day for me here locally comprises a lot of meetings, both externally with stakeholders and internally with our management team. I also travel abroad quite extensively because most of our customers are domiciled in Asia and Europe. And then there are the cargo owners that bring all of this freight to and from our port. They are numerous. In fact, I think we counted last fiscal year over 240,000 individual cargo owners brought their shipments through the Port of L.A. So trying to reach out to as many as possible of those stakeholder groups that really move the business is also part of our mission. And we've been doing a pretty good job at that, I think.
Are exports an important part of the port's business?
I think if you look at our numbers from 2015 we moved approximately 4.2 million container units of imports and 1.6 million container units of exports. So the balance of trade is not equal, but the export trade is very important to us. We export grains, automobiles, auto parts, tires and recycled materials, to name a few. To be able to support manufacturing, agriculture and the recycling industry are all part of our makeup. So we have a very strong focus on the export side of our business and want to make it grow.
What else is big besides container shipping?
The cruise business is a big one. We had 123 vessel calls and 592,000 passengers move through our World Cruise Port complex last year, and that will continue to grow.
Who's your largest cruise line?
Princess.
Environmental stewardship and green initiatives are part of the port's mission. Tell us more about that.
Our environmental stewardship has gotten us a lot of recognition, and it stems from the belief that we have a public responsibility to be strong in this area. It was almost eleven years ago that we first introduced our Clean Air Action Plan, and we're about to announce the third iteration of this program as we've met or exceeded all of the emissions' reductions we promised to the community eleven years ago. So we felt it was time to raise the bar again. As an example, we've reduced diesel particulate matter by roughly 85 percent since the inception of this program.
How did you do that?
Mainly through a Clean Truck Program and being smarter about our efficiencies. Replacing old trucks with new, cleaner-burning trucks, reducing truck queues to a bare minimum, reducing idling time. We've also been testing hybrid technologies at a few of our terminals for a couple of years now, zero-emissions products that will hopefully be the wave of the future.
So the trucks are the main polluters rather than the ships?
Yes, on a category basis trucks are the highest emitters. Ships are probably second, so we've done a couple of things. We invented what we call the Alternative Marine Power concept. And that is simply shutting off a ship's auxiliary engines at the dock and connecting that ship to the local grid. And that is now not only a California state law but also an IMO regulation worldwide.
Is that what they call "cold ironing"?
Yes, and it was invented here. Another area where we've helped out on the ships is what we call vessel speed reduction. Slowing down the ships at both the 40 and 20-nautical-mile area and having these ships come in a little bit slower than normal produces fewer emissions from their stacks. Kind of like driving your car at 55 rather than 70. You'll get better fuel economy and fewer emissions.
When did Los Angeles become "America's Port"? Is it a marketing slogan?
In 2008 National Geographic did a multi-part series on the port and all the great work being done here and called it "America's Port." We liked the name since we've been the largest port by container volume since 2000. And after the series aired the port moved forward and trademarked the name. And it's more than a slogan. It's really who we are because not only are we the largest port in the Western Hemisphere but we support hundreds of thousands of jobs as well.
To give you a couple of numbers, one in 12 Angelinos has a job that is related to port activities. On the docks every Monday through Friday we employ approximately 100,000 people. And that's everyone from the great longshore workers to the truck drivers, administrative workers, third-party logistics partners and many others. In Southern California more than a million people are employed based on the goods that move through this port – nearly $1 billion worth daily. And I think the most interesting statistic is that the port district, that is, the goods and the people that help move those goods through here, touch every congressional district in the U.S.
Really? All 435 congressional districts?
Yes, the goods and the people, meaning the passengers that travel on our cruise lines, have origins or destinations that touch every congressional district in the country. That's what we mean by "America's Port."
What kind of manager are you? Are you a hands-on guy? Do you delegate a lot? How would you describe yourself?
That's an intriguing question. I would like to think of myself as a collaborative manager. Of course I strive to know as much as I can and to learn every day, counting on experts to help advise me. But in the end I enjoy trying to build consensus and bring people into the conversation. I know that when things go bad I am the responsible guy, but when things go well I'd like to share that credit with the people who made it happen.
Where did you learn to do that?
I think a lot of that was learned when I worked overseas. Coming from a different culture and working in places like Shanghai, Jakarta, Singapore and Dubai, I had to find a way to fit in with new and unique cultures. I always found that fascinating because I figured if someone was different from me I could probably learn a lot from that individual. In Indonesia we had a term called musyawarah, and that simply meant building teams for collaborative purposes. And I've tried to bring that back to the States and hope it resonates with the colleagues and customers I work with.
What's your biggest challenge right now?
The biggest challenge now is staying ahead of the curve in an industry that is changing every day. There is change among our many stakeholder groups we've talked about, with the liner companies trying to get back to profitability, with the larger ships coming in. We are making certain that our service provisions are world-class. All of that is part of the challenge. And I'd like to think we're making some pretty good progress, but there is always much more to do
Tell us about your extracurricular activities. Do you have time for any?
Well, as you can imagine my days and weekends are pretty packed, but I do like sports a lot. I grew up in Louisiana, so of course I'm a big fan of the LSU Tigers in football, who unfortunately lost to a very fine Wisconsin team last Saturday. And I talked to my dad on the way from downtown to the port today and he too was still mulling over how they could have lost so early in the season. So I love sports, and a little bit of downtime watching a ballgame on TV is always welcome.
I'm close to my family, of course, and I like to exercise on a daily basis when I'm in town to stay as sharp as I can. You need to take care of yourself. – MarEx
Jack O'Connell is Senior Editor of the magazine.
The opinions expressed herein are the author's and not necessarily those of The Maritime Executive.