Executive Interview: Jeff Bukoski, President, St. Johns Ship Building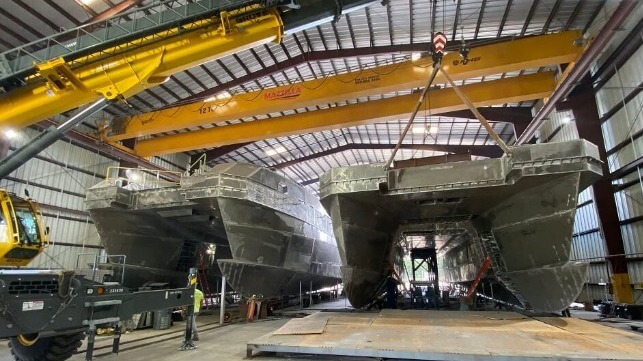 (Article originally published in May/June 2023 edition.)
There are hundreds of them – small shipyards with dozens and sometimes hundreds of employees scattered along the rivers and coasts of America and largely hidden from public view. And while it's the big yards that get most of the attention and money, in the form of military and commercial contracts (see Paul Benecki's fine article, "Bulging Orderbooks," elsewhere in this issue), it's the small yards that quietly go about their work supporting and maintaining inland maritime commerce along our nation's rivers and waterways. Some of them, like St. Johns Ship Building (SJSB), are also assisting the buildout of offshore wind farms and the transition to clean energy.
"Small is big," as someone once said, and that's certainly the case when it comes to these oft-overlooked centers of operational excellence. So it's fitting that in this issue of our annual Shipbuilding edition we shine the spotlight on the role of the small yard in not just the domestic economy, but globally as well, and on SJSB in particular.
Located along the banks of the St. Johns River in northeast Florida, not far from Jacksonville, the yard specializes in new construction and repair for a wide variety of steel and aluminum vessels including ferries, tugs, deck and tank barges, landing craft, general cargo and offshore wind vessels. In recognition of its quality and future potential, two years ago it received much-needed funding from the U.S. Maritime Administration's (MARAD) Small Shipyard Grant Program to modernize and upgrade its drydock.
"Small shipyards strengthen our maritime industry and communities along and near our nation's ports and waterways, employing thousands of Americans who ensure we maintain expertise and skills critical to our economic and national security," said Acting Maritime Administrator Lucinda Lessley at the time of the grant. "In addition to being economic mainstays, U.S. shipyards demonstrate some of the most innovative shipbuilding in the world, and the Small Shipyard Grant Program encourages continued innovation."
Then just last year the yard was purchased by Americraft Marine, a subsidiary of the privately owned Libra Group, for the express purpose of strengthening the U.S. shipbuilding industry and meeting the need for Jones Act-compliant vessels. "There is huge demand for Jones Act vessels to be built and there are not enough yards to do it," Libra's Chairman & CEO George Logothetis told Reuters.
Added Omear Khalid, CEO of Americraft Marine: "Our goal is simple: to build a best-in-class Jones Act-compliant shipyard." Americraft says it intends to further bolster capacity at St. Johns Ship Building through workforce training and leveraging the yard's proven expertise with the goal of creating a best-in-class, future-focused shipyard.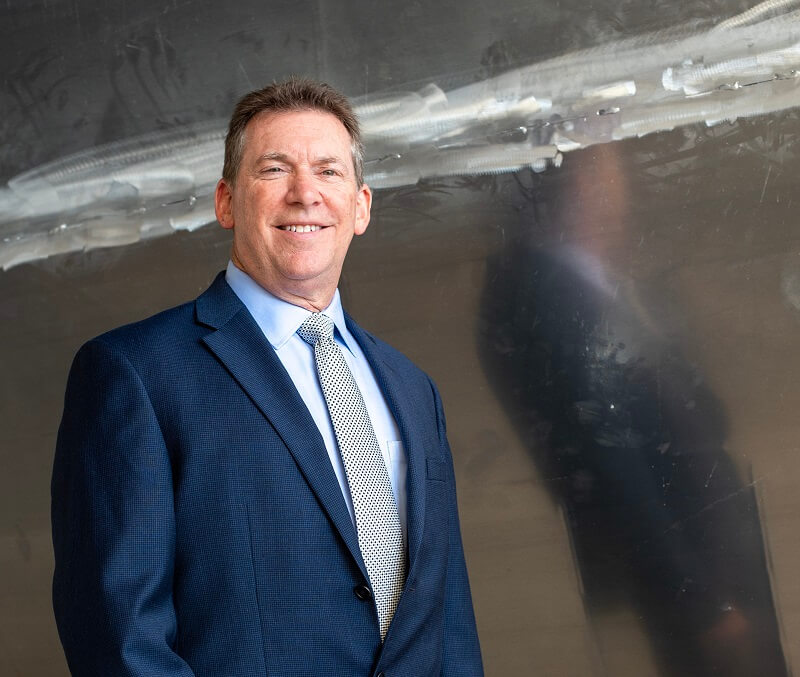 To lead the effort, it enlisted the services of Jeff Bukoski (left), a 35-year veteran of the U.S. maritime industry, and appointed him President. Bukoski previously worked at a number of government and commercial shipyards on the East, Gulf and West Coasts, managing every type of marine vessel construction. He also served in the U.S. Naval Reserve program as a Lt. Commander. So he has the credentials and experience to take SJSB to the next level. We sat down with him recently to get the scoop.
Okay, tell us about yourself, your background and education. You're a Kings Pointer, yes?
I was born in the U.K. at a U.S. military facility, the second son of a USAF F-4 Phantom pilot and a registered nurse. I've lived in 20 different locations, here and abroad, and eventually found my way to the U.S. Merchant Marine Academy in 1982 and graduated with a Marine Engineering degree in 1986. Since then, I've spent constructive time at eight U.S. shipyards from coast to coast, worked for two marine industry companies and earned an M.B.A. from Florida State University.
Wow, impressive! How did you find your way to St. Johns Ship Building?
Late last year I was approached by an industry colleague to be part of a team with a plan to invest in an existing Jones Act shipyard and develop a program of delivering better shipbuilding and repair experiences to vessel owner/operators. There's always more to do by way of continuous improvement, but the ongoing transformation here at St. Johns Ship Building is quite impressive.
Give our readers a brief overview of St. Johns – its history and evolution over the years. When was it founded?
The facility has an interesting history beginning back in the early 1940s for load-out of logged cypress trees, then as a barge port for the never-completed Cross Florida Barge Canal. From the 1980s through the mid-1990s multiple tenants, including McAllister Towing, used the yard for vessel construction and repair. After a period of closure, St. Johns Ship Building was started back up here in Palatka in 2006 and began the series of modern-day successes that it's known for.
How many employees are there?
One year ago, there were approximately 88 craft employees and a dozen support staff. Today we have 212. We're proud that most employees come from right here in Putnam County and the immediate surrounding counties where we're becoming increasingly involved and creating value with local outreach programs to include veteran participation.
What are the primary vessel types and markets served?
SJSB regularly serves vessels from South Florida up the Atlantic Seaboard including parts of the Caribbean. Many newly constructed vessels end up much farther away and reside on multiple coasts. The repair side handles drydock work up to 800 tons and vessels up to 200 by 64 feet. These usually include tugs, barges, landing craft, passenger vessels and vehicle ferries. Newly constructed vessels can also reach 200 by 64 feet, or greater when side-launched. These vessels include dredging assets, deep sea tugs, passenger vessels, vehicle ferries, truckable tugs and barges of all sizes. Our more recent endeavors include two variants of offshore wind Crew Transfer Vessels for multiple customers.
Do you have government or military customers too?
We've successfully performed municipal government and military vessel repairs. And while we continue to look for government new construction projects, we've benefitted by being awarded sufficient commercial work and remain steadfastly focused on those.
What are some of the milestone projects and notable vessels the yard has produced?
SJSB has a rich history across the industry, most notably the eight-vessel series of tugs delivered to Vane Brothers. Additionally, the yard was fortunate to participate in constructing three vessels as part of Hornblower's New York City Water Taxi program. The yard also built and delivered the most recent four-boat build of vehicle/passenger ferries for the Fisher Island Community Association in South Florida as well as several landing craft vessels working the Caribbean trade.
Lots of variety there! How is business divided between newbuilds and repairs?
A key improvement to the shipyard was the upgrade of the existing drydock. Although its life in fresh water keeps the dock in ship-shape, we invested in safer wing wall work platforms, new mechanicals and upgraded electrical. This project boosted repair work in early 2023 and will again during the follow-on phases of planned maintenance throughout the year. Ultimately, we expect repair work to contribute up to 20 percent of revenue with new construction making up the rest.
Is the market strong for Jones Act shipyards like St. Johns?
SJSB fully supports and remains bullish on the Jones Act with most of our customers involved in coast-wise trade and now offshore wind. Although the Jones Act goes back a long ways and was initiated by a U.S. senator from Washington State in the wake of World War I, it remains a vital component of our nation's security.
Currently, the Jones Act market appears strong with a good blend of military and commercial projects for many facilities. Our niche is primarily based on the physical size of the vessels we can build and service along with our friendly climate, fresh-water environment and production capabilities.
A year ago St. Johns was purchased by Americraft Marine, a subsidiary of the Libra Group. What was the significance of that?
Americraft Marine Group's entire mission, with the support of our parent company, the Libra Group, is to reset the bar in the small-to-midsize Jones Act shipyard space. The backbone of the domestic maritime industry is the small shipyard with most coastal and inland maritime commerce in the U.S. supported by these yards.
There's an urgent need for these yards to transition into centers of production excellence, and the network and structure provided by Americraft will help assure this transition is successful.
Clean energy and wind farm vessels are a growing part of your business. Do you see a bright future there for the industry and St. Johns?
With the support and guidance of our leading team members, SJSB was able to recognize and plan for a strategic entry into the offshore wind support segment. By involving ourselves in this leading industry by way of conferencing, connecting and challenging potential offshore wind owner/operators, SJSB has secured orders for five Crew Transfer Vessels (CTVs), the first of which will deliver in the coming months. Although we remain committed to a strong steel vessel build line, we do see significant future business with aluminum CTVs.
Tell us about some of the windfarm projects underway.
Multiple CTVs under construction here at SJSB will provide service to Vineyard Wind, just 15 miles south of Martha's Vineyard. This development's 62 GE wind turbine installations represent the nation's first commercial-scale offshore wind project. Other vessels will be placed into service by Atlantic Wind Transfers, which currently operates the only two existing CTVs in U.S. waters, servicing Block Island, and supporting future projects off of the coast of Virginia.
With approximately 15 Atlantic Seaboard CTVs now under construction at as many as seven shipyards, SJSB is proud to be building a third of them.
As President, what is your vision for the company? Where would you like to see it in, say, five years, and what is your role in making it happen?
The vision for SJSB and Americraft includes establishing a flagship facility that is ready to accept additional entities under its umbrella. I would like to see a solid orderbook including series vessels that allow for proper investment and growth that lead to improved construction efficiencies and re-investment. The orderbook will include all three segments of our business: aluminum new construction, steel new construction and repair work.
To make this happen, I will continue to surround myself with talented people who are driven to success when provided with guidance, goals and rewards.
What's your biggest challenge right now?
My biggest challenge right now – and it's no different in other sectors of the maritime industry – is finding and adding creative minds and hardworking team members to our labor force. This will undoubtedly require us to continue growing our recently established Vocational Training Platform designed to increase the skills of both new and existing workers using a combination of formal curriculum, classroom training, on-the-job training and mentorship. So far it's been a big success!
It looks to us like the entire shipyard has been a big success! Keep it going!
The opinions expressed herein are the author's and not necessarily those of The Maritime Executive.