Leviathans of the Sea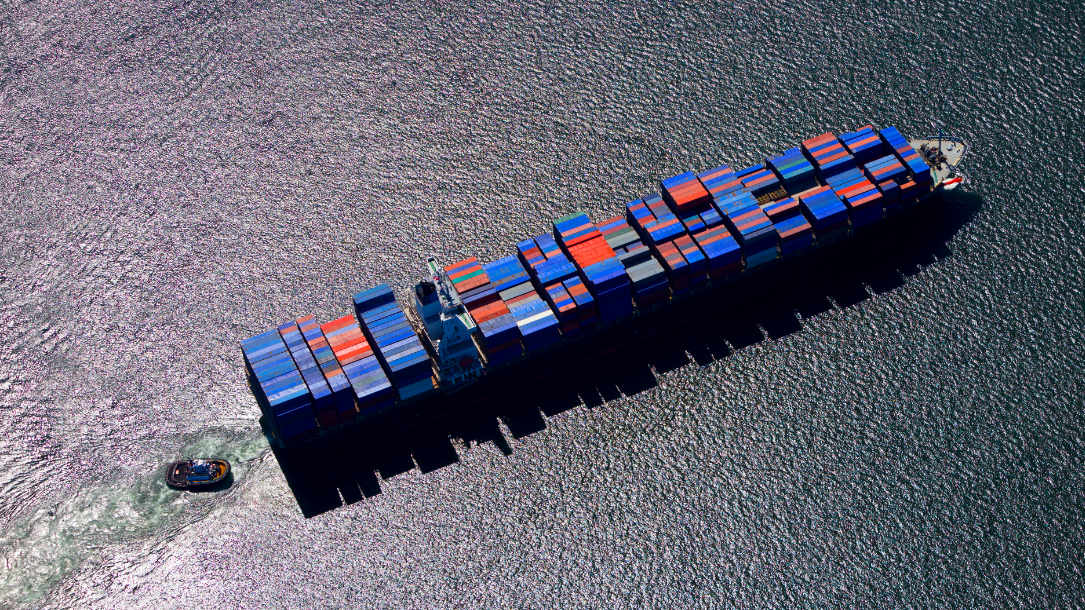 (Article originally published in July/Aug 2015 edition.)
When Malcom McLean launched the very first container ship in 1956, transoceanic shipping was so costly it made little sense to transport most cargo around the globe. McLean, a North Carolina trucking entrepreneur, concocted a plan to load entire truck trailers onto ships with their cargo inside. When the trailer reached its destination, it could seamlessly be offloaded onto a truck or train and transported to consumers – quick, cheap and efficient.
In 1956, McLean loaded a converted tanker he'd named the Ideal X with 58 containers and sent it from the Port of Newark to the Port of Houston. In so doing, he transformed the world. Today, there are more than 34 million TEUs (20-foot containers) globally. Last year more than 200 million big boxes moved through just ten ports. And the world of container shipping continues to grow at a blistering pace.
Two decades ago the largest ships were capable of transporting 6,000 containers per voyage. In March, the Mediterranean Shipping Company's Oscar went to sea bearing 19,224 boxes. At a quarter-mile in length, the Oscar contains as much steel as eight Eiffel Towers. It is the world's biggest ship, but will not hold that distinction for long. More monster vessels are about to come on line and many more are on the drawing board. Experts say it won't be long before some are capable of hauling 22,000 containers.
The allure of mega-ships can be summed up in three words: economy, energy and environment. Those words are at the heart of Maersk's new Triple E Class fleet, 20 vessels that will each carry more than 18,000 containers. Maersk says they are the most economical and environmentally friendly ships on the sea with reductions of up to 50 percent in CO2 emissions per container compared to smaller vessels. As for energy efficiency, the Triple E ships use 20 percent less fuel per container than a vessel carrying half as many TEUs. It's all about economies of scale.
The Race to Keep Pace
The challenge for the world will be to keep pace with the new leviathans. To date, mega-ship traffic has been restricted mainly to Asia and Northern Europe. Ports like Shanghai, Singapore and Shenzhen dwarf their counterparts in North America. Shanghai's 35 million TEUs last year were more than quadruple the number processed at the Port of Los Angeles, the largest container port in the U.S.
And the Asians are not standing still. The Port of Singapore Authority, for example, is in the midst of a massive $2.55 billion expansion to meet the demands of the mega-container ships expected to enter service. In June, the Prime Minister cut the ribbon on a project expected to be fully operational by the end of 2017 that will add new mega-quay cranes and 15 terminal berths. The port is also developing automated solutions that include eight giant unmanned vehicles.
The race to keep pace is just as feverish in North America where Los Angeles is currently the only U.S. port that can accommodate big box ships. "We are currently routinely handling 13,000 to 14,000-TEU ships," Director of Media Relations Phillip Sanfield says. "The Port of Los Angeles could handle an 18,000-TEU ship at some terminals today."
The port has the 53-foot channels required for deep-draft vessels but is in a major construction mode to meet the other demands those ships bring: expanding wharfs, deeper berths, bigger cranes, larger warehouse and distribution facilities, and improved access to highway and rail connections. "We are continually upgrading and updating terminal infrastructure," Sanfield adds. "The Port of L.A. is spending almost $1 billion over the next five years."
It's the same story at container ports throughout North America. Dredging projects, mega-cranes that can extend across the wider decks of the big ships, and large-scale infrastructure overhauls are all on the docket.
Savannah has the East Coast's second largest container port after New York/New Jersey. Last year it handled 3.34 million TEUs. The largest vessels it can accommodate today are 14,000 TEUs because the Savannah River channel's maximum depth of only 42 feet cannot handle the big box ships. The U.S. Army Corps of Engineers has awarded a contract to deepen the outer harbor to 49 feet at low tide, and a future contract will deepen the inner harbor to 47 feet at low tide (54 feet at high tide). The Georgia Port Authority has also approved purchase of four new ship-to-shore cranes and begun construction on a $27 million project featuring a new multi-lane truck gate with an adjacent empty container yard – all in the last year.
Competition among container ports on the East Coast is fierce. Unlike the West Coast where Los Angeles and Long Beach are the two primary ports, the eastern seaboard has not only NY/NJ and Savannah, but Baltimore, Norfolk, Charleston, Jacksonville, Miami and Port Everglades in Fort Lauderdale.
Since 2008, Jacksonville has almost doubled its container throughput to 1.1 million TEUs with most of the upsurge coming from Asia, says Jaxport's Chief Commercial Officer, Roy Schleicher. The port currently handles nothing larger than 8,800 TEUs but expects to begin receiving ships carrying up to 14,000 containers.
"It's a cascading effect," Schleicher says. "The bigger ships are going between Asia and Europe and Asia and the West Coast. And the ships that were on the West Coast are coming to the East Coast. The workhorse of the future on the East Coast, in my opinion, is going to be the 10,000 to 12,000-TEU vessels because they call on so many ports."
In anticipation of the new traffic, Jaxport is deepening its channel to 47 feet and is engaged in a comprehensive infrastructure program to rebuild its docks. It's installing three new and larger container cranes to reach across the decks of the wider ships it plans to handle. With the improvements, Schleicher says he expects Jacksonville's container volume to triple to more than three million TEUs over the coming decade.
The Intermodal Advantage
One of the most critical issues facing North American ports is intermodal operations, the process of moving cargo from the waterfront to the consumer as quickly and economically as possible.
Jaxport is blessed with a first-class highway system that includes the primary East Coast corridor of Interstate 95, just minutes from the port; Interstate 10, which runs from Jacksonville to San Diego; and Interstate 75, less than an hour away, leading straight to the Midwest. To enhance those attributes, the port is building a new $30 million Intermodal Container Transfer Facility that will allow cargo to be unloaded at Jaxport and reach 60 million consumers within 24 hours.
It's not alone.
New Orleans, the second-ranked container port on the Gulf of Mexico, touts itself as "America's most intermodal port." Director of External Affairs Matt Gresham elaborates, "We are served by six Class One railroads, more than 50 ocean carriers, 16 barge lines and 75 truck lines. In addition to quick access to the interstate highway system and the extensive rail service, the port has access to 14,500 miles of inland waterways – the Mississippi River and its tributaries serving America's heartland and all points in between."
To the North, the Port of Montreal is also counting on its intermodal system to build on the 1.4 million TEUs it handled last year. Strategically located near North America's industrial hub, the port has one-day trucking access to over 40 million Canadian and U.S. consumers and can reach an additional 70 million consumers within two rail days.
"Work on a new container terminal started in June," says the port's Marketing Manager, Yves Gilson. "The new Viau container terminal, estimated to cost $83 million, will optimize the TEU capacity. Work will extend through 2015?2018, increasing throughput at the Port of Montreal by 600,000 TEUs to more than 2.1 million."
No End in Sight
Everyone predicts a torrent of new container business in coming years. The widening of both the Panama and Suez Canals and the Trans-Pacific Partnership (TPP) herald a new era of ever-increasing trade between the U.S. and foreign markets, and particularly Asia. Covering 40 percent of the world's economy, the TPP will allow expanded access to rapidly growing East Asian economies.
Ironically, however, even the wider Panama Canal may be antiquated before its scheduled opening in 2016 in that it will not be wide enough to accommodate the big box ships, making it unclear what its overall impact on container traffic will be. But despite the uncertainty, there's a growing sense of confidence that the advent of a new age of container ships is a precursor of even bigger things to come in world trade.
The opinions expressed herein are the author's and not necessarily those of The Maritime Executive.