Brian D'Isernia - Founder & CEO, Eastern Shipbuilding Group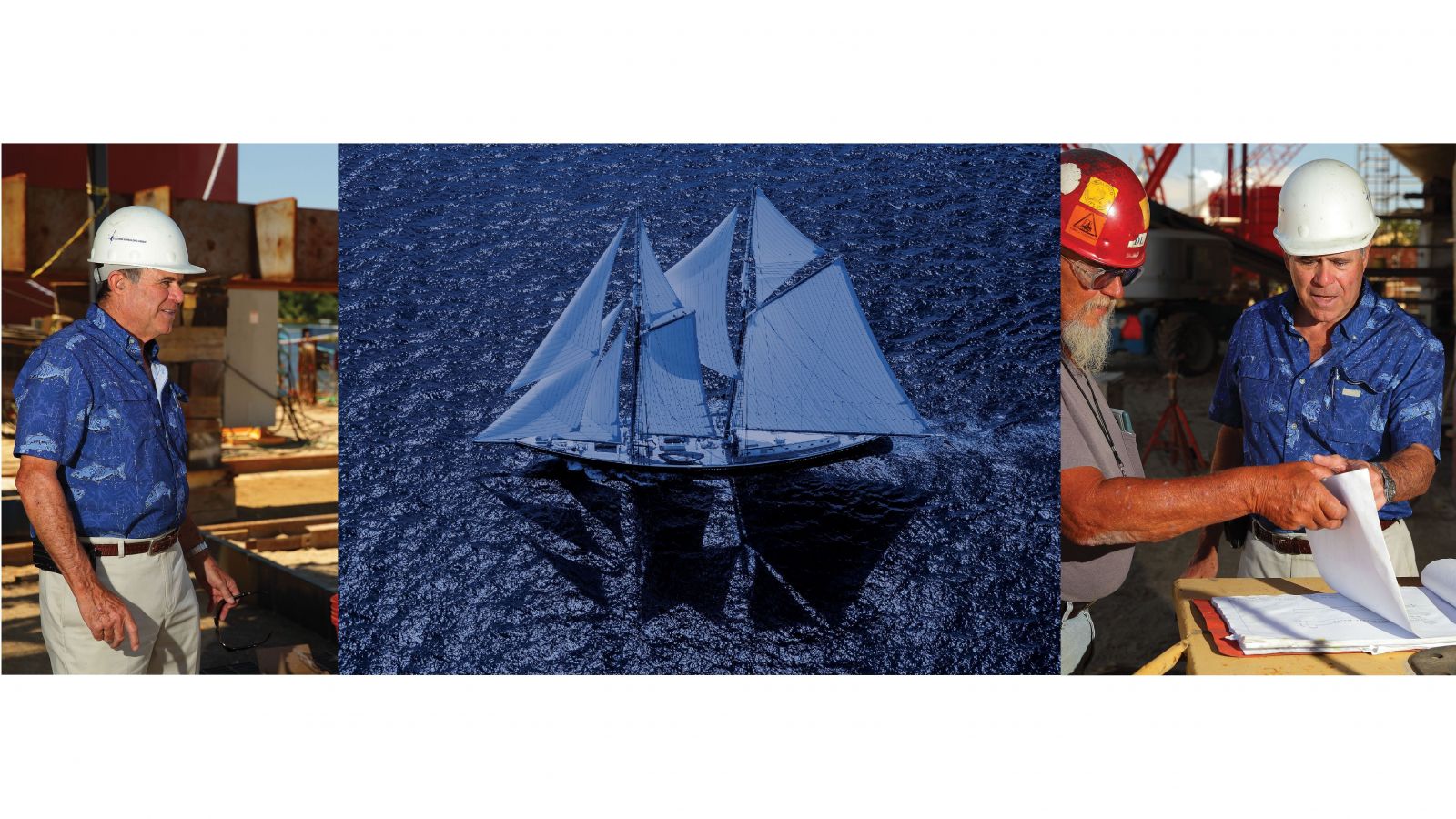 (Article originally published in May/June 2017 edition.)
YOURS HAS BEEN A UNIQUE JOURNEY – FROM LAW SCHOOL TO FOUNDER OF A COMMERCIAL FISHING FLEET TO FOUNDER AND CEO OF A MAJOR SHIPYARD. HOW DID ALL THAT HAPPEN?
I guess life is funny, huh? I went to law school and graduated in 1968 and was admitted to the bar in the state of New York, and since then I drove a taxi, worked construction in the Caribbean for a couple of years and became a commercial longline fisherman. I bought a couple of boats and started a fishing fleet, decided to build a boat, had one built and thought I could do a better job. So I started a shipyard to build two more boats, and that's kind of how it all started.
SO WHEN YOU CAME OUT OF LAW SCHOOL YOU DIDN'T JOIN A FIRM RIGHT AWAY?
I worked with my dad for a while – he had his own firm – and then decided I would rather work on my own problems than other people's problems. So I went my own way.
AND WHERE DID THAT LEAD?
Offshore. Longline fishing. My family had a sailboat. I learned to sail as a kid. I met some fishermen along the way, out of Gloucester actually, became friendly with them. They invited me out for a trip or two on a New England dragger and, boy, I fell in love with it. Even to this day, my eight years as a commercial fisherman were probably one of the better things I've done in my life, excluding marrying my wife of 45 years.
IS THAT WHEN YOU CAME TO FLORIDA?
Yes. We came to the Florida Panhandle in 1974 and were the third Northeastern company down here swordfishing. There were two other fishermen from New England who had come down in the 1960s, and they had some successful fishing seasons in the Gulf and told me, "You know, there's an honest fish dealer we met in Panama City named Jerry Cook, Cook's Fish Company." So we took our fish – guess where? – to Cook's Fish Company, and those two fishermen were right. That's how we came to Panama City and I never really left. I'm still here.
OKAY, BUT YOU WERE A FISHERMAN THEN. HOW DID YOU GET INTO SHIPBUILDING?
I'll tell you how it happened. It just evolved. We came down here with two small fishing boats – wooden boats. There was an 80- foot, steel fishing boat under construction here in Panama City. The buyer cancelled out and I was able to buy that vessel, but the shipyard that worked on it was fairly slow and late and we missed our season.
We had to finish that boat ourselves, and she did fairly well and I had financing from a New England bank to build two more boats.
So I decided, "Heck, I'll just build them myself." I leased an acre of waterfront land from Cook's Fish Company for $1,000 a year and hired a total of 10 people, including a foreman who had just quit his job in another yard. We went out and bought four welding machines, and we were in business. That's how it started, and the first two vessels we built were for me.
WHY THE NAME "EASTERN SHIPBUILDING"?
I guess because we fished out of the Northeast and just settled on the term "Eastern," and it stuck.
HOW DID THE COMPANY EVOLVE FROM ITS ORIGINAL FOCUS ON FISHING BOATS TO A BROAD RANGE OF VESSEL TYPES?
It all just came about by customer demand. We started building fishing boats and graduated into tugs, barges, ferries, oilfield vessels. Since those first two vessels I built for myself we've built approximately 350 vessels. Lately we delivered 12 vessels to Hornbeck Offshore on schedule. We built five PSVs for a company in Brazil, and we've built numerous vessels for Harvey Gulf. We work hard!
WHAT'S THE LARGEST VESSEL YOU'VE BUILT THUS FAR?
Well, I'm looking out my window now at a 433-foot, double-trailing suction hopper dredge we built, launched and are outfitting for Great Lakes Dredge and Dock, and she's an ATB dredge. She's serviced by a 150-foot, 15,000-horsepower ATB tug that locks into the stern notch of the dredge. So overall that tug will overhang the dredge by 100 feet and it's really a 533-foot, 15,000 horsepower ATB tug-and-barge with another 10,000 horsepower just to run the pumps. That's a sizable vessel. I'm also looking out my window at two 340-foot subsea construction vessels that we're finishing up for an oilfield customer, Harvey Gulf.
HOW MANY EMPLOYEES ARE THERE?
At our peak, building oilfield vessels a couple of years ago, we were at about 1,800 people. We're down now to about 1,000 because there's no new construction going on in the offshore market. We'll be hiring more people soon because we're in the two-year, detailed design phase of the offshore patrol cutters' (OPC) contract and in another 18 months we'll be cutting steel and hiring people for the construction phase.
OKAY, TELL US ABOUT THE COAST GUARD CONTRACT. IT'S YOUR FIRST FORAY INTO THE GOVERNMENT SECTOR AND IT'S THE BIGGEST CONTRACT IN COAST GUARD HISTORY. IT ALSO SEEMS LIKE THE CULMINATION OF YOUR LIFE'S WORK. HOW DID YOU DO IT?
I think we won the OPC contract with, number one, a good proposal and, number two, a vessel that was judged to be technically superior. And, of course, our price was attractive. We listened to the Coast Guard, and their watchword was and is "affordability." And in that regard we have built a solid record over the years of constructing quality vessels and delivering them on time and on budget. I think the Coast Guard liked that.
I also think the OPC contract may introduce a new concept in government contracting. Eastern has competed in the commercial market for its entire existence and it's made our company lean and efficient, which is probably the main factor in our winning the OPC contract. We haven't been exposed to the bureaucracy and high overhead associated with the larger, Tier 1 defense yards.
WAS THE COAST GUARD AWARD THE STIMULUS FOR OPENING A WASHINGTON OFFICE EARLY THIS YEAR AND APPOINTING FORMER COAST GUARD COMMANDANT ROBERT PAPP AS ITS HEAD?
We'll be dealing with the federal government, mainly the U.S. Coast Guard, for years to come, and that's the reason for setting up our Washington office. While we have complete confidence in our ability to build the offshore patrol cutters for the Coast Guard, taking on our first major government contract is much like the master of a ship entering a foreign port for the first time: A wise captain takes on a pilot to guide him, and that's why we've opened our Washington office and are working with Admiral Papp.
THE OFFSHORE MARKET HAS TRADITIONALLY BEEN YOUR BIGGEST. HOW DO YOU SEE IT TODAY?
It's a very, very, very tough market. I don't have a crystal ball, and I don't know how truthful crystal balls turn out to be, but it's a tough market and it's going to remain tough for a few years. Thank goodness we've delivered all the Hornbeck boats and the Harvey Gulf boats are almost complete. And thank goodness we diversified into other types of vessels. We're building diversified vessels now and thank God for the U.S. Coast Guard Offshore Patrol Cutter contract.
CAN YOU TELL US ABOUT ANNUAL REVENUES?
Well, I guess that's between me, my accountant and the IRS, but let's just say we've grown substantially.
ARE YOU THE SOLE OWNER OF THE BUSINESS?
Yes.
"WE'VE GOT YOU COVERED" IS THE COMPANY'S PHILOSOPHY IN A NUTSHELL. DID YOU CHOOSE IT, AND WHAT DOES IT MEAN?
It was a collective idea, and it means our focus is on – guess who? – the customer. Whatever we can do to help them, we do.
WHAT'S BEEN YOUR FAVORITE PROJECT OVER THE YEARS?
That's a tough one. I guess I'd have to say my very first vessel, an 88-foot fishing boat I named after my mother, the Mary D. That's probably my favorite vessel.
FAMILY IS VERY IMPORTANT TO YOU, AND EASTERN IS VERY MUCH A FAMILY COMPANY. TELL US ABOUT THE BLEND OF FAMILY AND BUSINESS.
Well, I kind of view Eastern as the quintessential family business. I have 10 children, as you know. Six sons and four daughters. All 10 have worked at the yard at one time or another. In fact, my six sons are all employed here and doing a darn good job. We've recently made my son Joey the President of the company, and I'm proud of all my children who work here. They are truly contributing to our success.
WHAT'S YOUR BIGGEST CHALLENGE RIGHT NOW?
Bridging the gap between building mostly oilfield vessels to building the offshore patrol cutters. All the yards on the Gulf Coast are suffering from the collapse of the offshore market. We recently won a contract for three new Staten Island ferries, and that will help get us through until we begin the construction phase of the OPC contract.
WHERE DO YOU SEE THE COMPANY IN FIVE YEARS?
Just remaining a thriving, honest and value-driven commercial and government shipyard.
WHY HAS EASTERN BEEN SO SUCCESSFUL, IN BOTH GOOD TIMES AND BAD?
I don't know. I think a lot of it is attributable to hard work and perseverance. We've lived through a number of dramatic cycles and we're in a big one now – the downcycle in the oil patch – and we just have to do our best and persevere. We have a cadre of long-term employees and management people, and I place a lot of value and trust in them. It also helps that we're diversified and have experience in a wide range of vessels.
DO YOU HAVE ANY PLANS TO RETIRE?
No. I'm a shipbuilder. It's in my blood.
WHAT LESSONS CAN OTHERS LEARN FROM YOUR EXAMPLE?
I don't know if I'm qualified to lecture on that, but I think the age- old formula of hard work and perseverance counts for a heck of a lot. So do honesty and putting the customer first, putting quality first. They don't just apply to shipbuilding. They apply to all businesses. And I happen to have the luxury of an understanding wife and a good family. Put them all together.
ANY LAST WORDS FOR OUR READERS?
Yes, "Semper Paratus"! -MarEx
The opinions expressed herein are the author's and not necessarily those of The Maritime Executive.