Historic Cruise Ship Astoria Faces Uncertain Future in 75-Year Career
One of the last historic ocean liners and oldest ocean-going cruise ship, the 1948-built Astoria, is reportedly being sold although her owners are denying it is a sale for scrap. The pending sale marks yet another twist in the career of a ship made famous by a casualty.
The ship, which is marking 75 years since her maiden voyage, has not operated since the pandemic shut down the cruise industry nearly three years ago. Brokers, cited in a report by Tradewinds, are saying that the vessel which is currently laid up in Rotterdam is being sold for recycling and will soon be towed out to the breakers yard. For months, there has been a rumor that she would become the first ship broken at a new operation planned at the Inchgreen Dry Dock in Scotland. A company leased the facility from Peel Ports to start a ship recycling operation. The owners of the Astoria however are denying the sale saying they are negotiating a deal with a buyer that indicates they plan to operate the ship.
The Astoria began her long career as the first post-World War II newly built Atlantic passenger liner. In the closing days of the war, Swedish American Line had begun to plan for the resumption of its passenger operations. The company's fleet consisted of a 1904-vintage liner that they had anticipated retiring in 1940 and a 1924 liner that was operating as a mercy ship by neutral Sweden during the war. The company had ordered a beautiful Italian-built liner but was unable to take delivery due to the start of the war and the ship was sunk in 1945 while their other 1928-built liner had been taken over by the Americans and suffered significant fire damage at the end of the war.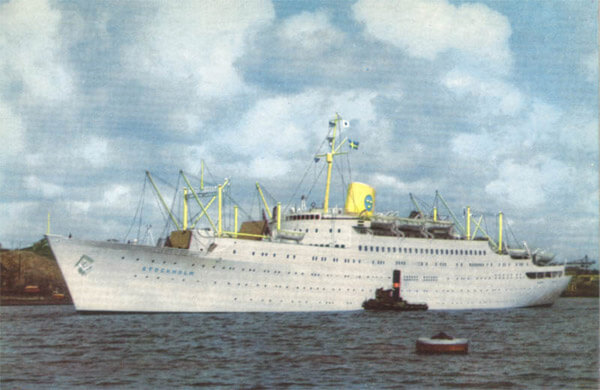 1950s vintage post card view of the Stockholm
Limited by post-war shortages of materials and the capabilities of Scandinavian shipyards, Swedish American ordered a 525-foot liner that at 11,700 gross tons would be a workhorse carrying cargo and mostly tourist class passengers. She was designed for year-round Atlantic service and sailing to Scandinavia she was given an ice-reinforced hull and bow which would forever seal her legacy.
Introduced in February 1948 as Stockholm, she had a modern Scandinavian design and became the first new post-war Atlantic liner. With high demand for passenger travel, she was rebuilt in 1952 expanding her accommodations but she had a mostly unremarkable career. Swedish American added a new modern liner in 1953 meaning Stockholm could also occasionally sail cruises.
Her legacy came however on a fateful night July 25, 1956. Outbound from New York to Scandinavia she was near the Nantucket Lightship. Radar was in its infancy in the commercial industry and the officers misread their devices causing the Italian liner Andrea Doria to emerge out of a fogbank making a turn across the course for the Stockholm. Her ice-strengthened bow tore through the Andrea Doria causing a fatal wound. A massive sea rescue saved most of the passengers aboard the Italian ship, which sank the in the morning, while the badly damaged Stockholm limped back to New York for repairs. A total of 51 passengers and crew on the two liners were killed in the tragedy.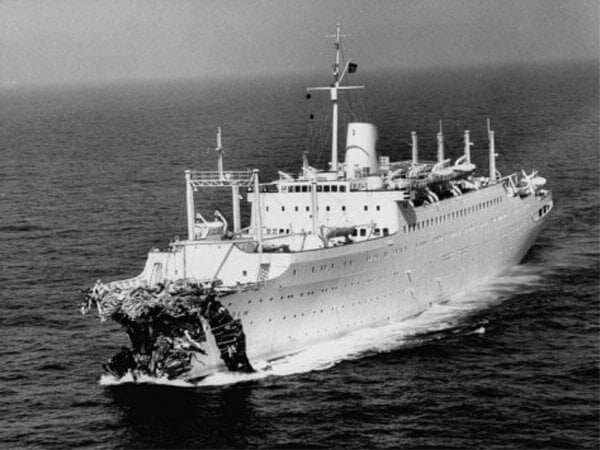 Stockholm returned to New York badly damaged after her collision with the Italian liner Andrea Doria (USCG photo)
Swedish American retired the liner four years later selling her to an East German group that used her as the Volkerfreundschaft for cruises to trade unionists and Community Party members. In later years she became a holiday ship in a company that was a forerunning to the modern Aida Cruises.
Her career would likely have ended there except for the surge in the cruise industry. Retired by the Germans in 1985 she ended up in Italy where in a project reportedly heavily subsidized by the government she was rebuilt into a modern cruise ship. She was stripped to the steel and given a new diesel power plant as well as sponsons along the hull.
Mostly unrecognizable, she returned to service in 1994 as a cruise ship operating under various names including Italia Prima, Valtur Prima, and Caribe. Just when it appeared her career was over, she was acquired by a Portuguese company, Classic International Cruises (CIC) who further refitted her as the Athena. In 2013, she went to the successor Portuguese company Portuscale Cruises renamed Azores, and three years later was chartered to the UK's Cruise & Maritime Voyages (CMV) who changed her name to Astoria. She was continuing to cruise but CMV planned to retire her by 2020 when the pandemic brought her career to a close.
CMV financially collapsed in 2020 but unlike their other cruise ships, because she was under charter, she was not auctioned. She was sold by the bank that had owned her after the financial collapse of Portuscale in 2016. An investment group acquired the Astoria but later abandon plans to rebuild her due to advanced age. She had been listed for sale since 2021.
Note: This story was revised to reflect the owner's denial that the vessel was sold for scrap.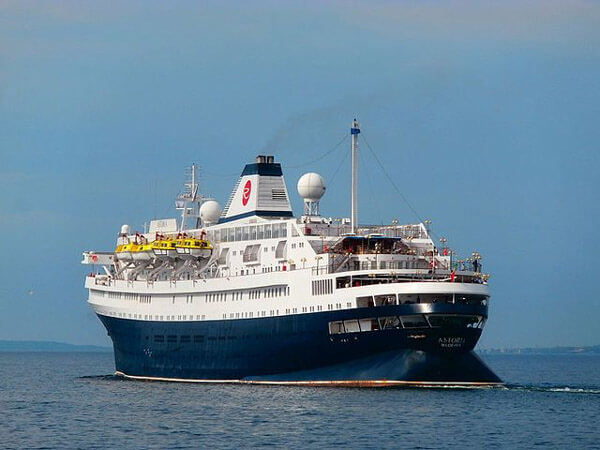 Near the end of her career, although heavily rebuilt, the sheer of the liner hull is still visible (Pjotr Mahhonin photo - CC BY-SA 4.0)
Top photo: (Cavernia photo of Astoria in Korsfjorden in 2018 - CC BY-SA 4.0)