U.S. Navy and NASA Test Space Module Recovery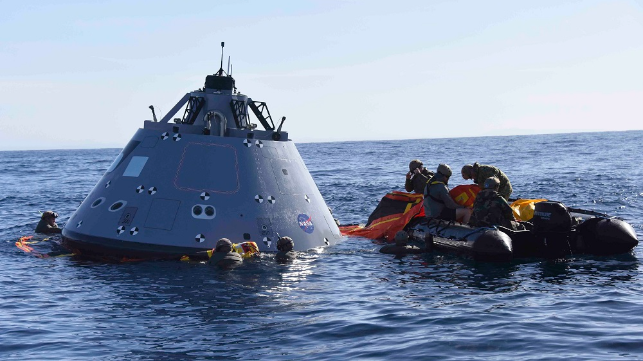 The U.S. Navy's amphibious transport dock USS Anchorage (LPD 23) successfully completed test recovery operations of NASA's Orion test article on January 23.
The Underway Recovery Test-6 (URT-6) is part of a U.S. government inter-agency effort to safely retrieve the Orion crew module, which is capable of carrying humans into deep space.
This marks the fourth completion of a recovery on board Anchorage. NASA engineers worked alongside Sailors from the Anchorage, the amphibious transport dock USS New Orleans (LPD 18), Special Boat Team 12 and Navy divers from Explosive Ordinance Disposal Mobile Unit 3 to test recovery operations of the Orion test article. Tests were conducted in varying sea states, during the day and at night.
With their main role of conducting amphibious operations, the San Antonio-class ships have unique capabilities suited to support NASA's missionincluding the ability to recover the test capsule using the ship's well deck, which was designed to launch and recover amphibious craft. Anchorage also has the ability to carry and deploy multiple small boats to aid in the recovery process of the capsule and contains an advanced medical facility ideal for treating the returning astronauts.
URT-6 consisted of releasing the test capsule from the well deck, then carefully maneuvering the ship alongside the capsule at slow speed. Once the test article was far enough from the ship, the lines attaching the capsule to the ship were released. Then, divers attached a stabilization ring designed by NASA that would help in sustaining the astronauts in the capsule for up to three days. Divers then removed the collar, attached lines from the small boats to steady and guide the capsule toward Anchorage, where Rigid Hull Inflatable Boats (RHIB) would then assist in attaching lines from a NASA-designed winch which then hauled the capsule into the well deck.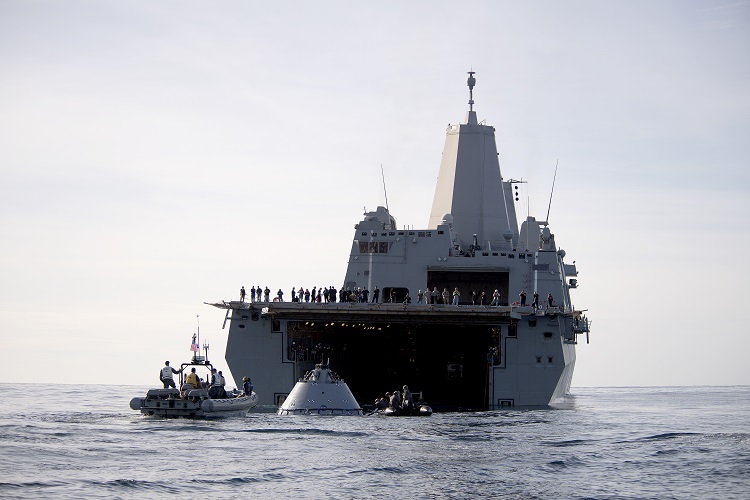 URTs have been conducted since 2014 and will continue to be until NASA engineers believe the recovery process is without error. The next URT, URT-7, is scheduled to be on the San Antonio-class amphibious transport dock USS Somerset (LPD 25) in October 2018 when NASA will conduct the validation and verification of the recovery hardware.
According to NASA's Recovery Director Melissa Jones, future tests will ensure NASA and the Navy arrive at a safe and more efficient way to recover the capsule for an early 2020's mission involving a flying crew. The Orion spacecraft is designed to serve as the exploration vehicle that will carry the crew to space, provide emergency abort capability, sustain the crew during the space travel and provide safe re-entry from deep space return velocities.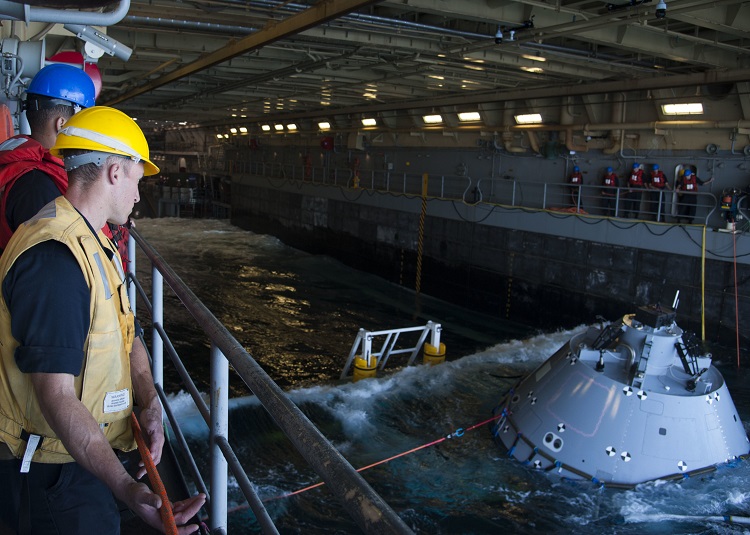 The opinions expressed herein are the author's and not necessarily those of The Maritime Executive.