The Titanic struck an iceberg and sank on its maiden voyage on April 15, 1912, killing 1503 people. The vessel now lies in 13,000 feet of water, 370 miles off the coast of Newfoundland, Canada, nearly two and a half miles (4,000 meters) below sea level overlooking a small canyon.
No light reaches the wreck at its resting depth, but at Titanic Belfast, claimed to be the world's largest Titanic exhibition, visitors can view high definition footage of what Titanic looks like today.
Titanic Belfast is built where the Titanic was designed and launched. The vessel was launched in 62 seconds on May 31,1911, and now 105 years later, Australian businessman Clive Palmer is planning a replica. Earlier this year, Palmer announced that Titanic II will set sail in 2018. The vessel's maiden voyage will be from Jiangsu, China, to Dubai.
The plans are on-going. Originally Titanic II was slated to make the journey from Southampton, England, to New York (the route planned for the first ship) by 2016. The billionaire, whose projects have also included plans to build a Jurassic Park-style theme park full of animatronic dinosaurs, reportedly signed the shipbuilding deal with the Chinese shipyard CSC Jinling back in 2012.
The original ship's design was conceived over a glass of wine and fine food. Lord Pirrie and J. Bruce Ismay decided speed would be balanced with quality of accommodation. It is rumored that when Pirrie enquired as to the length of the ship, Ismay replied, glass of wine in hand, "build me a stable ship that will not disturb the sediment in these fine wines."
Due to the size of the Olympic-class ships, which included the Titanic, the shipyard, Harland and Wolff in Belfast had to prepare for two years to be able to build them.
Palmer's new nine-deck ship will be 270m long, slightly more than Titanic, 53m high and will have a maximum speed of 24 knots. She will accommodate 2,400 passengers, 177 more than the Titanic, and 900 crew.
Palmer's Blue Star Line is building the $600 million Titanic II based on its "unsinkable" predecessor, but has updated the design to meet modern safety requirements. The ship will carry enough lifeboats for every passenger and will also be wider than the original to meet modern maritime safety regulations. The hull will be welded, not riveted like that of the Titanic.
A third Titanic is also under construction. A life-sized Chinese replica is expected to be complete by August 2017 and open to the public in October 2017.
Shipbuilder Wuchang Shipbuilding Industry Group, a Chinese State-run shipbuilder, is undertaking the one billion yuan ($161.3 million) project. Sichuan-based company Seven Star Energy Investment Group is providing the funds.
Su Shaojun, chairman of Seven Star, said that he wanted, through the reconstruction, to share and spread the spirit of the Titanic: love and self-sacrifice. The replica will be the centerpiece of a theme park expected to attract tourists from around the world.
Su has stated that Seven Star has launched the Titanic Foundation which aims to provide assistance to shipwreck accident victims. Three percent of ticket sales and one percent of the theme park's income will go to the foundation.
Some Titanic Myths (courtesy of The Titanic Historical Society and compiled by Paul Louden-Brown, Edward Kamuda and Karen Kamuda)
It was said that the builders and owners of Titanic claimed she was unsinkable. Actually, the claim made was that she was "practically unsinkable." Close enough, but nevertheless an unfortunate statement and one which would haunt both the builder and owner for years.
Titanic, the largest vessel in the world when she entered service in 1912, was not the finest nor the most technically advanced of her day. Size is seldom an indication that something is better and that was the only record she held… and only for five weeks when a larger liner, Hamburg-America's Imperator was launched on May 23.
Titanic and her slightly older sister Olympic were designed to compete with the Cunard liners Lusitania and Mauretania which entered service in 1907. Designed and built as record breakers, both held the coveted "Blue Riband" for the fastest Atlantic crossing. The sisters were built principally from lessons learned from advances in warship construction, but most importantly both were powered by steam turbines driving quadruple screws, each fitted with a large balanced rudder, making them faster than their competition and easier to maneuver -- a giant leap forward in marine engineering that is comparable to the advances made in 1969 with the introduction of the Concorde supersonic aircraft.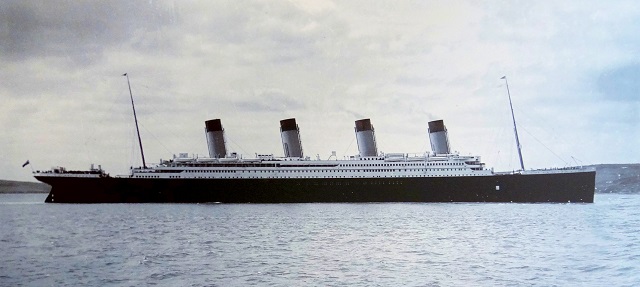 Titanic and her sister should best be described as the 747s of their day. Massive people carriers, traveling at moderate speed, with space for large cargos, which meant the new ships posed a great commercial threat to the smaller and more expensive Cunarders to operate. Building ships this large lead to inevitable compromises. Being identical in almost every respect to her sister, constructing Titanic meant adopting tried and true methods for her design and construction. No risks were taken with the choice of engines which actually were enlarged versions of the propulsion system first used experimentally in Laurentic in 1909, another White Star liner. That triple screw vessel proved that two expansion engines feeding exhaust steam into a low pressure turbine was more economical than vessels using expansion engines or turbines alone.
Titanic's hull and upper works were also enlarged versions of designs of previous White Star vessels only they had been refined over several decades. There was nothing custom made that was new or cutting edge. As stated, no risks were taken with the design and inside the ships were traditional Edwardian and conservative.
Her stern, with its high graceful counter and long thin rudder was, in fact, a copy of an 18th century steel sailing ship, a perfect example of the lack of technical development. Compared with the modern rudder design of the Mauretania or Lusitania, Titanic's was a fraction of the size. Apparently no account was made for advances in scale and little thought given to how a ship 852 feet in length, might turn in an emergency or avoid a collision with an iceberg. This was Titanic's Achilles heel.
Naturally these design differences meant that she would never be able to challenge the speed or maneuverability of the Cunarders, but this did not matter. White Star had given up all thought of speed records more than a decade before, in 1899, with the introduction of Oceanic, a ship that was given the title "Crowning Glory of the 19th Century." It was justly deserved for it was said that her interiors were the finest ever created by Harland & Wolff. But Oceanic was relatively small compared with Titanic and White Star could not afford to lavish the same scale of expense on their new ship. Titanic, nevertheless, was a first-rate vessel, well built, with large and spacious public rooms and finely appointed suites for those traveling in first class. There also were many other ocean liners built in Britain, France and Germany that were technically superior with interiors best described as magnificent and stunning.
The opinions expressed herein are the author's and not necessarily those of The Maritime Executive.