Look Out: MEO's Big Plans
The new CEO of Singapore-based Miclyn Express Offshore (MEO) plans to have the company in the offshore support industry's top 10 by 2020.
Venkatraman Sheshashayee (Shesh) has over 28 years of experience in manufacturing, shipping and offshore oil and gas services. He has set up three greenfield companies, building them into regional industry leaders in their domains. Between 2012 and 2014, he was responsible for the turnaround of Jaya Holdings Limited, which was completed in a record 30 months. Now he has his sights on an ambitious growth program for MEO.
MarEx spoke to Shesh to find out his plans and hear about the challenges he faces.
You took over as CEO on July 1. What are your goals?
We aim to grow ourselves to twice our current size by 2020. That will bring MEO to the top 10 offshore support companies worldwide by fleet size, revenue, earnings and global reach.
Where is MEO now?
Headquartered in Singapore, MEO has been providing reliable offshore support services since the 1970s. We already have a strong, widespread and capable base. We have about 150+ assets spread across eight countries in three regions: the Middle East, South East Asia and Australia.
How can you contemplate growth under current market conditions?
MEO has some advantages that many of our contemporaries don't. We've always focused on shallow-water production, so while other companies are suffering from drastic drops in their utilization, our utilization is still running at 85-90 percent.
We have some core customers in our region; we are very close to Saudi Aramco, Chevron, Brunei Shell and others, so there is a certain amount of visibility to our revenue. We have long-term contracts – our charter backlog is almost three years of revenue, so that gives us a certain amount of buffer.
What segments of the offshore market will you pursue?
We have agreed internally that about 70-75 percent of our business will continue to be shallow-water production and the rest will be in the exploration, development and construction markets. For some of that, we are aiming to get into Africa and Mexico.
What is ignored by most people, especially the media, is that 75 percent of all offshore production and exploration is still taking place in shallow water. Deepwater is the sexy topic, while shallow water is the boring and stable topic. We like boring and stable.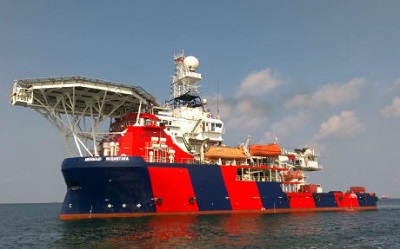 Tell us about your fleet.
We already have a wide range of vessels. We have a diverse fleet that includes crew boats, AHTSVs, AHTs, PSVs, ROV support vessels, dive support vessels, offtake support vessels, utility vessels, seismic support vessels, accommodation units and Workboats. We are able to service a variety of needs for our clients across all phases of the upstream oil and gas cycle. We also have a project business, EOS, that services our EPIC clients with a fleet of tugs and barges and other equipment chartered from third party operators.
How will your growth strategy change your vessel fleet?
We need to grow our fleet from 150 to about 200 vessels. Whether that growth will be organic or inorganic, time will tell.
We have a strong newbuilding team, and we have tasked them to build the next-generation designs – to talk to the designers and to talk to the market. We see that there are gaps in the market, and we want to be able to establish innovative and practical designs. For example, we definitely want to go in for LNG-powered vessels.
In one sense, the current market downturn is actually giving us the time to do things like this without constantly running after business.
What challenges do you face in Singapore?
Singapore has always been a fantastic home for most marine and offshore companies. The region is very welcoming. The rules and regulations are strict, but they are very fair. Additionally, most marine and offshore companies are not taxed heavily, so in that sense the environment for companies like ours has always been fantastic.
However, there is now a flipside, and there are two issues on that flipside. One is that costs in Singapore have gone up steadily over the last few years. One reason for this is inflation; the other is the exchange rate. The dollar here has become much stronger, so generally speaking fixed costs for most of the companies here has gone up substantially. That leads to a slight competitive disadvantage.
The other issue is that Singapore has tightened its rules on immigration, so the talent pool has shrunk. It is becoming a little tougher to stock your team with the right people.
How has the market downturn affected companies in Singapore?
Quite a few companies are going through a difficult time primarily because they indulged in excess. They have borrowed more money than they should. They have built more vessels than they should, so quite a few companies are going to find it very difficult servicing their debts and managing their balance sheets.
These companies face another problem. There has been a lot of speculative building in China, and when these vessels deliver the speculators stand them in Singapore and offer them to anyone at very low prices, undercutting most companies.
So, there are a few issues slamming all of us. Someone said it very beautifully some time ago: "Many of us will struggle. Some of us will suffer."
What do you foresee for MEO for the coming year?
It's not going to be fun the next year and a half, whatever time the oil prices take to play out, but during this time we are focusing on internal efficiency.
For the coming financial year we will not grow in terms of new fleet additions. Instead, we will focus on maintaining our strong utilisation levels and building contract backlog for our existing fleet. We will optimize costs, and we will reduce our debt.
With these four things as a very clear focus, we are preparing ourselves for the expected uptick in the market in the next 12-24 months. We will be ready to bring our plans to fruition.
Thank you, Shesh.
The opinions expressed herein are the author's and not necessarily those of The Maritime Executive.