CURRENT to Provide Improved Coastal Intelligence and Surveillance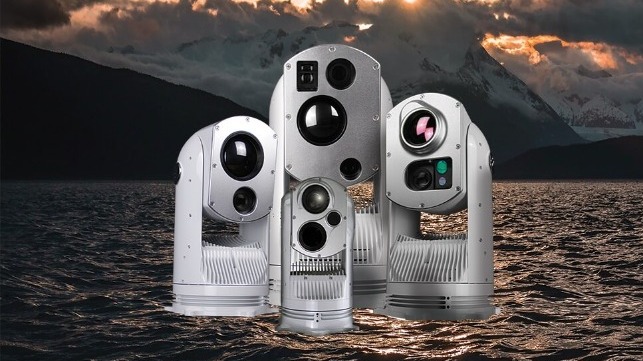 Current Scientific Corporation has made its mission to improve safety at sea by providing cutting edge technology in passive awareness and active nonlethal protection, for optimal long-range surveillance and intelligence.
CURRENT's line of Night Navigator™ thermal camera systems are built for a diverse range of applications including extreme weather search and rescue, anti-piracy, collision avoidance, autonomous and uncrewed vessels, and oil spill detection providing the most advanced technology in situational awareness and active surveillance for security and safety at sea.
One of CURRENT's latest innovations is the 360° Panoramic HD IR, consisting of a high-definition thermal camera array integrated with a gyro-stabilized EO/IR system. These systems provide an unprecedented combination of situational awareness with long range object and threat verification.

Enhanced Security & Safety
Poor visibility at night or in extreme weather conditions can majorly compromise critical situations such as navigation in high density traffic areas or confined waters and GPS/RADAR denied environments.
CURRENT's Night Navigator™ product line provides high performance electro-optical infrared (EO/IR) systems with excellent image quality, built for long-range recognition of objects, obstacles, and threats. These systems enable early decision making and preparedness in active situational awareness scenarios such as search and rescue (SAR) and long-range observation and intelligence.
Full Spectrum optical infrared camera systems
As a Canadian manufacturer of EO/IR camera systems, CURRENT is well positioned to provide full featured imaging solutions to the Canadian Coast Guard for protecting and securing our territorial waters. CURRENT's imaging systems are presently in operation worldwide on maritime and land-based surveillance programs, serving Naval & Defence sectors and Marine & Yacht industries. Night Navigator™ systems can be found on paramilitary vessels, coast guards, SAR, offshore specialty ships, ice class multipurpose vessels, research and scientific exploration, superyachts, unmanned surface vessels and High-Speed Ferries.
Available imaging solutions include cooled or uncooled thermal cameras in high definition, for long range observation as well as live panoramic situational awareness. CURRENT continues to integrate the latest sensor and effector technology including HD and 4K resolutions, laser dazzlers, image intensified night vision, laser range finders, SWIR, IR laser illuminators, and IR laser pointers, with flexible network-based control solutions to support a variety of end user operations: on board, remote, and autonomous.
CURRENT invests heavily in R&D to continuously innovate and expand its range of products to satisfy dynamic market needs and reach a broader range of marine applications. CURRENT is proudly Canadian with a vision to meet the unique and ever-changing needs of our Canadian Coast Guard, defence, and commercial maritime industries.
For more information, please visit https://www.currentcorp.com/.
The opinions expressed herein are the author's and not necessarily those of The Maritime Executive.