Cloud Computing Arrives for Port Agents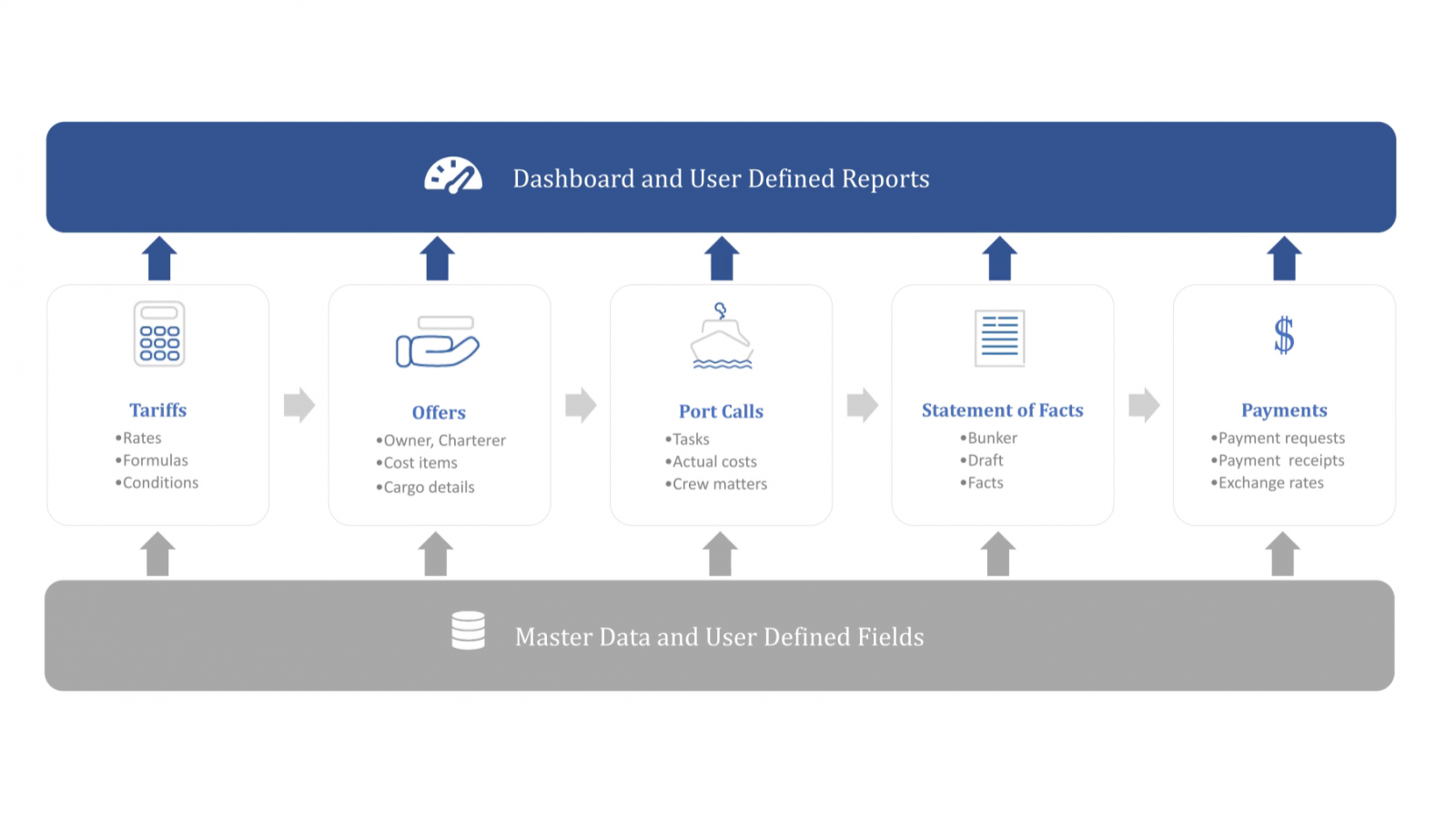 The days of large shipping companies specifying, commissioning and developing bespoke software systems are almost behind us. Two or more decades ago, the well-known names would invest significant sums and many thousands of man-hours building individual IT systems to manage the back office processes required to keep their operations running efficiently. More recently, and due in large part to advances in technology, the option of choosing "packaged" software has now taken center stage. Available at fraction of the price, packaged software is bought off-the-shelf and then customized to fit seamlessly into the peculiarities of an individual business. Because these solutions are tried and tested they require very little de-bugging, and they operate from the latest technology platforms, ensuring the user gains maximum benefit from their IT investment. Additionally, the software provider commits to regularly upgrading its technology meaning the user will never get left using old and unsupported platforms.
Until relatively recently, packaged software was installed on an in-house server and accessed via a network of PCs. Data was stored and retrieved locally. Nowadays, many firms are choosing a hosted solution whereby they access the application through a standard web-browser and store their information in the cloud. Not only does this eliminate the requirement to install and maintain high specification servers in-house, it also means that the user only pays for what they use.
Remote data storage is often thought of as a risk, particularly as cyber-security is becoming much more of a threat than ever before. But we need to remember that cyber risk is similar to any other business risk which must be understood and mitigated. Storing data externally in a professional environment is generally less of a risk than managing it in-house. State-of-the-art hosting farms will incorporate robust back-up systems as well as high level defense mechanisms that are monitored around the clock – features that are not easy for a single shipping company to replicate.
One particular sector of our industry that is not yet well served by technology are port agents, who provide the link between vessel, shipowner, charterer and port to deliver the services that enable a ship to operate effectively when alongside. They arrange port services and crew changes, manage port expenses and much more. The workload requires the agent to maintain an almost overwhelming amount of information that must be tailored, packaged and sent to clients, terminals, chandlers and a range of other parties. Most agencies are small companies running their businesses on phone calls, spreadsheets and notebooks. This is becoming unsustainable, particularly as agents are often on the move between their office, the port and the vessel. Today's technology means that a solution developed specifically for port agents can take a leap away from the cumbersome heavy-weight systems of yesteryear in favor of an alternative marrying packaged software with cloud-based, platform-independent technology.
Softship AG has just launched such a solution: SAPAS – Softship's Advanced Agency Solution – is designed to store and look up all the information required by the agent. It does away with the paper and spreadsheets and eliminates the re-typing and transferring of information from one medium to another. Its central database is flexible and can be customized to suit individual working practices. For example, port tariffs can be hugely complex and based on a range of factors such as vessel GRT, NRT, LOA, port stay days or other measures. It is important to capture all this data and reuse it accurately, and the software's centralized storage allows tariffs to be calculated in a standardized, consistent manner.
Agents are also continually being asked to quote the likely cost for a ship's port call, a time-consuming process that doesn't automatically translate into a fee. SAPAS will take data already input to calculate an accurate quote – or offer – and present it in a bespoke report format that can be quickly emailed to the potential customer. If accepted, the data used in the offer is then translated into a working port call. SAPAS captures all the activities and associated costs to create a Statement of Facts and eventually a Disbursement Account. It creates tailored task lists and monitors progress to ensure the agent's performance is on track for each vessel they are currently working. And all this data is stored, protected and backed-up in the cloud.
This is a great example of taking the best that technology has to offer – trusted software, cloud technology, mobile access – and applying it to a sector that is in desperate need of streamlining its everyday activities.
Lars Fischer is Managing Director of Softship Data Processing Ltd, Singapore, a wholly-owned subsidiary of Softship AG, the leading provider of software solutions to the international liner shipping sector. www.softship.com
The opinions expressed herein are the author's and not necessarily those of The Maritime Executive.