Structural Composites Solve Common Pump Problems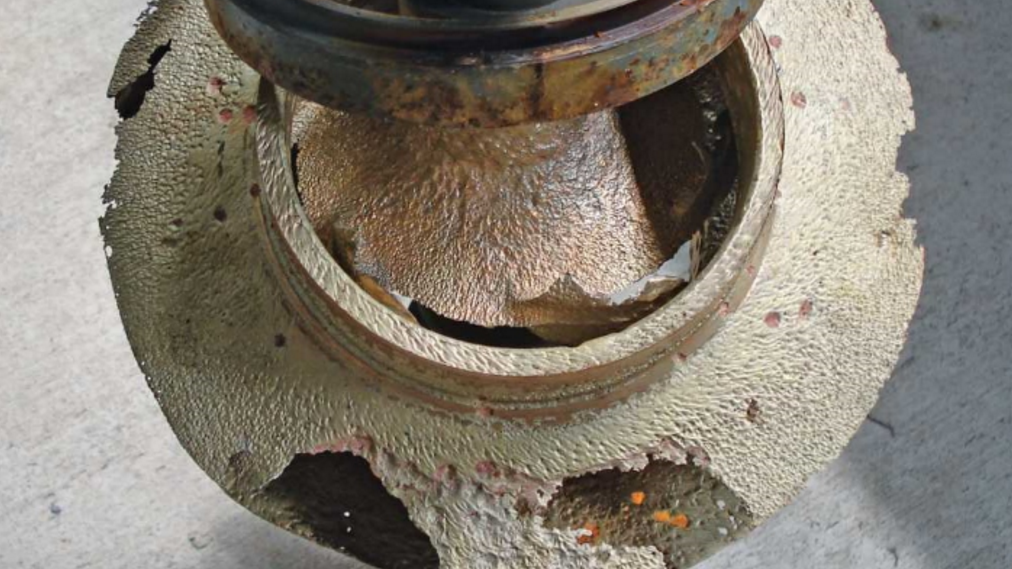 Instead of repairing a pump with OEM parts or replacing it with a new pump of the same quality, shipowners have a better option: upgrading pumps with products that last much longer. With most pumps and pump parts coming from out of the country, the quality of materials and parts for pumps and pumping systems have substantially deteriorated in the past few years, forcing customers to replace or repair products much more rapidly.
Fortunately, specialized pump companies like U.S.-based SIMS PUMP offer structural composite upgrade components, which enable old pumps to last many times their original life. SIMS manufactures well-made pumps, impellers, rings, sleeves, bearings, bushings, and mechanical seals for any centrifugal pump. These composite products are computer engineered, designed, and precision machined to offer maximum longevity, reliability and energy savings. Simsite® pumps and parts are designed with state-of-the-art CFD techniques to maximize efficiency, and SIMS impellers are precision machined from one center position and perfectly balanced.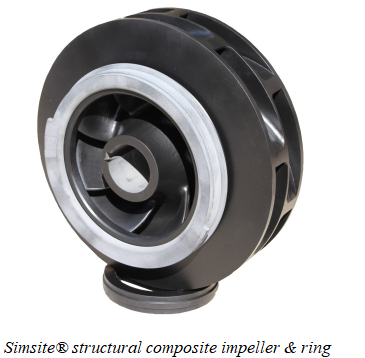 In difficult times, it may be hard to allocate the funds, but the payback will prove to be extremely quick – in most cases less than a year. In almost all cases, the incremental costs of upgrades are minimal when compared to the costs of downtime and expensive repairs. SIMS PUMP focuses on life extension, which is a very different concept from traditional pump manufacturers who make their money selling spare parts.
Structural composites have excellent mechanical properties and are resistant to corrosion, erosion and cavitation. These machined structural composite pumps, impellers, rings, and pump parts cut downtime, maintenance, repair, and energy consumption, saving lifecycle costs. These parts can eliminate corrosion, erosion, cavitation, electrolysis, rotor imbalance, premature bearing failure, and leakage between the wear rings, casing rings and interstage bushings – problems that can quickly destroy metallic pumps and pump parts, leading to inefficiency and a drastic increase in energy consumption. Simsite® products do not corrode in sea water, waste water, sewage or chlorinated water, so efficiency and performance will not deteriorate over time. Simsite® products have been shock-tested to U.S. Navy standards, and the Navy has upgraded hundreds of vessels over the years with Simsite® pumps and components – a testament to their durability and performance.
Simsite® structural composite pump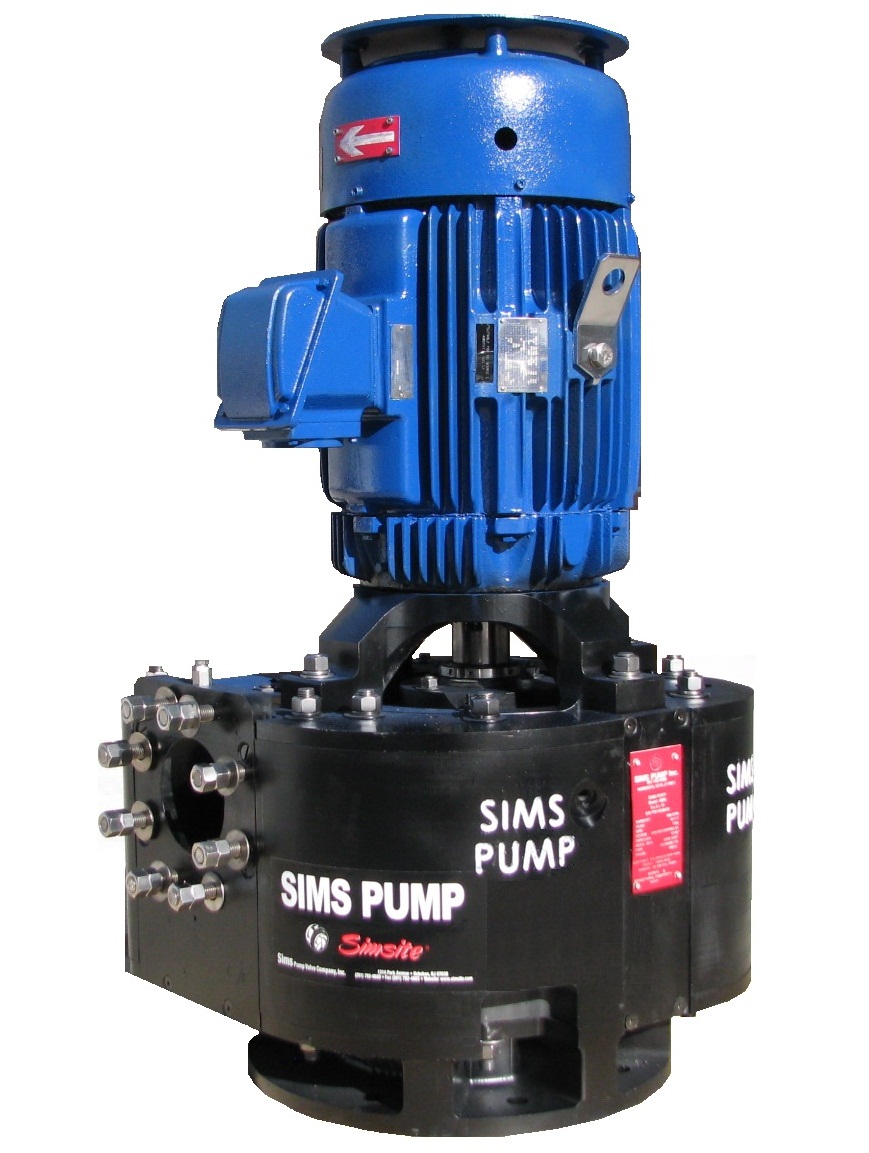 Simsite® marine vertical pump
Fixing hard-to-solve pump problems
It is all too common to purchase a pump for one specific design point, and when you put the pump into service on your ship, the pump operates at a completely different point from the best efficiency point (BEP) of the pump because your system requirements have changed.
In addition to being very inefficient, when you operate the pump away from the BEP, it causes a multitude of problems. These problems include excessive noise and vibration, shaft oscillation, cavitation, premature wear and failure of the mechanical seals, bearings, rings, sleeves and impellers. In extreme cases, the pump shaft will break right behind the impeller from the excessive radial forces that occur when you operate a pump away from the original design point.
This wastes energy and money. The larger the pump, the more energy is wasted when a pump operates off the original design point; however, operating any pump away from the BEP wastes a tremendous amount of money since 85 percent of the total cost of owning a pump is the operating cost (maintenance cost plus the cost of energy). These problems can be easily resolved by installing engineered structural composite impellers and rings, which have been engineered for your specific system requirements.
Aftermarket engineered composites are also excellent alternatives for hard-to-find parts for old or obsolete pumps. In addition, Simsite® products can be purchased on a quick delivery basis in a fraction of the time needed to source conventional metallic parts.
Reducing shaft deflection and wear
Composites also help in the reduction of shaft deflection. Structural composite impellers and casing rings like Simsite® products are only 15 percent of the weight of traditional metallic materials. The lower weight not only reduces start-up load, but also reduces shaft deflection, which allows the rotating element to run with tighter clearances between the rings and the impeller. The tighter ring clearance reduces leakage, which increases efficiency and reduces energy consumption. The reduction in shaft deflection also enables bearings, sleeves, mechanical seals, and rings to last much longer, which saves on repair and maintenance costs.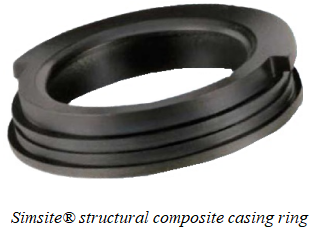 Simsite® composite casing rings will seal against the pump casing like a gasket and prevent pump "wash out" (damage to the casing from flow circulating behind the ring). Wear between the casing rings and the impeller wear rings creates large clearances, resulting in a substantial decrease in pump efficiency and an increase in the energy needed to operate the pump.
Historically, most pump companies, and repair facilities have used metallic parts for wear rings and casing rings. These metallic parts have the potential to gall and seize, and therefore require larger clearances between the parts. Compounding the issue is that these metallic parts do not have self-lubricating qualities like many structural engineered composites, and metallic parts are always subject to corrosion, which further increases clearances and energy consumption.
Composite sleeves and guide bearings
There is no reason to use metallic shaft sleeves and guide bearings when you can use Simsite® structural graphite composite bearing and sleeve upgrades, which protect the shaft, weigh less and and seal better. Wear between metallic rings creates large clearances and increases shaft deflection, which results in substantial decreases in pump efficiency, premature pump failure, and huge increases in the energy consumed to operate the pump.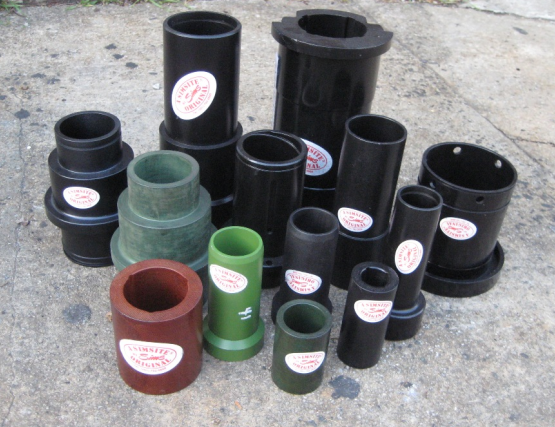 Simsite® structural composite sleeves & guide bearings
Most composite sleeves and guide bearings have self-lubricating qualities, which allow for tighter clearances and prevents excessive shaft movement. The self-lubricating qualities of the structural composite bearings and sleeves substantially reduces frictional wear on the shaft. Additionally, the structural fibers in structural guide bearings such as Simsite® offer extremely high anti-galling characteristics. The highly polished surface finish of Simsite® bearings reduces unnecessary wear on the shaft as well as the bearings.
Structural graphite composite mechanical seals
Composite seals are unique, because they incorporate light weight, high mechanical strength, and superior corrosion resistance. Simsite® structural graphite composite mechanical seal upgrades have a superior sealing design, which incorporates silicon carbide seal faces. The glands have an O-ring design for sealing against the pump casing, which enables the composite seal to be used on rougher surfaces or split-case pump housings.
Ship overhauls, newbuilds and new system installations are good opportunities to specify pumps with upgraded efficiency and reliability features such as Simsite® composite pump internals (impellers, casing rings, sleeves, bushings, bearings, and mechanical seals). By installing high quality composite alternatives that have been specifically engineered for your system requirements, the efficiency, reliability and longevity of your pumps can be substantially improved.
John A. Kozel is the president of SIMS PUMP Valve Company. For more information, he may be reached at +1 201-792-0600 or at simsite1@aol.com.
The opinions expressed herein are the author's and not necessarily those of The Maritime Executive.