Royal Navy Prepares for Royal Wedding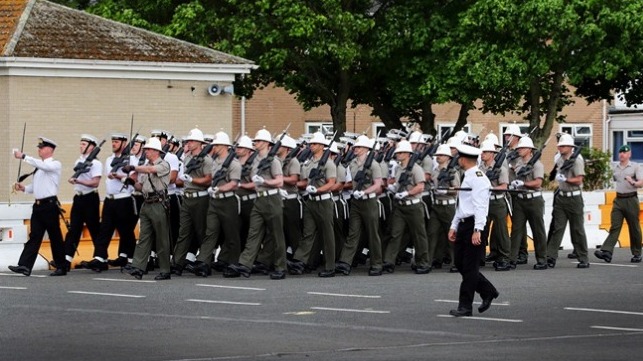 Sailors from the Royal Navy and the Royal Marines have been training at the UK Maritime Warfare School for their duties at the much-anticipated wedding of HRH Prince Henry of Wales and Ms. Meghan Markle this Saturday.
Royal Navy sailors from the Fleet's Small Ships and Diving Units and 30 Commando IX Group Royal Marines from Plymouth will join the Armed Forces' ceremonial contribution to the Royal wedding. 24 ratings and one officer from the Royal Navy and the same sized contingent from the Royal Marines will line the streets within Windsor Castle along with their counterparts from the Army and RAF.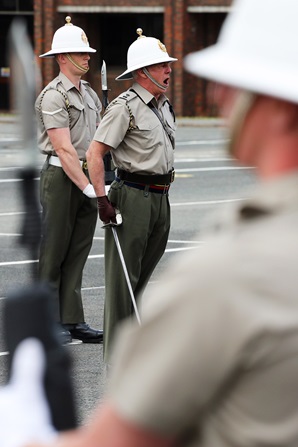 The Royal Navy State Ceremonial Officer, Warrant Officer Eddie Wearing, is in charge of training all personnel for their ceremonial duties. "We have done a lot of ceremonial duties in the last twelve months, including Royal duties in London, which was a first for the Royal Navy, and now a Royal Wedding. It's going to be hard to top that," he said. "The guys will be able to cope with the pressure on the day because we have done a lot of training and it's all about repetition so that they are focused on what they are doing."
Prince Harry was appointed Commodore-in-Chief Small Ships and Diving by HM The Queen in August 2006. Since then HRH has maintained close links with this community within the Royal Navy. Most recently he was also appointed Captain General Royal Marines in December 2017, taking over from his grandfather, The Duke of Edinburgh, who held the title for 64 years.
Able Seaman (Diver) Andy Waller is representing Southern Diving Unit 2, based at Horsea Island in Portsmouth, at the Royal Wedding. He said: "We've been practising for two and a half days and it's been very intensive training, but it's come together very well. This is a seminal moment for the British Royal Family which does not happen very often. Prince Harry is well loved by the military so we're very proud to be taking part."
SDU2 is on call to respond to any explosive ordnance discovered in the south of the country, including First World War and Second World War mines and bombs uncovered during construction work or caught in fishing nets. Most recently they responded to a 500 pound World War II air-dropped bomb found during dredging work at London City Airport, safely containing and destroying the potentially hazardous ordnance.
SDU2 were also named the Hero At Home Unit at the Sun Military Awards in December 2017 in recognition of their endeavours. 30 Commando Royal Marines specializes in information exploitation, including ground manned reconnaissance and electronic surveillance. As previously confirmed, more than 250 members of the Armed Forces will perform ceremonial duties at the Royal wedding.
This article appears courtesy of Royal Navy News and may be found in its original form here.
The opinions expressed herein are the author's and not necessarily those of The Maritime Executive.