No Boxship Shortage for Russia: Turkish Carriers Pick up Liners' Slack
Most global shipping lines discontinued service to the Russian Black Sea port of Novorossiysk by Q3 2022, but there are plenty of alternative carriers ready to replace them and fill up the gap in tonnage capacity, according to Ukrainian shipping intelligence firm Informall BG.
Russian trade in containers is shifting from the Baltic to the Black Sea
As Russia-EU trade via the Baltic Sea was heavily sanctioned in response to the Russian invasion of Ukraine in 2022, Russian traders began to shift towards alternative routes, avoiding EU transshipment ports. The Black Sea-based port of Novorossiysk is one of their few remaining options.
The Russian Baltic container terminals that depend heavily on European container hubs lost over half of their container traffic during January-September 2022 compared to the same period in 2021. At the same time, Russian container turnover on the Black Sea - which largely relies on Turkish container ports for transshipment - has dropped by just 11 percent over the same timeframe.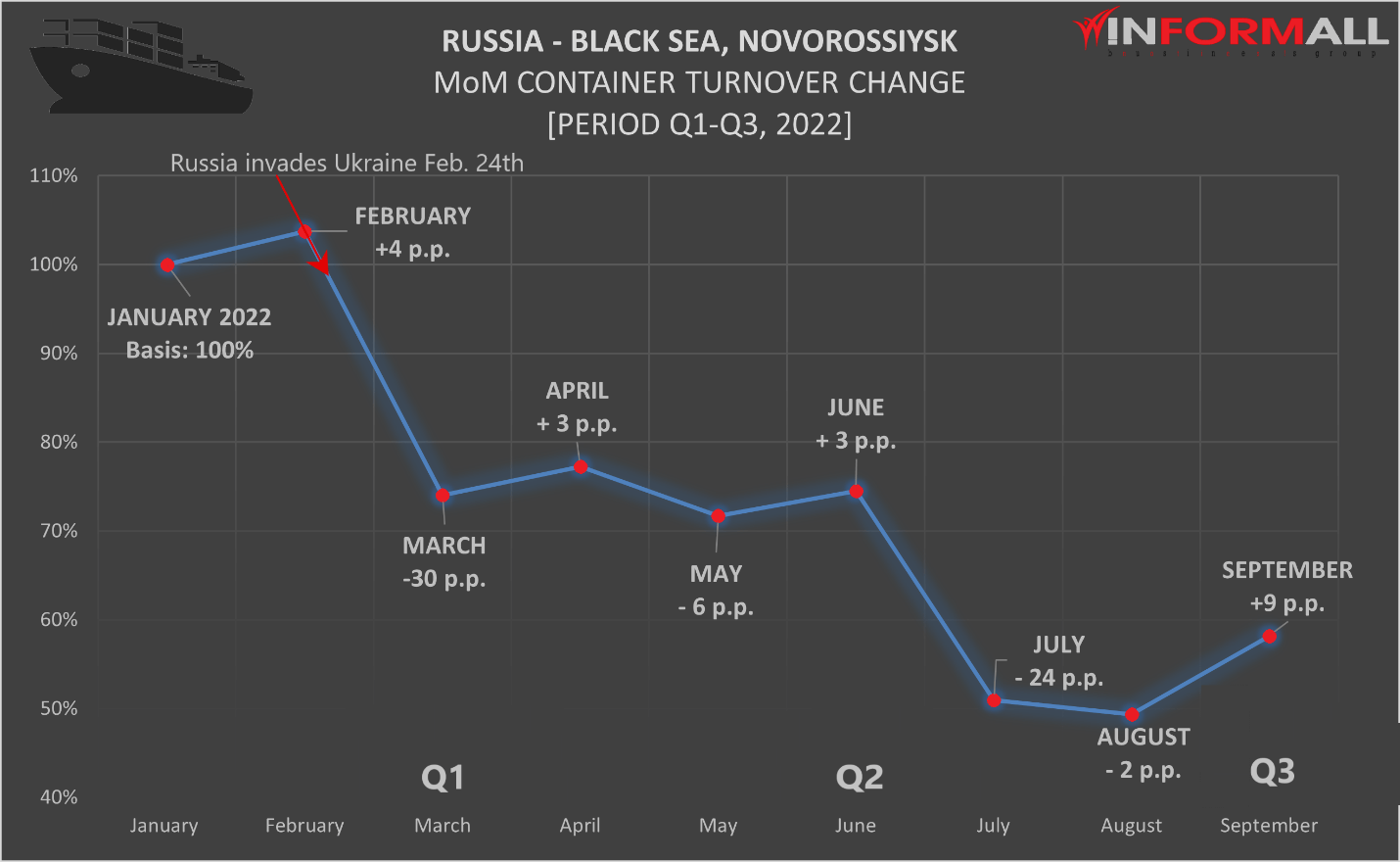 Informall BG's findings show that significant logistical changes have affected containerized cargo moving via Saint Peterburg (prior to the war, a major gateway for Russian containerized freight). Due to liner service suspension by many shipping companies, certain types of cargo (such as coffee and cocoa beans) that traditionally arrived at the port in ocean containers are now shipped directly to the country by road and rail.
Unlike the Russian-Baltic container market, the Black Sea port of Novorossiysk has managed to stabilize the flow of import and export containers, primarily through well-developed Turkish-Russian relations in the trade and logistics sectors.
After a two-month volume fall in the port of Novorossiysk, its container terminals regained nine percent month-over-month in September. Although numbers show (below) that global shipping lines did not carry any considerable volume of shipments to/from Novorossiysk prior to the war, those liner services played a vital role for many businesses in Russia, connecting them to the remote destinations of Asia, Africa, and South America.
As the number of international liner services dropped and sanctions cut logistics ties off from both sides, Russia now uses a limited number of destinations for its import and export needs.
Parallel import of various goods (including dual-use products) facilitated by the transport systems of Iran, the United Arab Emirates, China and India have become a common way to dodge sanctions in Russia by both Moscow's government and local businesses.
A window of opportunity on the Black Sea - again?
Black Sea regional and niche carriers burst into the Russian-BSEA container market to benefit from the drop in global liner activities in Novorossiysk.
"The situation on the BSEA market today is comparable to the period of time when global ocean carriers reoriented a chunk of their capacities to the Transpacific and Asia-Europe tradelines in 2H 2020 - 2021 due to skyrocketing spot rates and unprecedented demand for the tonnage and empty container equipment in South-East Asia," says Daniil Melnychenko, a data analyst at Informall BG. "As global carriers retreated from regional services and focused on the more lucrative major tradelanes, regional and niche carriers such as Turkish 'Akkon Line' launched services to Novorossiysk during the period of the COVID-19 pandemic; Other operators used that chance to develop already existing services and increase their market share."
While the pandemic-era departure of the global container carriers was simply about making profits, this time the reasons are more complex and far-reaching, he adds.
Market changes driven by the Russian aggression in the Black Sea region have created a window of opportunity for those shipping companies that are ready to take their chances in the war-disrupted market. Turkish-origin private carriers of various sizes which facilitate cargo moving to/from Novorossiysk actively grew their volumes of Russian container traffic in 2022.
Recently founded Sidra Line (launched in May 2022) is an example of one of these niche carriers. Sidra launched a feeder 'Novorossiysk Express Service' connecting Russia with the Turkish ports via two chartered container ships - the Commander with a capacity of 361 TEU and the Keremcan with a capacity of 374 TEU.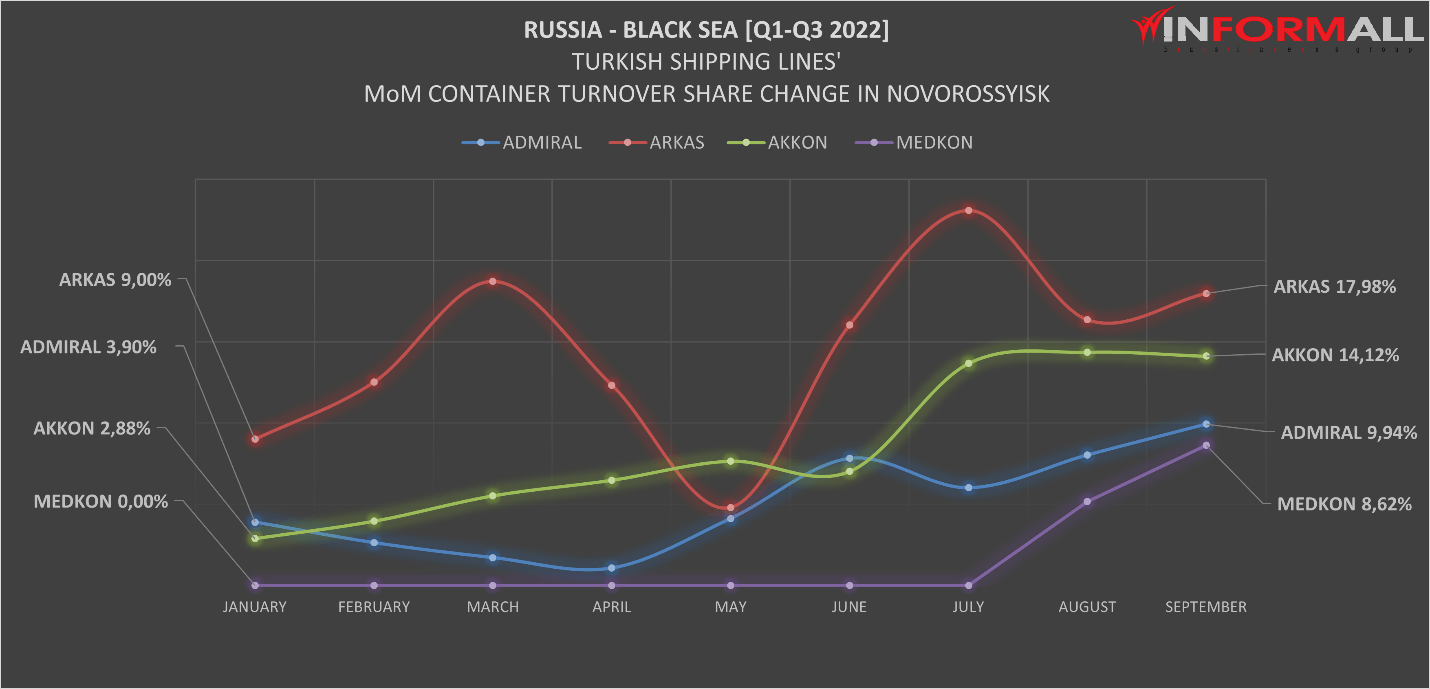 Turkiye-based Arkas, Admiral, Akkon, and Medkon liner operators have considerably increased their volumes in the Russian-BSEA market since the beginning of the war in Ukraine. According to Informall BG, these carriers' cumulative market share increased from 16 percent to nearly 55 percent during the first seven months after the Russian invasion began.
Russian liner operators emerge
Mediterranean Shipping Company (MSC), the last liner operator with service to Novorossiysk, continues to handle a considerable amount of Russia-origin/destined shipments. The range of cargo has been limited to "food, medical equipment, and humanitarian goods" based on company policy announced in March 2022. Despite MSC's announcement of booking suspension in Russia 'with immediate effect' Informall numbers show that its volumes spiked in Q2 2022, and an actual decline only began in Q3.
Eventually, MSC stepped down from the top carrier position in the port, giving the lead to Russia-based 'Ruscon' and 'Trans Container' (TC) multimodal logistics operators - both part of Delo Group (a Russian logistics holding).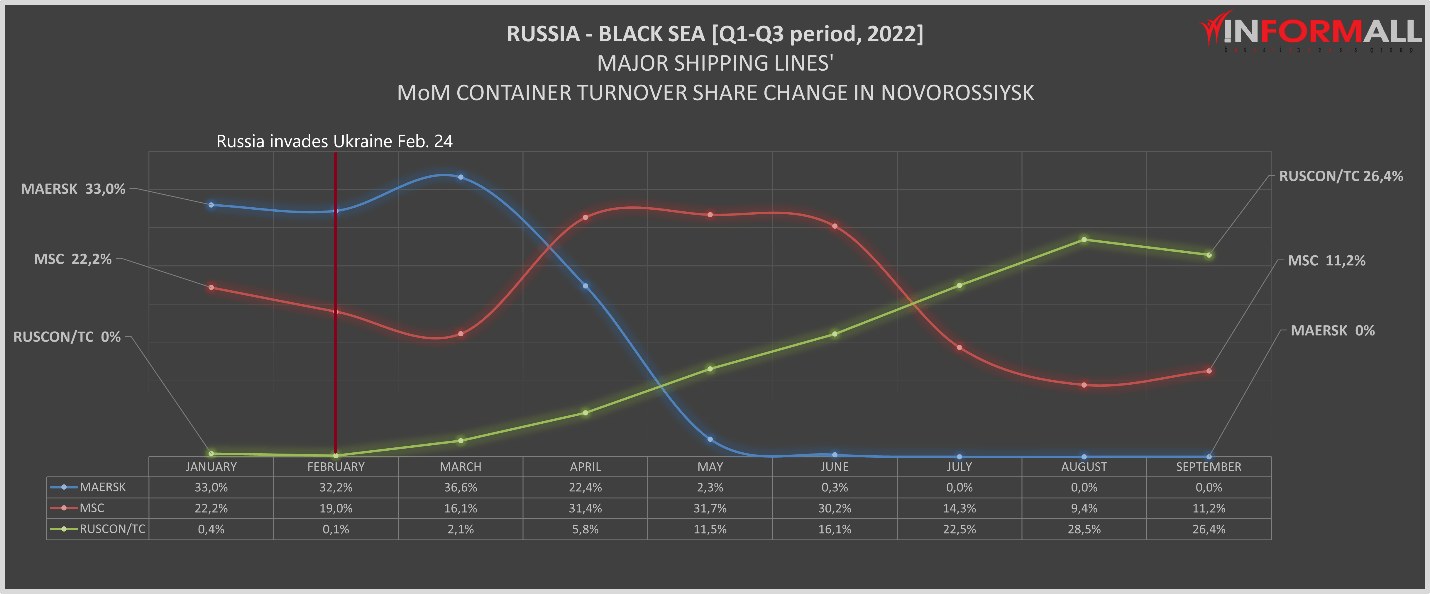 At the same time, Delo Group, through its subsidiary logistics operators and its own container terminal - NUTEP (the biggest Russian container terminal on the Black Sea) quickly picked up the ball on this "no-competition" market. Delo Group began its run towards becoming the biggest container logistics operator in the Russian-BSEA region.
Well-coordinated cooperation of Ruscon and Trans Container (TC), along with preferable market conditions, allowed the Russian logistics operator to grow its volume in Novorossiysk by 26 percent within a period of seven months.
Jointly operated Ruscon / Trans Container multimodal service via Novorossiysk to India contributes further to the growing BSEA market share. It is the only (officially announced) international service provided by these Russian logistics operators on the BSEA.
"A window of opportunity in the Russian-BSEA container market exists and regional carriers are partly compensating for the capacity gap that emerged since the global carriers' exodus from Novorossiysk," says Vassiliy Vesselovski - CEO of Informall BG. "Our observations indicate that tonnage availability is not a significant issue for Russian exporters today . . . [and] we should anticipate further development of the Turkish logistics sector into the Russian-BSEA region transport system during 2023.
Vassiliy Vesselovski is the CEO of Ukrainian shipping intelligence firm Informall BG. Daniil Melnychenko is a Data Analyst with the firm, and Alexander Khromov is a Project Manager.
The opinions expressed herein are the author's and not necessarily those of The Maritime Executive.