International Ports Capable of Serving Mega-Sized Winged Ships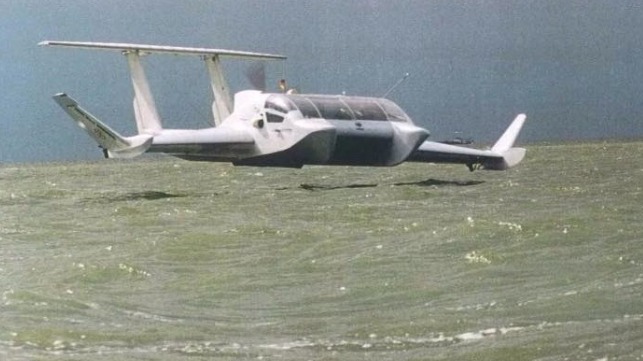 Large-scale wing-in-ground effect vehicles that carry priority freight internationally will require arrival terminals and special water runways along which to accelerate in order to transfer into ground effect mode. The coastal world offers numerous suitable locations.
Introduction
There are possible market applications for large-scale ground effect transportation technology capable of carrying containers internationally on both overnight transportation service as well as extended-distance trans-oceanic service. A market niche is emerging for overnight freight transportation service between many pairs of coastal cities domestically and internationally where air freight involves extremely high cost and where conventional ship transportation is too slow. A complimentary market niche is evolving between very distant pairs of coastal cities for trans-oceanic freight transportation service that is faster than ship and less costly than air freight.
While Russia built the largest wing-in-ground effect vehicle of 500 tons that traveled above the surface of the Caspian Sea, several builders located internationally have developed smaller versions of the technology. Wing Ship of South Korea has built and tested a 50-passenger vehicle while Tandem Wing of Germany has plans to build versions of 100-seat capacity and 400-seats capacity. In recent discussions about mega-scale ground effect technology of perhaps 2,000-tons, Tandem Wing advises that they could upscale their technology, while a Russian developer suggests that they could offer a modified version of the Ekranoplan to carry containers.
Developing the Technology
While this author has suggested a container carrying ground effect vehicle of 2,000 tons laden weight, other researchers who are knowledgeable with the technology have suggested that the design limit of the technology might approach 10,000 tons laden weight. While the Ekranoplan configuration and Tandem Wing configuration share a very similar shape of leading wing, the Ekranoplan utilizes a tail mounted rear wing to prevent a rearward somersault occurrence. The trailing wing of the Tandem Wing vehicle captures the updraft produced between the ocean surface and the outlet of the leading wing, to prevent a rearward somersault.
A large-scale version of the Tandem Wing configuration might also be capable of operating as a combination high-speed aircraft carrier and mobile airport capable of matching the lift-off and touch down speeds of large commercial aircraft. It would share technology built into a variant designed to carry containers commercially over greatly extended distances across ocean. Researchers would need to examine a vessel built to the equivalent wingspan of a large commercial aircraft (60 meters) and an overall length perhaps approaching 200 meters, with operating speed elevation between two meters above calm sea and up to over 15 meters above stormy seas.
Terminals – Arrivals and Departures
Upon approach to a terminal, the ground effect vessel would reduce speed so as to transfer from ground-effect travel mode to sailing on hydrofoils to assure smooth and fast sailing on choppy seas. Further reduction in speed would allow the vehicle to transfer from hydrofoils on to hulls, assuming that the vehicle has been built to either twin hull or triple hull configuration. Designers might consider including installing retractable hydrofoils as a possible option. The vessel would sail into the port/terminal area on its maritime hulls, including up to quayside perhaps assisted by tug boats.
A fully laden ground effect vehicle departing from port/terminal would require several miles of protected water runway with low waves, along which to accelerate to transfer from hulls to hydrofoils and then into ground effect mode. Depending on vehicle weight, engine power and types of propellers, the vehicle could require four to 10 miles of water runway to transfer to ground effect mode. Its lift-off speed would be considerably lower than that of commercial aircraft that require runways of 20,000 to 25,000 feet. The combination of heavier weight and vastly different wing design could require equivalent length of water runway.
Autonomous Pilot Control
Autonomous pilot control would be essential to allow large-scale ground-effect vehicles to operate multi-day trans-oceanic service at competitive costs. The vessel would travel at speeds of between 100 miles per hour and up to over 300 miles per hour. Savings per container being carried would accrue from the combination of greatly reduced fuel consumption spread over a much greater load of containers than which a specially designed freight aircraft could carry. Crew would initially pilot vehicles where time-in-transit would be equivalent to the work day of a crew.
Locations of Terminals
The list below includes coastal cities where sufficient runway distance along a water runway would be available. Port authorities would need to administer strict traffic control on vessels in the vicinity as ground effect vehicles prepare to accelerate along water runways to achieve ground-effect travel mode. The list of locations includes available lengths of water runways while the number of potentially available locations suggests the future possibility of an international trans-oceanic network for ground-effect fast freight transportation. The list might also be able to provide an idea as to the potential market size for ground effect vehicles.
United States
Boston: four miles of available channel beginning at south side of Logan Airport
New York City south side: four miles of channel westbound beginning under central span of Marine Parkway Bridge, with additional four miles across Jamaica Bay beginning under Cross Bay Veterans Memorial Bridge
New York City north side: over four miles from East River and Across Long Island Sound, eastbound beginning at Throgs Neck Bridge
Delaware Bay: Over 10 miles of available channel southeast bound
Pamlico River and Sound: Over 10 miles available
Charleston: over five miles available eastbound from Cooper River at Drum Island
Savannah: five miles eastbound along Little Ogeechee River beginning at Green Island
Tampa/St Petersburg: six miles southwest bound beginning on Tampa Bay and passing under central span of Sunshine Skyway Bridge
San Francisco: seven miles westbound beginning near Treasure Island and passing under central span of the Golden Gate Bridge
Grays Harbor, Aberdeen, Washington State: over 10 miles westbound beginning at Town of Aberdeen that can serve Portland, Tacoma, Seattle, Spokane and Vancouver, Canada
Western Europe
Lisbon, Portugal: Over eight miles westbound from Tagus River and passing under raised central span of Ponte 25 de Abril
Bordeaux, France: over 10 miles northeast along Garonne River
Saint Nazaire, France: six miles westbound along Loire River and passing under raised central span of Pont de Saint Nazaire
Le Havre, France: six miles westbound along Seine River beginning under central span of Pont de Normandie
Nederland/Holland: six miles westbound along Scheldt River beginning near Eendragt
Germany: 10 miles westbound along Elbe River beginning at Bokdorf
Bristol UK: 10 miles southwest bound along River Severn beginning under Prince of Wales Bridge
Portsmouth/Southampton UK: 10 miles westbound along channel north of Isle of Wight
Australia/New Zealand
Sydney: five miles eastbound across Botany Bay
Brisbane: 10 miles northbound across Moreton Bay
Melbourne: over 10 miles southwest across southern Port Philip Bay
Adelaide: Over 10 miles south/southwest across St Vincent Gulf
Perth/Freemantle: five miles northbound along east side of Garden Island
Darwin: five miles northbound from Channel Island
Hobart: seven miles southbound along River Derwent
Christchurch NZ: six miles eastbound along Lyttelton Harbour channel
Wellington NZ: six miles southbound across Wellington Harbour
Auckland NZ: six miles westbound across harbor as well as across Kawau Parua Inlet
Brazil
Belem: over six miles northbound along Baia do Guejara
Salvador: Over 10 miles southbound along Baia da Todos Santos
Rio de Janeiro: 10 miles southbound from Guanabara Bay and passing under raised mid-span of Ponte Rio-Niterio (Costa Silva Bridge)
Curitiba – Paranagua: 10 miles east along Baia da Paranagua
Florianopolis – Sao Jose: 10 miles northbound along Baia Norte
Pacific South/Central America
Peru, Lima District: 10 miles northwest along east side of Isla San Lorenzo
Equador, Guayaquil: 10 miles southbound along Rio Guayas
Colombia, Buenaventura: eight miles westbound and Bahia De Buenaventura, with access to markets at Cali
Costa Rica: 10 miles eastbound across Colorado Gulf and 10-miles southbound across Gulf of Nicoya
Africa
Djibouti, Djibouti: 10 miles eastbound across Lake Ghoubet into Gulf of Tadjoura into Indian Ocean
Mozambique, Maputo: six to 10 miles in several directions across areas of Maputo Bay
South Africa, Richards Bay: over four miles eastbound
South Africa, Cape Town: 10 miles southbound along eastern side of Cape Peninsula, from Simon's Town docks
Namibia, Walvis Bay: five miles northbound across Walvis Bay
Angola, Lobito: four miles northeast bound across Lobito Bay
Angola, Luanda: four miles northeast bound across Luanda Bay
Nigeria, Port Harcourt: 10 miles southwest bound along channel located south of Port Harcourt
Sierra Leone, Freetown: 10 miles westbound across Tagrin Bay, also eight miles northwest bound along channel east of Freetown
Guinea Bissau, Bissau: 10 miles westbound along inlet channel
Asia
Japan, Tokyo/Yokohama : 10 miles southwest bound across Tokyo Bay
Japan, Osaka/Kobe: 10 miles southwest bound across Osaka Bay and southbound across Kiisuido Strait
Japan, Nagoya: 10 miles south and southeast bound across Ise Bay
South Korea, Seoul/Incheon: six miles of calm sea westbound across channels located south of Incheon International Airport
China, Shanghai: two channels of over 10 miles in length southeast bound at mouth of Yangtze River, also eastbound across Hangzhou Bay
China, Hong Kong: over six miles southeast bound across Shelter Bay, six miles southbound from Junk Bay and along eastern side of Hong Kong Island, six miles southwest bound across channel between Lantau Island and Hong Kong Island, 10 miles southbound across Zhejiang River Estuary
China, Macau: 10 miles southbound along Xijiang River, 10 miles southbound across mouth of Huangmao River
Philippines, Manila/Quezon City: 10 miles southbound then southwest bound across western side of Manila Bay
Singapore: over six miles southeast bound along Strait of Johor beginning north of Changi Airport, 10 miles eastbound along north side of Singapore Strait beginning at Brani Island
Malaysia, Kuala Lumpur: channel west of Port Klang, 10 miles in north-south direction
Malaysia, Pelak - Selangor border: 10 miles westbound along Sungai Bernam River
Malaysia, Penang Province: six miles northbound in channel between Georgetown and Butterworth beginning under raised central span of Penang Bridge
Sri Lanka, north of Colombo: 10 miles northbound across Puttalam Lagoon and Dutch Bay
India, Kolkata area: 10 miles southeast bound along Hooghly River estuary
India, Goa: six miles westbound along Zuari River from Zuari Bridge
India, Mumbai: 10 miles southwest bound across the bay from Juinagar
India. Ahmedabad – Vadodara: 10 miles southbound across Gulf of Khambhat
India, Gujarat – Rajkot: 10 miles westbound across Gulf of Kutch
Domestic Services
Wing-in-ground effect vehicles could provide domestic coastal freight transportation services in several countries. In China, the link between Shanghai and Hong Kong carries a considerable volume of domestic trade. Australia links will include Sydney - Hobart, Perth - Melbourne, Perth - Adelaide, Perth - Sydney, Brisbane - Sydney and Melbourne - Hobart. New Zealand's link between Auckland and Christchurch also between Christchurch and Wellington are possible candidate routes. American links include San Francisco - Aberdeen WA and Boston - Charleston as candidates for ground effect service. Main Brazilian links include Rio de Janeiro - Florianopolis and Rio de Janeiro - Salvador.
Regional International Services
Regional international services would cross over international borders and could involve time-in-transit durations that are within the work day of a crew. Such a service would connect Eastern Australia terminals at Brisbane and Sydney to New Zealand terminals at Auckland and Wellington. In Western Europe, possible links would include Lisbon - Le Havre, Lisbon - Bristol UK and Bordeaux - Bristol. The Pacific coast of South Americas is represented by the Lima - Guayaquil link. African regional links include Cape Town - Maputo, Cape Town - Walvis Bay, Walvis Bay - Luanda and Luanda - Port Harcourt.
Around India, regional services would include such links as Sri Lanka - Kolkata, Sri Lanka - Goa and Sri Lanka - Mumbai. Other regional international Asian links would include Hong Kong - Manila, Singapore -Manila, Shanghai - Seoul/Incheon, Shanghai - Nagoya/Osaka and Shanghai - Manila. Extended-distance regional links would include Singapore - Hong Kong, Hong Kong - Seoul/Incheon, Hong Kong - Osaka/Nagoya, Seoul/Incheon - Manila and Manila - Osaka/Nagoya. Extreme extended-distance regional links would include Singapore - Shanghai, Singapore - Seoul/Incheon, Singapore - Osaka/Nagoya, Singapore/Kuala Lumpur/Georgetown - Sri Lanka and Singapore/Kuala Lumpur/Georgetown - Kolkata with potential along India's west coast to include a link to Goa/Mumbai and Goa/Mumbai/Sri Lanka - Djibouti links.
Trans-Oceanic Market
There is a developing market niche for the services of a freight transportation technology capable of traveling at higher speed than ships and offering faster delivery of containers at a fraction of the transportation cost of air freight transportation. The achievement of such cost competitiveness requires the combination of autonomous pilot control, massive reductions in per container fuel cost and the ability to carry many times the number of containers per vehicle that a freight aircraft. Railway container transportation fulfills such objectives between China and Europe, possibly also between China and North Africa courtesy of an overland connection.
Trans-Pacific ground effect transportation service would involve connecting North American ports such as San Francisco and Aberdeen, South American ports at Lima and Guayaquil, Australian/New Zealand ports at Sydney and Auckland as well as Asian ports at Seoul/Incheon, Osaka/Nagoya, Hong Kong, Shanghai, Manila and Singapore. Trans-Atlantic service would connect western European ports at Lisbon and Bristol, North American ports at Boston and New York, Brazilian ports at Rio de Janeiro and Salvador and West African ports at Cape Town and Port Harcourt. Trans Indian Ocean links would connect Mumbai/Goa/Sri Lanka, Perth (Australia), Djibouti, Cape Town and Maputo.
Conclusions
There are many bays and oceanic inlets around the world located close to large cities that provide several miles of calm water where super-size ground effect vehicles may accelerate to sufficiently high speed to transition into ground effect mode and travel above water surface. Vigilant traffic at such bays and inlets would have the potential to coordinate the safe operation of all maritime vessels in the vicinity to assure safe high-speed departure of fast trans-oceanic vessels. Upon arrival at destinations such vessels would transfer to hydrofoils and hulls upon approach to ports and terminals.
The opinions expressed herein are the author's and not necessarily those of The Maritime Executive.