Greenpeace activists have thrown themselves into the sea in front of a seismic vessel off the New Zealand coast.
The swimmers' position has forced the 125-meter Amazon Warrior halt its operations and deviate off course 50 miles of the Wairarapa coast, says the environmental organization.
The Amazon Warrior is using seismic cannons to blast the seafloor with sound waves every eight seconds, day and night. The blasts are comparable in sound to an underwater volcano and can cause chronic distress to whales and dolphins, says Greenpeace.
The oil exploration is being carried out for Statoil and Chevron. The companies have permits to drill to depths of up to three kilometers if oil is found – twice as deep as Deepwater Horizon in the Gulf of Mexico.
Greenpeace has nicknamed U.S. President Donald Trump the Fossil Fuel President, claiming he has shares in Chevron and that the oil company funded part of his presidential inauguration.
Greenpeace has been tailing the Amazon Warrior for the past two days in its newest boat, Taitu. The organization crowdfunded nearly $100,000 in just a week to buy the 15-metre boat.
A 2013 Amendment to the Crown Minerals Act, dubbed the Anadarko Amendment, was put in place to stop protests at sea around oil exploration. The law change makes it an offence to interfere with or get closer than 500 meters of an offshore ship involved in oil exploration.
From on board Taitu, Greenpeace Executive Director, Dr Russel Norman, says the right to peaceful protest is essential to a healthy democracy, and New Zealand has a long and proud tradition of protest at sea.
"Neither the Government nor the oil industry can stifle people across New Zealand peacefully rising up against this mad pursuit of new oil to burn in the midst of what is nothing less than a climate emergency," he says.
25-year-old, Sara is another of the swimmers. She says she's putting her body on the line because the ship is searching for the very oil that will destroy her future.
"The science is settled that we can't burn the majority of the fossil fuel reserves we know about if we want to keep the Earth's temperature below dangerous levels," she says.
"What this means is that not a single newly discovered oil well anywhere in the world can operate if we want to avoid a climate catastrophe. Right now I'm looking at a ship that's been invited here by the New Zealand Government to do just that.
"I'm young and I'm already experiencing the effects of climate change. Every year the storms get worse, the floods and the droughts are getting more extreme. Just imagine how grim my future looks if we can't stop this.
"It's easy to feel powerless because what we're up against is so big. But everywhere, people are rising up and demanding change. Their actions are having a snowball effect, and in many parts of the world, we're starting to see huge, positive changes."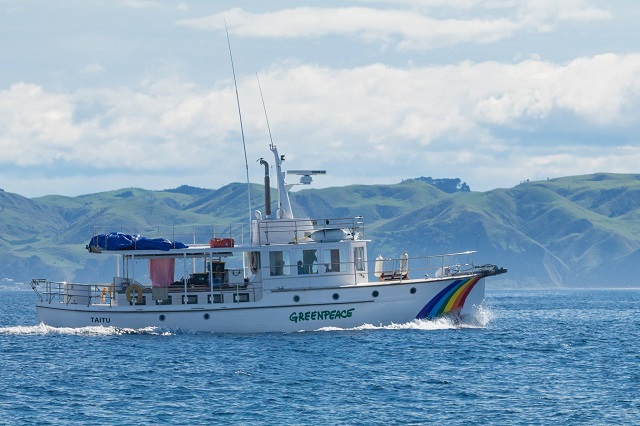 The Petroleum Exploration and Production Association of New Zealand (PEPANZ) says it is disappointed by what it calls the latest media stunt from Greenpeace.
PEPANZ Chief Executive Cameron Madgwick says the Amazon Warrior is operating about 50 kilometers off the coast of the North Island and is towing several large streamers, which stretch many kilometers behind it.
"The size of the Amazon Warrior makes it difficult for it to stop or turn quickly. That is why the vessel is operating with a 500-meter non-interference zone," says Madgwick.
"While the actions of the protestors were not a surprise and had been planned for, the protestors put themselves into a potentially dangerous situation by placing themselves in the vessels path.
"While we absolutely respect the right of Greenpeace to protest, this sort of action is just stupid.
"Climate change is a serious issue and it requires governments, energy companies, NGOs and environmental groups to work together to find answers.
"We have attempted to engage Greenpeace in this discussion, including inviting them to the New Zealand Petroleum Conference. They have, however, declined these invitations and instead focused their attention on protests and raising their profile through stunts such as those witnessed today.
"While that is their right, the reality is the world's energy demand is growing and we simply cannot switch off our use of fossil fuels overnight.
"Oil and gas are not only used in transport, but also to heat our homes, cook our food and create a huge range of essential goods.
"For example, Greenpeace themselves are using diesel to fuel their vessels and the life jackets the protestors are wearing will be made from petroleum by-products. The radios and cellphones they are using, the binoculars aboard their vessel will all contain products made from oil."
Madgwick says New Zealand is underexplored by international standards, and the work that the Amazon Warrior is undertaking will help the nation understand better what petroleum reserves it might have.
"Oil and gas could deliver enormous economic benefit to New Zealanders. A significant find could result in billions of dollars in new investment, more highly skilled jobs for our young people and provide increased taxes and royalties to fund government services."
The opinions expressed herein are the author's and not necessarily those of The Maritime Executive.