China Plans Arctic Belt and Road Initiatives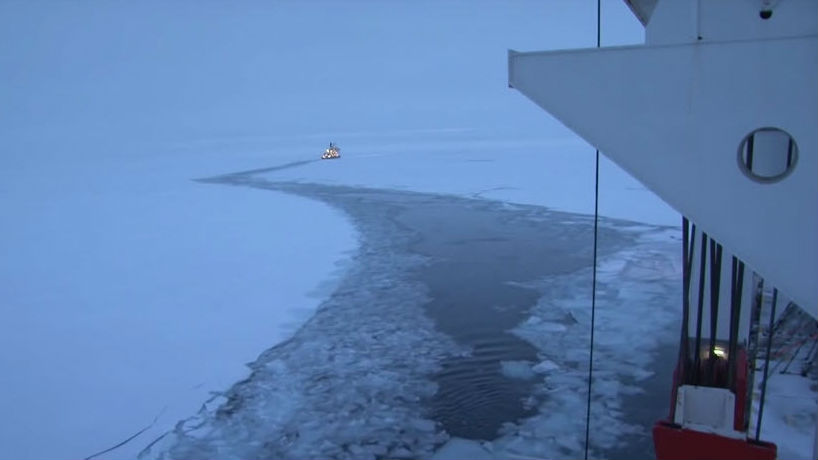 When China convened its Belt and Road Forum in Beijing in May, most of the attention focused on the initiative's plans for transportation infrastructure across the Eurasian landmass and the Indian Ocean. Since then, however, China formally incorporated the Arctic into its plans for maritime cooperation under the Belt and Road Initiative, also sometimes called One Belt, One Road.
The Vision for Maritime Cooperation under the Belt and Road Initiative, released on June 20 by China's National Development and Reform Commission and the State Oceanic Administration, explains that a "blue economic passage" is "envisioned leading up to Europe via the Arctic Ocean."
This "blue economic passage" would be along Russia's Northern Sea Route, the Arctic shipping lane that hugs the country's north coast. Over email, Dr Marc Lanteigne, a Senior Lecturer in Security Studies at Massey University in New Zealand and a China expert, explained, "This paper is the first official confirmation that the Arctic Ocean is among the 'blue economic passages' Beijing is seeking to develop."
The other two routes included in the vision consist of the China-Indian Ocean-Africa-Mediterranean Sea blue economic passage and the China-Oceania-South Pacific blue economic passage. (Maybe the latter explains Fiji's somewhat perplexing attendance at the Belt and Road Forum and its unceremonious closure of its representative office in Taiwan last month.)
The policy document largely focuses on China's achievements and plans along the first route, where the government has assisted with the development of ports and industrial parks in places like Myanmar, Malaysia, Pakistan and Greece. While fewer fine-scale geographic details are provided about the Arctic, the document notes:
"Participating in Arctic affairs. China is willing to work with all parties in conducting scientific surveys of navigational routes, setting up land-based monitoring stations, carrying out research on climatic and environmental changes in the Arctic, as well as providing navigational forecasting services.
"China supports efforts by countries bordering the Arctic in improving marine transportation conditions, and encourages Chinese enterprises to take part in the commercial use of the Arctic route. China is willing to carry out surveys on potential resources in the Arctic region in collaboration with relevant countries, and to strengthen cooperation in clean energy with Arctic countries.
"Chinese enterprises are encouraged to join in sustainable exploration of Arctic resources in a responsible way. China will actively participate in the events organized by Arctic-related international organizations."
Interestingly, the document does not review China's accomplishments to date in the Arctic or, more specifically, along the Northern Sea Route. Yet for years already, the Chinese government and affiliated companies and organizations have been eyeing its development.
In 2013, Chinese state-owned shipping company COSCO sent the first-ever container ship through the Northern Sea Route. Last year, five COSCO vessels sailed through the icy route, a company record. In 2015, Chinese banks lent $12 billion to the Yamal liquefied natural gas project, which lies in the middle of the Northern Sea Route.
China's Silk Road Fund, an investment vehicle created by the government to finance Belt and Road Initiative projects, has a 9.9 percent stake in the Yamal project as well. So why did it take so long for China to officially incorporate the Arctic into its Belt and Road Initiative?
Lanteigne noted that China was reluctant to do so for two reasons. First, unlike Japan or South Korea, China has not released an official Arctic policy and is still in the process of collecting data before doing so.
Second, Lanteigne offered, "Once China began to deepen its Arctic diplomacy, along with references to the country as a 'near-Arctic state', there were concerns among other Arctic actors, especially the United States, that Beijing far northern interests were primarily motivated by regional resources and that China was seeking to challenge the political status quo in the region. Chinese policymakers have been seeking to dispel those concerns by placing greater emphasis on scientific diplomacy and advocating bilateral partnerships in the study of the affects of local climate change."
He drew attention to Beijing's careful framing of its investments in the Arctic, from Norway to Russia to Greenland, as joint ventures. This practice fits in line with the Belt and Road Initiative's larger narrative of, in the words of Chinese President Xi Jinping last month, embodying "the spirit of peace and cooperation, openness and inclusiveness, mutual learning and mutual benefit."
In Russia, this discourse has won over officials at the highest level. Moscow supports China's Belt and Road Initiative and generally condones the country's involvement in the Arctic. At the Belt and Road Forum, President Vladimir Putin and his foreign minister Sergey Lavrov were two of the most prominent attendees.
In a speech there, Putin expressed his support for China's transcontinental infrastructure plans. He proclaimed, "By proposing China's One Belt, One Road initiative, President Xi Jinping has demonstrated an example of a creative approach toward fostering integration in energy, infrastructure, transport, industry, and humanitarian collaboration."
Russia is partly keen for Chinese investment in its infrastructure because capital from the West has dried up. Russian diplomat Gleb Ivashentsov, who has served as Russian ambassador to Myanmar and South Korea, stated in an interview, "If we talk about Moscow's turn to the East, it is fully justified. The Asian region is the engine of economic development, whereas Europe is marking time. In Asia, we can take both technology and investment. From the West, we see only sanctions and nothing more."
Yet some in Russia view China's plans more suspiciously. Writing in The Maritime News of Russia, Anatoly Korovin, Captain-Coordinator of Petropavlovsk-Kamchatsky's Maritime Rescue Center, warns that the Chinese government does not believe that Russia should exercise full control over shipping along the Northern Sea Route. Korovin argued, "The greatest threat to the security interests of the Russian Federation is an attempt by some countries (notably Denmark, the USA, Japan and China) to achieve recognition of the Northern Sea Route as an international transport routes with freedom of navigation."
At the same time, he suggested the possibility that China may be interested in creating a joint venture to manage the Northern Sea Route, which could bring with investment in maritime infrastructure. Such plans were not fleshed out by the recently-released policy document released, but this may be the direction Beijing seeks to advance in the coming years.
In Beijing, in May, Putin expressed in his speech, "Greater Eurasia is not an abstract geopolitical arrangement, but, without exaggeration, a truly civilization-wide project looking toward the future."
Putin's distinction between an "abstract geopolitical arrangement" and a "civilizational-wide project" is interesting. The allure of his earlier pet project, the Eurasian Economic Union (EEU), is fading as Eurasian countries are increasingly drawn east rather than west. The EEU counts Armenia, Belarus, Kazakhstan, Kyrgyzstan, and Russia as its members, while the Belt and Road Initiative reportedly involves some 64 countries besides China. And where the EEU could in fact be called an "abstract geopolitical arrangement," the Belt and Road Initiative is a project that is being realized, albeit in fits and starts. Beijing's efforts to build ports, railroads, highways, and corridors are stacking up incrementally in many directions, including now in the north.
In many ways, the Russian government is pinning its hopes for national economic development on the Arctic. If Chinese capital can make these visions a reality by turning the frigid Northern Sea Route into a "blue economic corridor," this may benefit both Moscow and Beijing – so long as they agree to disagree on the status of the shipping lane under international law.
With the formal inclusion of the Arctic into China's Belt and Road Initiative, it's clear that Beijing is becoming more comfortable with being forthcoming about its interests in Arctic shipping and resources rather than solely emphasizing science and climate change. Lanteigne believes, "It's likely that future Chinese projects in the Arctic will be increasingly economic in nature, especially as more of the Arctic Ocean becomes accessible." Moscow will be watching with a healthy dose of anticipation and suspicion.
Source: Cryopolitics
The opinions expressed herein are the author's and not necessarily those of The Maritime Executive.