Bolt-On Autonomy for Any Workboat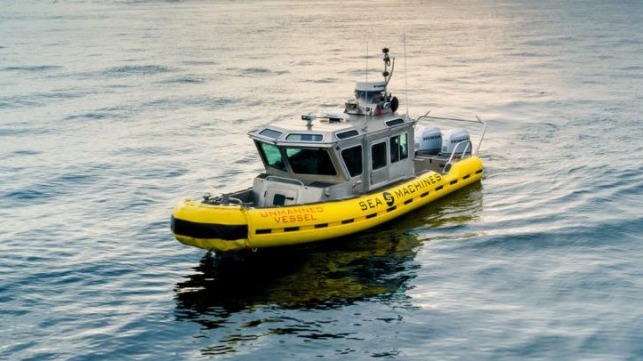 Vessel autonomy may be the most-discussed technology of the maritime industry's future. Its prospects are bright, but there is no need to wait: any owner can buy it today, bolt it onto a boat and begin running it in less than two weeks. Autonomous operation is no longer a theory or a prediction, but a product.
Boston-based startup Sea Machines has been designing and perfecting a standardized autonomous control platform since 2015. The firm's SM 300 package is an autonomy suite designed specifically for commercial workboats - and commercial budgets. When deployed in the right application, like small boat survey operations, it boosts operational efficiency and yields savings of up to 40 percent. In trials conducted to date, it has shown that it can pay for itself in a year or less.
"The biggest advantage is in keeping the screws turning and keeping the vessel operating," said Michael Johnson, Sea Machines' founder and CEO. "For example, survey and seismic companies are no longer putting workboats in the water after dark due to the risk to the crew. With autonomy, you can just keep working around the clock, which leads to more productive operations."
Robust design
The SM 300 is a three-part system. First, it has a PLC processor that handles propulsion and steering controls. Second, it has an autonomy engine, which commands the PLC controller in order to direct the boat's movement. Both of these software elements run on Siemens' proven industrial-grade hardware, all stowed safely inside a marinized enclosure. The system's third component is the user interface, which can be used on board the vessel under control or remotely. This is based on a certified ECDIS system, and it can connect over wireless, 4G or satellite for long distance remote operation.
In autonomous navigation mode, the SM 300 uses GPS for positioning, and it relies on ARPA, AIS and ECDIS data for situational awareness. A human operator provides man-in-the-loop oversight using a live camera feed. Sea Machines has partnered with Maersk Lines to test advanced perception systems - LIDAR and optical cameras - that could augment future versions of the system, but the SM 300 is ready to go today for a wide range of commercial applications. It is perfect for operations that are monotonous or dangerous, like running survey lines, patrolling harbors, tending aquaculture operations, fighting fires or cleaning up oil spills. On manned vessels, it can de-risk navigation by reducing human error - augmenting rather than replacing the watchstander.
Two versions
Sea Machines also builds a simpler option, the SM 200, which includes the same marinized hardware but not the autonomy engine. It is useful for missions where self-navigation is not required but remote operation offers an advantage - for example, firefighting, where an unmanned vessel can get closer to the blaze without putting its crew at risk.
The SM 300 and SM 200 are built as standardized platforms, and can be installed in a matter of days on virtually any vessel, from the latest drive-by-wire patrol boat to the oldest cable-controlled, all-manual tug. This makes these systems fundamentally different from most of the autonomous-navigation projects on the market, which are highly customized for each particular vessel. Since the SM 300 and 200 bolt on to an existing boat like any other piece of marine electronics, they can be deployed across an entire fleet without difficulty - and without waiting.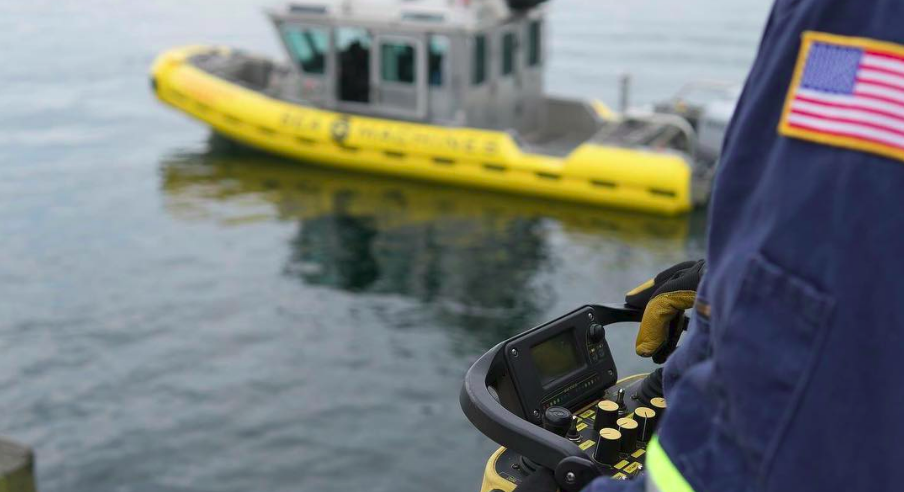 Industry origins
Most of the autonomy projects under way today were launched by researchers, military contractors or large suppliers. Sea Machines was conceived within the industry: Johnson is a licensed merchant mariner (Texas Maritime Academy, class of '96), and he worked on the Costa Concordia salvage, among many other projects.
In 2011, after accumulating years of experience in shipbuilding and marine transportation, Johnson joined Crowley Maritime as a vice president in the projects group. "We were taking on some of the world's most complicated, unique and exciting projects supporting Crowley's salvage group, Titan Salvage," Johnson said. "At Titan I worked closely with Rich Habib to help bid on and engineer a number of their salvages, including the Costa Concordia. We put together the bid there and won the contract."
Sea Machines was born out of that experience. "During the Costa Concordia salvage, we had dozens of vessels operating together every day, and I saw how all of our communications and vessel interactions remained highly manual. And secondly, with an apartment looking down on that wrecked cruise ship, I was constantly reminded that with the technology we have available, we shouldn't be able to run a $600 million ship up on the rocks and kill 38 people," Johnson said. "We have the ability to make our industry safer."
Conclusion
As technologists have long promised, autonomy can increase operational efficiency, boost the bottom line and improve safety. But it is no longer the technology of tomorrow: the SM 300 system can be installed in just three to ten days, on any workboat, of any vintage. Sea Machines is building a service network with marine electronics dealers in the leading shipowning regions worldwide, so installation is easy to schedule and readily accessible. To learn more, visit https://sea-machines.com/.
The opinions expressed herein are the author's and not necessarily those of The Maritime Executive.