Zenitel Continues to Innovate on their Intelligent Communication Platform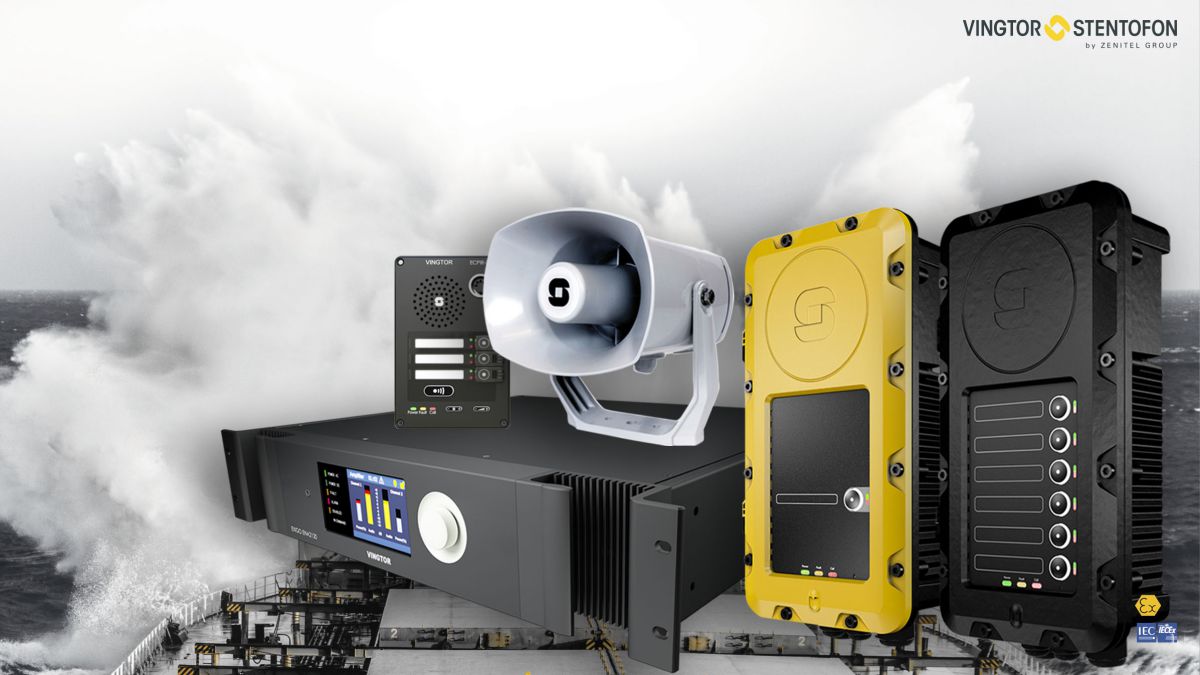 Zenitel has for the last 70 years been a technology leader in the field of critical communication. Historically represented by brands like Stentor, Steenhans, Vingtor, Stentofon, Ring Master, Pro700 and M100 we have helped people connect through voice communication.
Zenitel was amongst the first players in the market to introduce IP-based Intercom systems. With the AlphaCom E-series we entered the realm of IP-integration, and with our Turbine family of intercom devices and integration modules we expanded our IP portfolio to include communication for industrial and hazardous locations (ATEX/IECEx Zone 1).
The Vingtor-Stentofon EXIGO IP Public Address (IP PA) System brings all the benefits of networked audio into one package. Leveraging over 10 years of experience in intelligent communications over IP, the system is designed to meet the stringent requirements of a Public Address and General Alarm system (PA/GA) in maritime, offshore and onshore applications. EXIGO gives you a system that is flexible, scalable and programmable.
With integration to the AlphaCom audio server, you can get all the benefits of unified IP communication over PA/GA, intercom, telephony and 2-way radio in a single unified system. Cross-platform integration to Video management and access control systems lets you build a 360° security solution.
Now even easier to configure and supporting background music services
EXIGO now also supports background music services, streaming at 48kHz / 16bit for high quality music distribution. A perfect solution for passenger vessels. The music program control, enables operators to select music channel, volume etc. per zone, without requiring access to the PA/alarm features. In addition, we have improved the EXIGO Management Tool. EMT is a modern, easy to use configuration tool, which enables configuration of the system with drag and drop features. Supporting Windows 7, 8 and 10 allows for a use with all modern mainline operating systems.
About Zenitel Group
Zenitel has a strong presence in both the onshore and offshore secure communications market through its product brand, Vingtor-Stentofon. The brand is recognized globally for offering advanced offshore and onshore communication systems. Vingtor-Stentofon provides integrated security communications for environments where life, property and assets are at stake.
Vingtor-Stentofon's primary system offering is within Public Address, Intercom and Radio. The key markets include: Building Security Public Safety, Transportation, Industrial, Oil Gas and Maritime.
Zenitel is listed on the Euronext stock exchange in Brussels, with its statutory headquarter situated in Belgium. Zenitel's operational headquarter is in Norway. www.zenitel.com
The products and services herein described in this press release are not endorsed by The Maritime Executive.