Wilson Sons Shipyards Delivers Tugboat SST-Aru?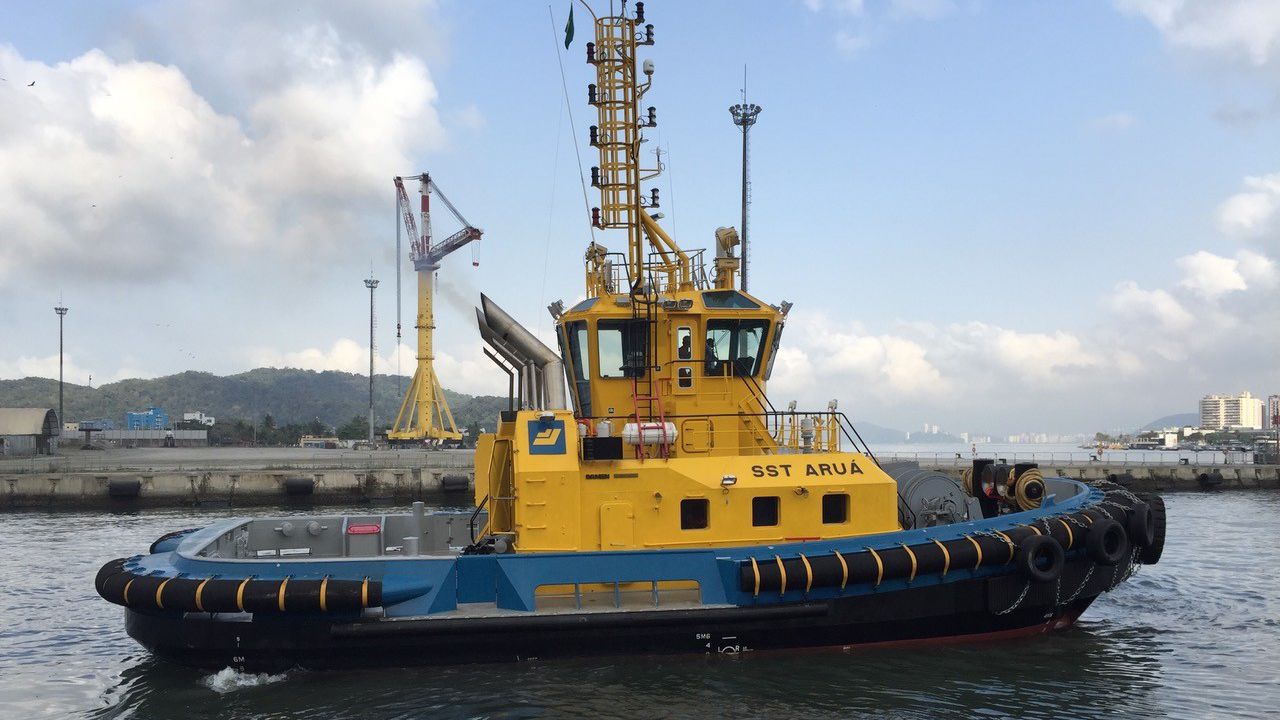 Wilson Sons shipyard, part of the WilsonSons Group, has delivered another tugboat. The SST-Aruá is the second tugboat delivered to SAAM SMIT Towage Brazil and is part of a total order of four vessels. The first of the series the SST-Aimoré was delivered in June this year.
"It took just over 18 months to deliver the second tugboat from the moment of signing the contract. In a challenging time for the shipbuilding industry, WilsonSons shipyard could again show their strength and resilience," said Adalberto Souza, director of Wilson Sons shipyard. "Contractually we had 20 months for the delivery of the two tugboats but on the request of the customer, we anticipated the construction, keeping the contractual obligations and the highest market standards for health safety environment and quality (HSEQ)."
The SST-Aruá was built in Guarujá (SP). The tugboat has 24 meters in length, 11 meters in beam and a bollard pull of 71tonnes. The project has been designed by Damen Shipyards.
"Again, we are very satisfied with this cooperation, with the quality of the vessel and with the commitment of WilsonSons shipyard in the anticipation of these deliveries, which will begin to operate in the port of Santos," said Pieter van Stein, CEO SAAM SMIT Towage Brasil.
Next to this delivery, in total two in 2017, WilsonSons shipyard has another four tugboats in their order book for delivery up to 2019, being two tugboats for SAAM SMIT and another two for Wilson Sons Rebocadores.
About Wilson, Sons
Wilson Sons, through its subsidiaries, is one of Brazil's largest providers of integrated port and maritime logistics and supply chain solutions. With a business track record of over 180 years, the Company has developed an extensive national network and provides a comprehensive set of services related to domestic and international trade, as well as to the oil and gas industry. Its principal operating activities are divided into the following lines of business: Port Terminals, Towage, Offshore Support Vessels, Logistics, Shipping Agency, and Shipyards.
Damen Shipyards Group
Damen Shipyards Group operates 33 shipbuilding and repair yards, employing 9,000 people worldwide. Damen has delivered more than 6,000 vessels in more than 100 countries and delivers some 180 vessels annually to customers worldwide. Based on its unique, standardised ship-design concept Damen is able to guarantee consistent quality.
Damen's focus on standardisation, modular construction and keeping vessels in stock leads to short delivery times, low 'total cost of ownership', high resale values and reliable performance. Furthermore, Damen vessels are based on thorough R&D and proven technology.
Damen offers a wide range of products, including tugs, workboats, naval and patrol vessels, high speed craft, cargo vessels, dredgers, vessels for the offshore industry, ferries, pontoons and superyachts.
For nearly all vessel types Damen offers a broad range of services, including maintenance, spare parts delivery, training and the transfer of (shipbuilding) know-how. Damen also offers a variety of marine components, such as nozzles, rudders, anchors, anchor chains and steel works.
Damen Shiprepair & Conversion (DSC) has a worldwide network of sixteen repair and conversion yards of which twelve are located in North West Europe. Facilities at the yards include more than 50 floating and (covered) drydocks, the largest of which is 420 x 90 metres, as well as slopes, ship lifts and indoor halls. Projects range from the smallest simple repairs through Class' maintenance to complex refits and the complete conversion of large offshore structures. DSC completes around 1,350 repair and maintenance jobs annually, both at yards as well as in ports and during voyage. www.damen.com
The products and services herein described in this press release are not endorsed by The Maritime Executive.