Wärtsilä New Biogas & Liquefaction Solution for Gas BioLNG Facility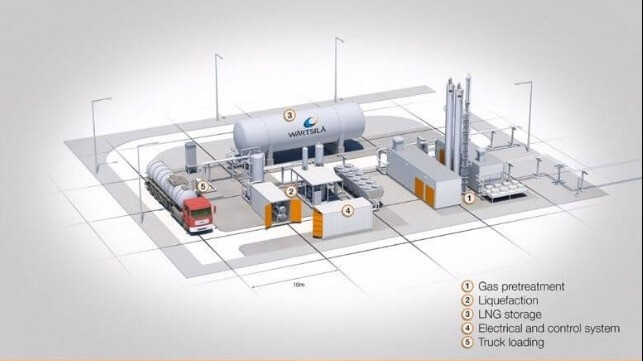 [By: Wärtsilä]
Technology group Wärtsilä will deliver the know-how and equipment for a significant Swedish bioLNG project. The Wärtsilä solution will upgrade the biogas from agricultural waste and then liquefy it into high quality bioLNG. The installation has been ordered by Gasum AB and it will be located at the company's facility near Götene, Sweden. The order was booked by Wärtsilä in May 2023.
When operational, the Wärtsilä offering will be capable of producing 25 tons of bioLNG per day. BioLNG is formed by purifying biogas by removing hydrogen sulphide (H2S), carbon dioxide (CO2) and water vapour before it's liquefied at -160 °C. It has the same calorific value and other properties making it usable as an environmentally sustainable fuel fully compatible with fossil LNG.
"Götene biogas plant project is very important to us. It is the first of our five large biogas plant projects in Sweden in the coming years. After thorough and extensive procurement phase we were happy to conclude the deal with Wärtsilä. We have high expectations on the equipment and service, and are confident that Wärtsilä will meet those," stated Eero Lallukka, Senior Manager, Procurement at Gasum.
"Wärtsilä's corporate strategy is focused on decarbonising our customers' operations. Our biogas upgrading and liquefaction capabilities in support of this bioLNG facility are fully in line with this commitment. We look forward to supporting Gasum as they work to expand their operations in promoting green fuel alternatives," commented Rolf Håkansson, Business Development Manager, Biogas Solutions, Wärtsilä Gas Solutions.
The full Wärtsilä scope of supply includes the delivery, installation and commissioning of the upgrading and liquefaction equipment. Delivery is planned for August 2024, and the facility is expected to be fully operational at the beginning of 2025.
Wärtsilä Gas Solutions is a market leader with innovative systems and lifecycle solutions for the gas value chain. Our main focus areas are the handling of gas in seaborne transport (storage, fuel, transfer and BOG management), gas to power, liquefaction and biogas solutions. We help our customers on their journey towards a sustainable future through a focus on lifecycle performance, innovation and digitalisation.
The products and services herein described in this press release are not endorsed by The Maritime Executive.