Vigor Successfully Completes USS Michael Murphy (DDG 112)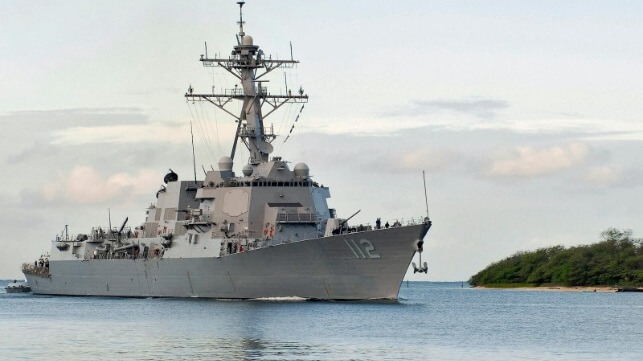 [By: Vigor]
Vigor, a Titan company, successfully completed a nine-month docking selected restricted availability (DSRA) on USS Michael Murphy (DDG 112), returning it to service on-schedule. This is the third DSRA Vigor has completed at Pearl Harbor since 2021. This contract was awarded to Vigor after a successful challenge last year.
"Vigor's completion of USS Michael Murphy in Hawaii is the latest testament to the company's ability to deliver projects successfully," said Adam Beck, Executive Vice President of Ship Repair for Vigor. "This is the third DSRA the company has completed at Pearl Harbor, and our skilled workers have demonstrated they are well equipped to carry out their work safely and with a high standard of quality."
Nearly 100 Vigor employees devoted approximately 75,000 hours to executing the DSRA, overhauling machinery, repairing the underwater hull, and implementing significant renovations to the ship's superstructure.
Vigor previously competed DSRAs for USS Wayne E. Meyer (DDG 108) and USS William P. Lawrence (DDG 110) at Pearl Harbor, both of which were completed ahead of schedule.
"We are proud to play an important part in supporting our national defense, and grateful for our longstanding partnership with the U.S. Navy," said Beck. "This critical work not only ensures military readiness, it also supported dozens of family wage jobs."
As USS Michael Murphy returns to active service, several other Navy ships are actively undergoing maintenance at Vigor's other locations. USS Cape St. George (CG 71) and USS John Paul Jones (DDG 53) are at Vigor's Harbor Island facility in Seattle, WA, and USS Tulsa (LCS 16) is currently undergoing a DSRA at Swan Island, the company's shipyard in Portland, OR.
For more information, please visit http://www.vigor.net
The products and services herein described in this press release are not endorsed by The Maritime Executive.