Vane Brothers Announces New Tug and Barge
Vane Brothers, a premier marine transportation provider headquartered in Baltimore, Maryland, recently added two newly constructed vessels to the company's growing fleet: the 4,200-­horsepower tugboat Philadelphia and the purpose-­built asphalt barge Double Skin 510A.
Primarily tasked with towing petroleum barges engaged in the North Atlantic coastwise trade, the Philadelphia is the fifth of eight 4,200-­horsepower, model bow tugboats contracted by Vane Brothers through St. Johns Ship Building in Palatka, Florida. The first in the series, the Elizabeth Anne, was delivered in January 2016, while the sixth in the series, the New York, is scheduled for completion this summer.
The DS-­510A, with a 53,000-­barrel cargo capacity, is the second new-build asphalt delivered to Vane Brothers by the Conrad Deepwater South shipyard in Amelia, Louisiana. The first was the DS-­509A, which was put into service in July 2015.
"Vane Brothers' New Vessel Construction Program is a commitment we keep to our customers and our mariners to invest in the safest, most modern and efficient fleet," says Vane Brothers President C. Duff Hughes. "We remain very pleased with the quality of tugboats coming out of St. Johns Ship Building and the barges being built by Conrad."
Designed by Entech Designs, LLC, the Philadelphia measures 100 feet long with a 34-­foot beam and 13-­foot draught. She utilizes two Caterpillar 3516 Tier 3 ("A" Rated) engines, each generating 2,100 horsepower at 1,600 rpm. Two John Deere PowerTech 4045, 99 kW generators deliver service power to the boat; a third John Deere 4045 drives the Intercontinental DD200 towing winch. All Elizabeth Anne Class tugs feature the newest SIMRAD Electronics package installed by Rhodes Electronics. Comfortable accommodations are available for up to seven crewmembers.
With an overall length of 361 feet (110.03m) and a 62-­foot (18.9m) beam, the DS-­510A double-­hull tank barge utilizes a sophisticated thermal heating system that keeps asphalt at approximately 300 degrees Fahrenheit so that the highly viscous liquid flows more easily. The DS-­510A operates at a pumping rate of 8,000 barrels per hour (bph) with a loading rate of 10,000 bph. Along with transporting asphalt, which is primarily used for road construction, roofing and other building applications, the barge is generally suited for moving heavy oil products.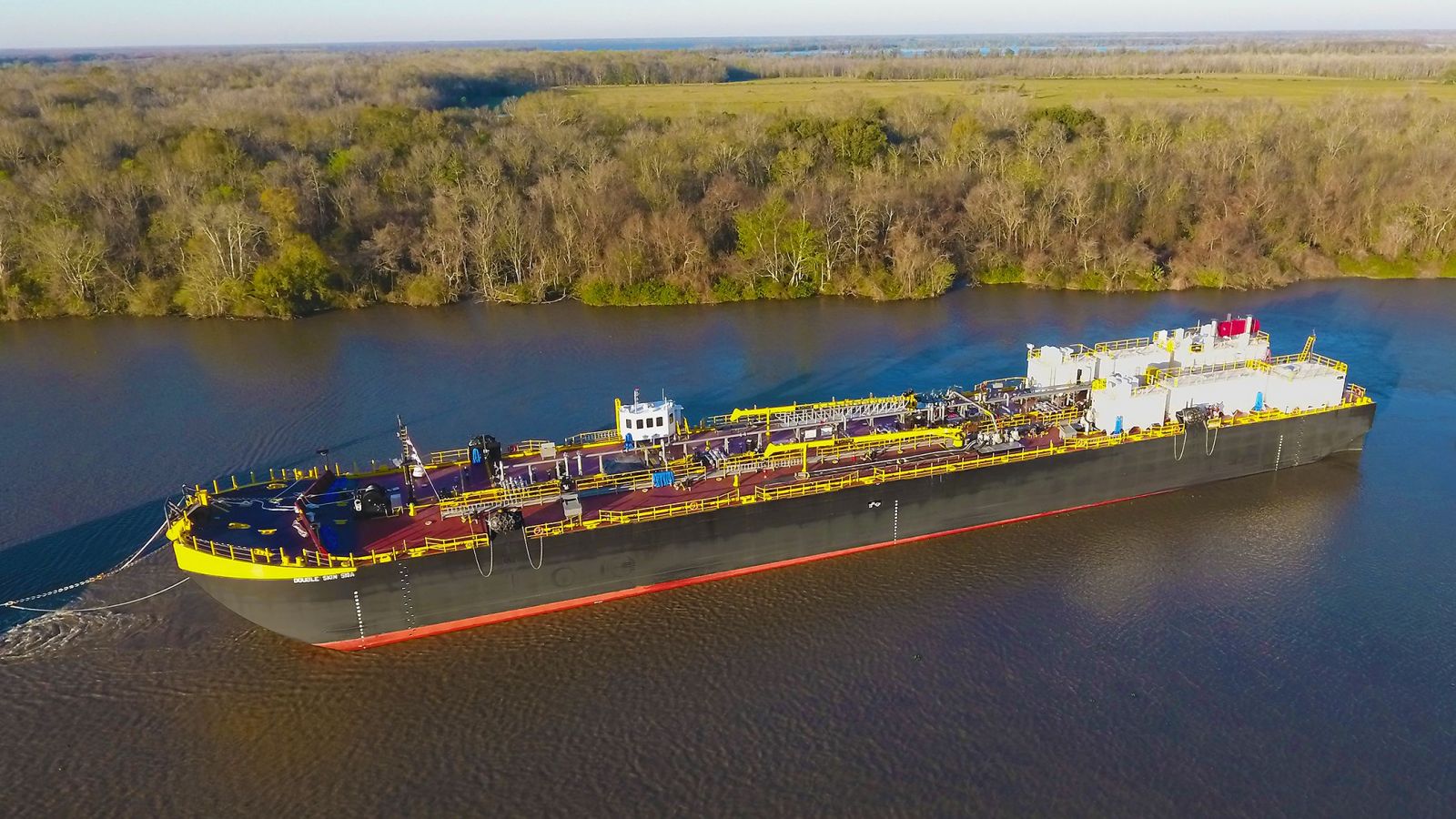 The products and services herein described in this press release are not endorsed by The Maritime Executive.