Valleyfield Receives Government Funding to Expand Port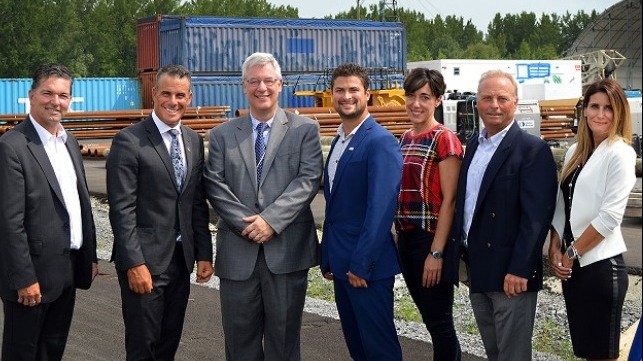 The Port of Valleyfield has announced receipt of a nearly $3.5 million grant from the Québec Government. This financial assistance is part of Stream 1 of the Support Program for Marine Transportation Infrastructure Investments: Marine and Intermodal Infrastructure in Freight Transportation.
The Honorable Huntingdon MP, Minister Responsible for Small and Medium-Sized Enterprises, Regulatory Reduction and Regional Economic Development, Stéphane Billette, made the announcement Wednesday on behalf of the Minister of Transport, Sustainable Mobility and Sustainable Development. Electrification of Transport, Andre Fortin. The total cost of this project is estimated at $7,251,780.
"The Maritime Strategy aims to stimulate economic growth in the regions through the sustainable development of the marine sector. I am always very happy to see this goal translated into real investments by our government. This is the case for the Port of Valleyfield which will see its facilities improved and its services improved," said Jean D'Amour, Minister Delegate for Maritime Affairs.
Director general, Jean-Philippe Paquin said, "The Port of Valleyfield is very grateful for the contribution from the Quebec government. The government has made a strategic commitment to the maritime sector and port infrastructure; an investment that will support economic development for many years while helping to reduce the environmental impacts of our transportation activities. This contribution will help us implement our development plan, which includes an increase in accessible paved staging and warehousing capacities already underway.
"The project will also increase our security gate and truck weighing capacity improving cargo throughput, and finally our berth #8 project, which increases our berthage capacities and allow us to more efficiently accommodate the increasing size of general cargo ships now entering the seaway.? The port eagerly awaits confirmation regarding the berth #8 project from both the federal and provincial governments."
Maritime services provider, Valport has kept pace with these advancements adding significantly to their cargo handling equipment and cargo management automation. President, Valport Maritime Services President, Frank Dunn remarked, Canada's largest "small" port just got larger which has dramatically enhanced our capacity and productivity. New bulk and project cargo clients are amazed at our growth and ability to accommodate their projects. It's a great time to be in this business.
The products and services herein described in this press release are not endorsed by The Maritime Executive.