Trimline Completes HMS Queen Elizabeth Project
Southampton based marine interior specialist Trimline has completed a conversion of the Wardroom and Flag Dining Room on board HMS Queen Elizabeth.
Undertaking the project soon after the ship's arrival in Portsmouth, the team from Trimline took just three weeks to transform the two public spaces on board the ship into areas that will enhance the ship's role as the United Kingdom and the Royal Navy's flagship around the world.
The Commanding Officer of HMS Queen Elizabeth, Captain Jerry Kyd said: "HMS Queen Elizabeth is principally a fighting ship but her diplomatic role in carrying the flag for the nation is also vital. Trimline's impressive transformation of the Wardroom and Flag area will significantly enhance our ability to promote the U.K. and further extend its influence around the world. These areas will also act as home to Ship's officers who are deployed away from their families for many months at a time."
By working closely with the ship's staff and MoD, Trimline created a design concept and specified all furnishings, fittings and equipment to enhance the space, making it more fitting for the defense diplomacy role that the ship will undertake in the future.
Trimline Chairman, Gary Oliver said: "We were delighted to be invited to undertake such an important project. Trimline is a company with strong British values and to work on board the newest and largest warship ever built for the Royal Navy was a huge privilege. We believe the results truly befit the important role the ship will play for many years to come."
Some of the main features of the project were the main bar and a specially commissioned copy of the ships crest which forms the centerpiece of the walkway in the entertainment space.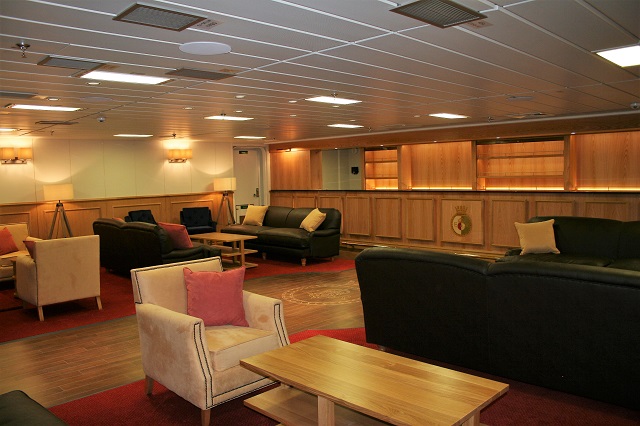 The products and services herein described in this press release are not endorsed by The Maritime Executive.