Shipshave Opens Athens Office as springboard makes splash in Mediterranean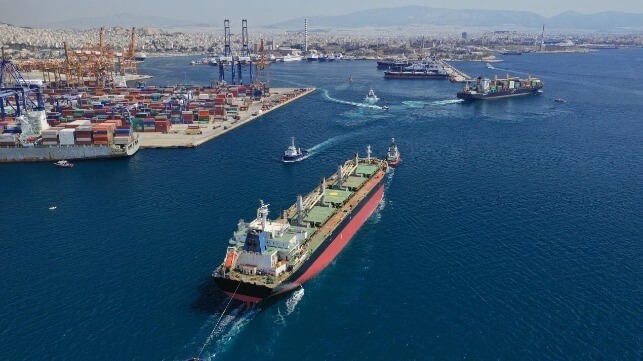 [By: Shipshave]
Shipshave is expanding its global reach by opening a new regional office for the Mediterranean in Athens to better serve clients at the strategic maritime hub in response to growing demand for its innovative in-transit cleaning of hulls (ITCH) solution.
The Norwegian technology company has established a local presence to be close to this important market as Greek ship owners operate a large part of the world fleet and have vessels that are in the ideal operational segment for the ITCH system, according to Shipshave CEO Aage Hoejmark.
The Athens office will be led by newly appointed Sales & Marketing Director for the Mediterranean, Argyris Michaletos, who boasts a strong maritime background along with a well-established and extensive contact network in the region.
Boots on the ground for local interaction
"We are confident Argyris will be a valuable addition to our team who will help to boost our interaction with both the Greek and wider Mediterranean markets," Hoejmark says.
"By establishing an office in Athens with our own staff, rather than acting through an agent, we are signalling that we are here for the long term and that we want to work closely with local owners and operators to help them enhance the operational efficiency and environmental performance of their fleets."
Shipshave has documented significant fuel savings from successful trials of its cutting-edge technology on several ships for major shipping clients including Stolt Tankers, Teekay Tankers and Klaveness Combination Carriers.
The ITCH solution comprises a semi-autonomous hull-cleaning robot that is deployed from a portable winch on deck by the crew and uses soft brushes that swipe up and down the hull underwater to remove fouling during the voyage in an operation that takes about five hours for a Handysize.
Proactive cleaning of the hull reduces drag in the water and thereby improves hull performance to cut fuel consumption and emissions, while also avoiding offhire for hull cleaning and saving time on port turnarounds to expand the operational window of a vessel.
Conference slot on voyage optimization
"This makes the tool an enabler for voyage optimization, which is a hot topic as ship owners and operators pursue operational measures to increase fuel efficiency to meet the requirements of CII as well as the EU ETS set to be implemented for shipping from 2024," Hoejmark says.
The Shipshave CEO will be highlighting the benefits of this technology in a presentation at the Ship Navigation and Voyage Optimization Summit in Athens on 1-2 November to coincide with the opening of the new office.*
Hoejmark says being located in the Greek capital can give Shipshave increased business development potential through access to a vast network of shipping companies, suppliers and professionals.
"The proximity to key players in the industry facilitates stronger partnerships, streamlined logistics and faster decision-making processes. Additionally, being in the heart of the shipping industry fosters market intelligence, enabling Shipshave to stay ahead of trends and competitors," he says.
"Moreover, the physical presence in Athens enhances the company's credibility and trust among local and international clients. This hub provides an invaluable platform for networking, collaboration and expanding the client base."
Strategic ramp-up
Hoejmark believes the move positions Shipshave for substantial growth and success in the maritime sector as the company has seen a surge of industry interest for the ITCH solution in the Mediterranean and elsewhere that underscores its market appeal and potential. "Its innovative features and adaptability have captured the attention of businesses and individuals alike," he says.
The establishment of the Greek office is seen by Shipshave as a platform for a wider strategic ramp-up to be present in the world's major shipping centres in line with the growth ambitions of the Stavanger-based start-up, which also has a Singapore office covering Asia Pacific.
"In order to grow fast, we need to be able to recruit global talent. We are also aware it is important to be close to both new and existing customers by having a local market presence. Optimal deployment of our technology to deliver our clients' objectives depends on close cooperation with the customer," Hoejmark concludes.
The products and services herein described in this press release are not endorsed by The Maritime Executive.