Second Vroon W2W Vessel Completes Modifications and Outfitting at Damen Shiprepair Oranjewerf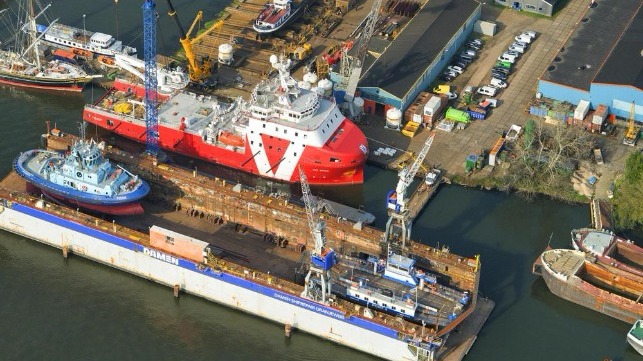 Damen Shiprepair Oranjewerf (Oranjewerf) has completed final outfitting and modifications on a second subsea-support walk-to-work (W2W) vessel for Vroon Offshore Services (VOS). VOS Stone was built at Fujian Southeast Shipbuilding in China before coming to the Netherlands for completion. This follows a similar project successfully completed in July this year at Oranjewerf, involving sister ship VOS Start.
The eight-week programme for VOS Stone involved a wide range of activities, including installation of a 50-tonne active heave-compensated, knuckle-boom crane, along with taut-wire, RadaScan, and Hipap from Kongsberg for the vessel-positioning system, a boat landing and system for fuelling crew-transfer vessels (CTV).
"We were very pleased to welcome VOS Stone following the very positive experience with VOS Start," said Jeen van der Werf, Commercial Manager at Damen Shiprepair Oranjewerf. "Based on the experiences gained from VOS Start, and working with the same expert in-house team and group of sub-contractors, the target completion date was achieved with no compromises to our very high standards."
Damen, and Damen Shiprepair Oranjewerf in particular, has a strong and long-standing relationship with the Vroon Group. The yard offers a skilled and experienced workforce, operating from excellent facilities that include a 135m floating dock. VOS Stone is the fifth new vessel that Vroon has entrusted to Oranjewerf for final outfitting after construction in China. Both companies can be proud of the completed VOS Stone, a vessel now able to guarantee fast and efficient execution of complex projects in the offshore Renewable and Oil & Gas industries."
Vroon's Newbuilding Department commented, "It was a pleasure to be back with our number-five vessel, VOS Stone, for completion prior to entering the market. It was great to see the various teams working together in such a smooth and professional manner. This yard has again reached a high standard when it comes to timely and efficient cooperation between owner and yard."
VOS Stone has been purpose-built to support offshore operations in the Renewable industry and walk-to-work projects in the Oil & Gas industry. The vessel has already been awarded a contract by VBMS, a subsidiary of Royal Boskalis to support inter-array cabling operations at the Arkona Offshore Windfarm, located in the Baltic Sea off the coast of Germany, during the first half of next year. In summer 2018, the vessel will undertake operations for EON, working on commissioning of the wind turbines at the same Windfarm.
Damen Shipyards Group
Damen Shipyards Group operates 33 shipbuilding and repair yards, employing 9,000 people worldwide. Damen has delivered more than 6,000 vessels in more than 100 countries and delivers some 180 vessels annually to customers worldwide. Based on its unique, standardised ship-design concept Damen is able to guarantee consistent quality.
Damen's focus on standardisation, modular construction and keeping vessels in stock leads to short delivery times, low 'total cost of ownership', high resale values and reliable performance. Furthermore, Damen vessels are based on thorough R&D and proven technology.
Damen offers a wide range of products, including tugs, workboats, naval and patrol vessels, high speed craft, cargo vessels, dredgers, vessels for the offshore industry, ferries, pontoons and superyachts.
For nearly all vessel types Damen offers a broad range of services, including maintenance, spare parts delivery, training and the transfer of (shipbuilding) know-how. Damen also offers a variety of marine components, such as nozzles, rudders, anchors, anchor chains and steel works.
Damen Shiprepair & Conversion (DSC) has a worldwide network of sixteen repair and conversion yards of which twelve are located in North West Europe. Facilities at the yards include more than 50 drydocks; conventional, floating and covered, the largest of which is 420 x 90 metres, as well as slopes, ship lifts and indoor halls. Projects range from the smallest simple repairs through Class' maintenance to complex refits and the complete conversion of large offshore structures. DSC completes around 1,350 repair and maintenance jobs annually, both at the yards as well as in ports and while vessels are at sea. www.damen.com
The products and services herein described in this press release are not endorsed by The Maritime Executive.