Seafarers Face Uphill Battle as Happiness Index Shows Decline in Q2 2023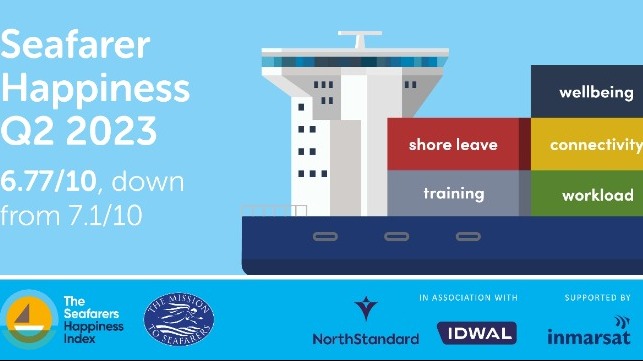 [By: The Mission to Seafarers]
The Mission to Seafarers has published the latest Seafarers Happiness Index (SHI) report for Quarter 2, 2023, revealing a notable decline in overall happiness. The survey, conducted in association with NorthStandard and Idwal, supported by Inmarsat, measures the wellbeing of seafarers worldwide through ten key questions about their work and life. The latest report shows an overall fall in seafarer happiness from 7.1/10 to 6.77/10, compared to Q1 2023.

In Q2 2023 (April to June), happiness levels declined across all question areas, with the most significant drops observed in general crew happiness, shore leave, and workload, showing an approximate 8% decrease. Average seafarer happiness levels have now declined from a high of 7.69/10 in Q4 2022 to 7.1/10 in Q1 2023, and now 6.77/10 in Q2. In another marked contrast to previous years, happiness levels have not risen over the course of the calendar year.

In this reporting period, seafarers expressed their struggles at not yet seeing working and living conditions fully return to pre-pandemic standards, particularly in areas such as crew changes, time spent on board, wages, and shore leave. Other key issues raised by respondents included unmanageable workloads, limited internet access, and inadequate gym facilities.

The COVID-19 pandemic exposed significant challenges for seafarers, including crew change delays, extended time on board, and declining wages, leading to worsened working conditions. Despite emerging from the pandemic, returning to pre-COVID conditions for seafarers has been difficult, causing frustration among those who work at sea.

A major concern was the shortage of available drinking water. This requires immediate attention, as it was a common problem from those responding to the survey, despite this being explicitly covered by the Maritime Labour Convention (MLC).

Rising global food prices have also impacted seafarers, with low company meal budgets and expense cuts leading to insufficient food supplies, sometimes for periods of up to 2-3 weeks.

Seafarers face limited opportunities for shore leave due to ongoing restrictions and company policies, negatively affecting mental health, job satisfaction, and welfare, leading to boredom, frustration, and low morale. Shockingly, some respondents have never experienced shore leave in their careers. Calls for standardised protocols and more shore leave opportunities persist. This issue needs to be addressed to provide seafarers with opportunities for rejuvenation and recreational activities ashore.

The lack of work-life balance and violations of work and rest hours are also common concerns, violating the MLC's provisions. In addition, seafarers are concerned about their wages, with some reportedly being paid only once during their time on board, with subsequent periods considered "gaining experience" without payment, akin to modern slavery. Stagnation of wages in some companies over 15 years led to a significant discrepancy between compensation and workload. This underscores the need for fair and timely adjustments to wages, reflecting the true value of their contributions to the industry.

In conclusion, the Quarter 2 2023 Seafarers Happiness Index report shows that seafarers are facing significant challenges, leading to further decline in their satisfaction with work and life at sea. Improving their wellbeing requires addressing these issues.

The Revd Canon Andrew Wright, Secretary General of The Mission to Seafarers, said: "The Seafarers Happiness Index is a vital resource that allows us to gain invaluable insights into the wellbeing of seafarers and the evolving challenges they face. We are grateful to all seafarers who participated in the survey and shared their experiences, which helps us advocate for meaningful changes on the issues that matter most to them.

"It is extremely disappointing to read of contracts being altered or disregarded, leading to payment issues, salary cuts, rising taxes, and increased living costs, as well as such fundamental requirements such as good quality meals, access to shore leave and manageable workloads. All seafarers are fully entitled to expect fair compensation for their hard work, dedication and commitment to keeping international shipping moving. It is incumbent upon all of us to address these issues and make the improvements required to enhance seafarers' working conditions, wellbeing and job satisfaction."

Thom Herbert, Idwal Senior Marine Surveyor and Crew Welfare Advocate, commented: "We at Idwal are deeply concerned by the findings of The Mission to Seafarers' Q2 2023 Seafarers Happiness Index report, which highlights the continued decline in overall happiness among seafarers worldwide. Struggles with working and living conditions, crew changes, time spent on board, wages, and shore leave are particularly disheartening. Issues like unmanageable workloads, limited internet access, and inadequate gym facilities further exacerbate hardship but we are particularly troubled to hear of a lack of available drinking water. All these findings underscore the urgent need for industry-wide efforts to improve the wellbeing of seafarers."

Capt Yves Vandenborn, Head of Loss Prevention Asia-Pacific at NorthStandard, added: "NorthStandard is concerned about the frustrations voiced by seafarers as the Seafarers Happiness Index has fallen for a second consecutive time in 2023. The report spotlights issues in areas such as crew changes, stagnant wages, increased workloads, and limited access to shore leave. Happiness levels falling across all categories signals a sustained drop in positivity and the responses from seafarers paint a worrying snapshot of the conditions they are experiencing. The club will continue to raise awareness of the key issues in a bid to enhance seafarers' working conditions, overall wellbeing, and satisfaction within the maritime industry."

Addressing Seafarers' Challenges and Next Steps
The Mission to Seafarers, together with industry partners, is committed to using the Seafarers Happiness Index as a crucial tool to highlight seafarers' challenges and improve their welfare. A recent Executive Roundtable on Crew Welfare, held during Singapore Maritime Week 2023, brought together industry leaders, ship owners, managers, and charterers to identify effective solutions for seafarers' challenges and well-being.

The next phase of the initiative will take place during London International Shipping Week in September 2023, where further progress will be made in transforming feedback into concrete action.

The Mission to Seafarers will continue to address the issues highlighted in the SHI report. By working together with industry leaders, ship owners, managers, and charterers, the Mission aims to find actionable solutions that enhance seafarers' overall well-being, safety, and quality of life.

To read the full Seafarers Happiness Index report for Q2 2023, click here.
The products and services herein described in this press release are not endorsed by The Maritime Executive.