RMK Merrill-Stevens Adds New Marine Electronics Division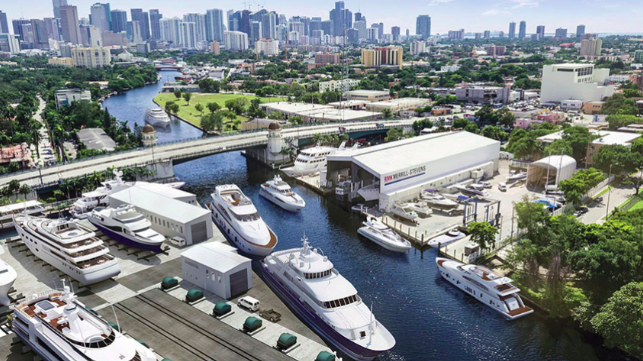 Florida's first shipyard, RMK Merrill-Stevens, is adding a new Electronic Systems Division to the company as technological advances continue to integrate into the DNA of vessels of all sizes. To lead the new wing of the shipyard, the company has hired experienced electronic systems integrator David Gratton, who will oversee and manage the division.
Gratton is a new RMK Merrill-Stevens employee with a long, successful track record in the electronics industry. Gratton's career in electronics began in 1980 upon entering the U.S. Air Force. David later worked on the environmental testing of NASA components for Teledyne Systems Company. Gratton has specialized in navigation, communications, and audio-visual, IT/networking, and PLC systems for commercial and recreational vessels. "With David's experience and knowledge in engineering and electronics, RMK Merrill-Stevens can now offer something that is unique to our shipyard," says RMK Merrill-Stevens CEO Aaron Leatherwood.
Among his qualifications and experience, Gratton has an FCC General Radio Operators License (GROL) with radar endorsement. He served on the board of the National Marine Electronics Association for 11 years participating in the development of its standards and education programs. He also served as the Board Chairman of the NMEA from 2011-2013. Gratton is currently studying for his Project Management Professional certification.
With the addition of Gratton, Leatherwood announced that RMK Merrill-Stevens will expand their electronic systems, engineering and technical service offerings. New services available for superyacht owners, captains and crews will include navigation and communications systems, entertainment and control systems, IT, networking systems, lighting systems, and PLC and vessel monitoring systems. The division will concentrate on process driven, well managed projects, with a focus on service after the sale.
During the Miami Yacht Show, which took place February 14-18, RMK Merrill-Stevens created a Refit Center exhibit with the help of partners. In the Refit Center, RMK Merrill-Stevens new partners met and spoke with owners and captains about their electronics systems, answered questions, and discussed the new division of the company. Partners, including Savant, Böning USA, e3 Systems, Kymeta Corporation, Volvo Penta, Nautic Alert, Future Automation and James Loudspeaker, will offer RMK Merrill-Stevens clients additional expertise and high-quality products and services in a wide range of electronic disciplines, from security to navigation.
RMK Merrill-Stevens seeks to become the refit center in Miami, and has taken another step in that direction by adding Gratton and the new Electronic Systems Division. The division is just one part of the new RMK-Merrill Stevens shipyard, which is expected to add 100 new jobs after completing renovations later this year. The shipyard will feature expanded capabilities and welcoming amenities for owners, captains, crews and partners. New equipment will include a 2,700 Ton shiplift and "Old Glory," a 100 Ton travel lift for yachts under 100', which is now available.
The products and services herein described in this press release are not endorsed by The Maritime Executive.