Radio Holland and Thome Conclude Service Rate Agreement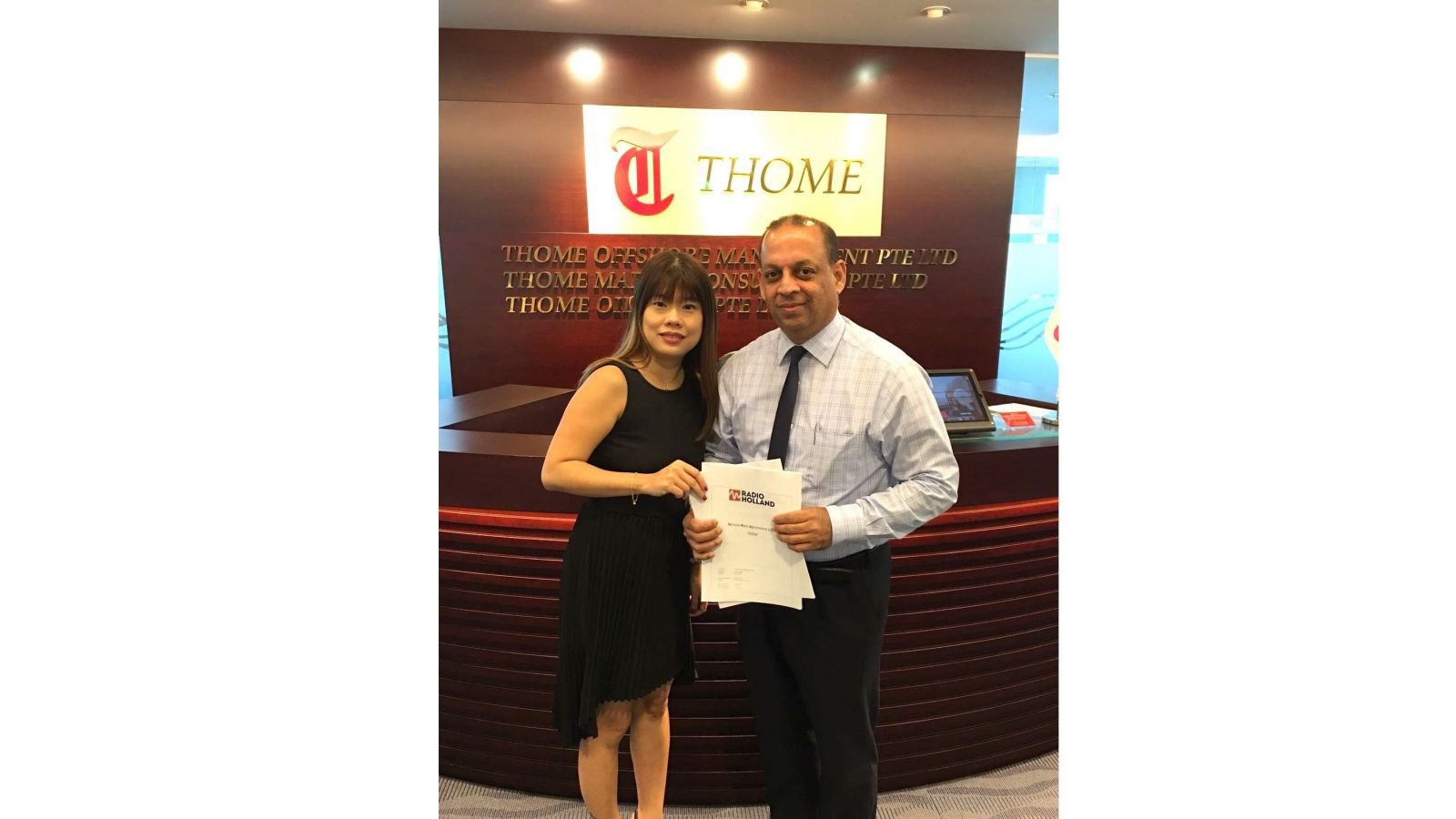 Thome Ship Management Pte Ltd and Radio Holland Singapore have concluded a Service Rate Agreement (SRA) covering the NavCom service and maintenance needs of its entire fleet of more than 200 vessels.
Headquartered in Singapore, Thome Ship Management has worked together with Radio Holland for many years. The two companies have now taken a next step to a new format of cooperation with the SRA, which includes everything from annual radio surveys to servicing bridge equipment, to the delivery of spare parts and on-the-spot troubleshooting.
Irene Yoong, Radio Holland Sales Manager Services, comments: "Thome Ship Management was looking for cost efficiencies in terms of managing the maintenance and repair of its global fleet. This SRA provides Thome with fixed rates, allowing them to have complete control of their maintenance spend and making it much easier to budget. They won't face unpleasant surprises through unexpected costs - the same rates apply worldwide. We also offer special package rates for annual and five-year surveys. This ability to preplan makes it possible to save a considerable amount of money."
Single Point of Contact
Under the SRA a Single Point of Contact (SPoC) is established. "Because Thome operates globally the SPoC was very important. This means that wherever the 200 vessels are in the world and the captain, chief engineer etc. has a maintenance/repair request they get in touch with their dedicated, Radio Holland coordinator in Singapore. The coordinator then talks to our technical team to make sure the vessel can be serviced in the nearest convenient port."
Radio Holland's global network of more than 80 stations was also a major reason Thome chose the company as its maintenance partner, Irene stresses.
Ryan Dalgado, Procurement & Supply Chain Manager of Thome Ship Management PTE Ltd., says: "Radio Holland has a large global network and enjoys a good reputation. We need a reliable partner we can call on to support our worldwide activities of our entire fleet. It is also convenient for us to have a local contact in Singapore, where we know the people and they help us wherever our vessels are in the world."
Fleet database
Today, Radio Holland has more than 5000 vessels under service contract. Paul Smulders, Radio Holland CEO, says these service contracts are highly valued by clients and offer several advantages. Crucially, the agreements give clients access to Radio Holland's unrivalled service network through one point of contact.
"And all the relevant service data is stored in a database to provide up-to-date status information on the fleet's equipment. Radio Holland can flag surveys that are coming up or when parts need to be replaced. It can warn the ship operator well before any expiry dates Thus, Radio Holland can offer advice to the owner in order to achieve the lowest cost of ownership during their lifetime."
The products and services herein described in this press release are not endorsed by The Maritime Executive.