Okskaya Sudoverf Launches Barge, Lays Keel for Bulker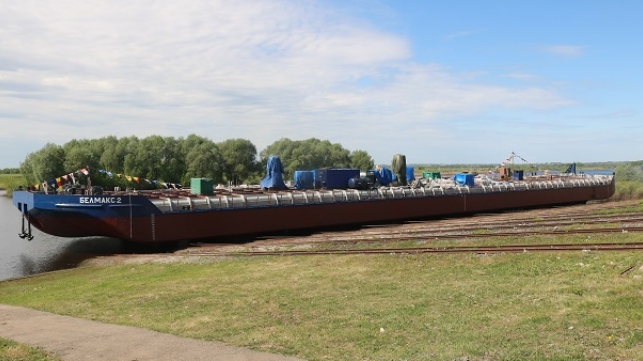 Okskaya Sudoverf Shipyard (a company of UCL Holding) held two landmark ceremonies – launching of the second barge of Project ROB20, Belmax 2, and keel-laying of the first dry cargo carrier of Project RSD32M (Hull No 3201) in a series of eight ships. The vessels were ordered by PAO STLC for OOO Belmax Shipping Company and OOO Navis 1.
The ceremony was attended by representatives of the customer, administration of the Navashino District, business partners and employees of Okskaya Sudoverf as well as the locals. Gleb Nikitin, head of the Nizhny Novgorod Region, was the guest of honor at the ceremony.
First, the shipyard held the ceremony of launching the Belmax 2, second non-self-propelled barge of Project ROB20. Irina Safonova, deputy head of the contract management department at STLC's Legal Issues Directorate, was honoured to be Ship Sponsor at the ceremony.
Upon completion of the launching ceremony the guests had a tour around the hull production workshops to see the ship construction process from metal cutting and processing to assembling of the sections as well as the work of new state-of-the-art machinery and equipment acquired as part of the modernization undertaken by the shipyard in the recent years.
The tour was followed by the keel-laying of the first dry cargo carrier of Project RSD32M.
Vladimir Kulikov, Director General of Okskaya Sudoverf shipyard, commented: "It is an important day for Okskaya Sudoverf. Due to the efforts of the cohesive team and introduction of advanced technologies, Okskaya Sudoverf has moved to a new level and today's events confirm that. Once again, the personnel has fulfilled its task successfully and proved its ability to simultaneously build two vessels of different designs".
Project ROB20:
Non-self-propelled barges of Project ROB20 are intended for transportation of petroleum products with a flashpoint of 610C and above. Heavy fuel oil is the key cargo. The contract for construction of the barges was signed on 31 October 2017. The keel-laying was held on 30 November 2017.
Project RSD32M:
Dry cargo carriers of Project RSD32M are intended for transportation of general and dry bulk cargo (including grain), bundled sawn timber, round timber, metal scrap, bundled and coiled metal, heavy and oversized cargo, coal, hazardous cargo of class 1, 2, 3, 4, 5, 6.1, 8, 9 and category "B". The contract was signed on 30 November 2017. Projects designer is Marine Engineering Bureau.
The products and services herein described in this press release are not endorsed by The Maritime Executive.