Occupational Health & Safety Onboard e-Learning Course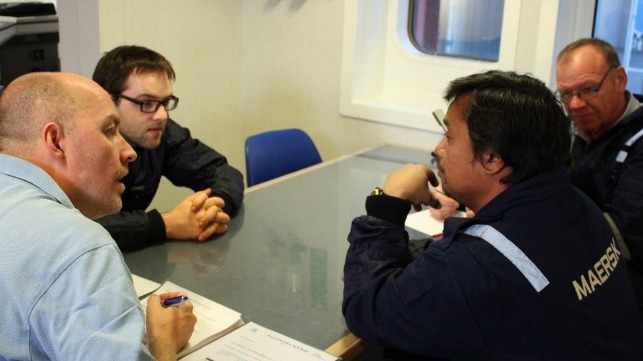 Seafarers can now undergo training on Occupational Health and Safety on board their respective vessels using a new on board course.
SEA HEALTH & WELFARE and Seagull Maritime AS together have developed the new onboard course for members of the safety committee. This course covers the basic international requirements laid down under the Maritime Labour Convention, 2006, Regulation 4.3 – Health and safety protection and accident prevention and Guidelines for implementing the occupational safety and health provisions of the Maritime Labour Convention, 2006, Section 5.7.
The Danish Maritime Authority has approved this course for Danish-flagged vessels.
The objective of this course is to give seafarers the necessary training and knowledge required to carry out their duties as a member of the safety committee. The course will connect theory and practice, in cooperation with fellow seafarers on board to promote a safe and healthy working environment on ships. Thus, making a positive, sustainable footprint by reducing the need to travel and accommodate for courses ashore.
The course is available for purchase by shipping companies for their respective ships from August 6, 2018. For more details about the course and prices, please click here.
Watch the appetizer here:
Credit: Sea Health & Welfare and Seagull Maritime AS
About SEA HEALTH & WELFARE
SEA HEALTH & WELFARE continually seeks to improve the occupational safety, health and welfare of seafarers and contribute to a safer and more efficient maritime working environment. Our aim is to share knowledge and best practice in the industry. Established to support Danish-flagged ships, SEA HEALTH & WELFARE has been internationally recognised for offering solutions and guidance relating to on board issues. This global standing has led, in recent years, to seafarers and shipowners worldwide accessing SEA HEALTH & WELFARE knowledge and services.
It is an independent non-profit body, based in Greater Copenhagen, Denmark with the principal aim of advancing occupational safety, health and welfare, making the working environment of one of the world's oldest and most vital industries, fit for purpose in the 21st Century.
About Seagull Maritime AS
Seagull Maritime AS is the leading provider of e-learning and competence systems for seafarers worldwide and offers a comprehensive library of training and onboard courses for regulatory compliance and improved seafarer knowledge.
Founded in 1996 by experienced mariners Seagull Maritime has grown into a dynamic company in partnership with leading shipping companies to deliver a full range of assessment and management tools.
Seagull Maritime's solutions are used by more than 10 000 ships and office installations around the world.
Seagull Maritime is headquartered in Horten, Norway and has offices in Tokyo, Singapore, Hong Kong, Greece, Germany, Poland and UK.
The products and services herein described in this press release are not endorsed by The Maritime Executive.