Oaktree Acquires Consolidated Chassis Management
Newly capitalized intermodal equipment service provider well-positioned for next stage of growth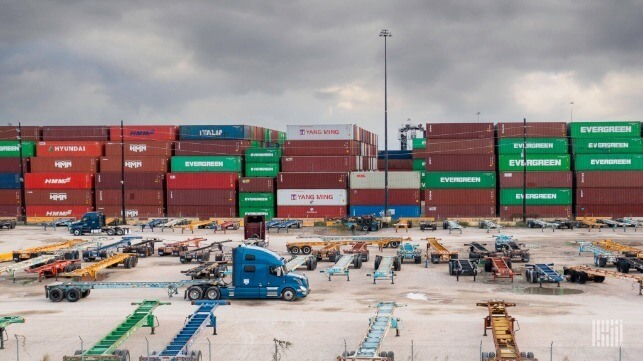 [By: Consolidated Chassis Management]
Consolidated Chassis Management LLC ("CCM" or the "Company"), a leading manager of marine chassis pools in the U.S., announced today its acquisition by funds managed by the Transportation Infrastructure strategy of Oaktree Capital Management, L.P. ("Oaktree"). CCM has been owned since its inception by the Ocean Carrier Equipment Management Association, Inc. ("OCEMA"), an association of 10 major international container shipping companies. Under its new ownership, CCM will have a significantly expanded capital base providing the financial support it needs for the successful launch of the new South Atlantic Consolidated Chassis Pool ("SACP 3.0"). The SACP 3.0 chassis pool began operations on October 1, 2023. CCM will serve as the exclusive manager and sole chassis provider for SACP 3.0 under a long-term management and supply agreement with South Atlantic Consolidated Chassis Pool LLC ("SACP"), an OCEMA affiliate.
"We are enthusiastic about the prospects of our new partnership with the Oaktree Transportation Infrastructure team, who bring deep understanding and experience in the U.S. maritime and intermodal sectors," said Mike Wilson, CEO of CCM. "With Oaktree's backing, CCM will be very well-positioned to carry out the innovative vision of the Ports and OCEMA to create the largest truly interoperable chassis utility in the country."
"The new pool's high service standards and entirely rejuvenated fleet will benefit all stakeholders for the next decade and beyond in this dynamic and fast-growing region," said Jeff Lawrence, Executive Director of OCEMA. "This unique public private partnership represents the next frontier in the evolution of the chassis paradigm in the U.S."
SACP 3.0 is being established cooperatively by OCEMA, Georgia Ports Authority, Jacksonville Port Authority, North Carolina State Ports Authority, SACP, and CCM. The newly reconstituted pool will offer more than 45,000 new and refurbished chassis to truckers, beneficial cargo owners, ocean carriers and other users. SACP 3.0 will be one of the largest fully interoperable chassis pools in the U.S., with more than 75 locations in Alabama, Florida, Georgia, North Carolina, and South Carolina. The pool's interoperability and on-dock location provides meaningful ESG benefits to its users including fewer chassis moves, better terminal fluidity, shorter motor carrier wait times, and as a result, reduced truck GHG emissions. As the pool's manager, CCM will oversee the increase and upgrade of the existing South Atlantic Consolidated Chassis Pool fleet with new and refurbished marine chassis to better service the area's major regional ports and key intermodal inland hubs. New chassis have already begun arriving at the Ports of Savannah, Jacksonville, and Wilmington.
"We are thrilled to be working with the port authorities, our ocean carrier customers and the CCM management team in forging this one-of-a-kind partnership to improve supply chain efficiency and provide a more robust and sustainable chassis pool in the U.S. South Atlantic region," said Emmett McCann, Managing Director and Co-Portfolio Manager of Oaktree's Transportation Infrastructure strategy. "This investment is firmly aligned with our conviction in the long-term growth of the U.S. intermodal sector, and we welcome the vision of CCM, the Ports of Savannah, Jacksonville, and Wilmington, and OCEMA in creating SACP 3.0."
"This new ownership represents a significant milestone that supports our commitment to delivering exceptional service within the supply chain industry to all of our valued stakeholders," Wilson added. "Our partners can expect continued excellence, increased value, and dedication to achieving our high-quality standards."
InterPro Advisory LLC and Strategic Rail Capital served as financial advisors and consultants to OCEMA.
The products and services herein described in this press release are not endorsed by The Maritime Executive.