HM King Harald V Of Norway Salutes American Shipyard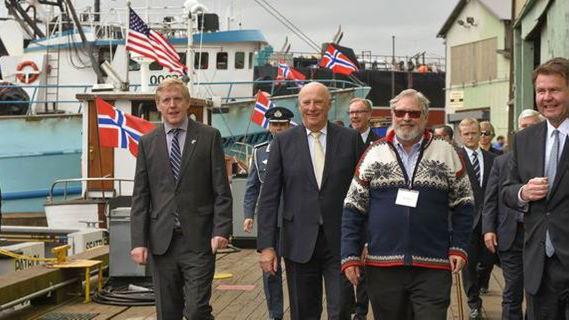 About 100 fishermen gathered to meet and greet Norway's HM King Harald V at the Pacific Fishermen Shipyard in Seattle, Washington. The fishermen are Norwegian American pioneers of the Bering Sea and Gulf of Alaska fisheries.
HM King Harald V and the fishermen dined on traditional Norwegian fare prepared by PacFish. The scrumptious spread included Alaskan Pollock, Ballard Oil style aldar, smoked Alaskan Salmon, cod, scallops and King Crab. The spread was supplied by Trident Seafoods, Glacier Fish, American Seafoods and Icicle.
And they also enjoyed beverages provided by local Norwegian-heritage distilleries, Old Ballard Liquor, Scandinavian Specialities, Bad Jimmy's Brewery, Work Wear, Inc., and Gård Vintners.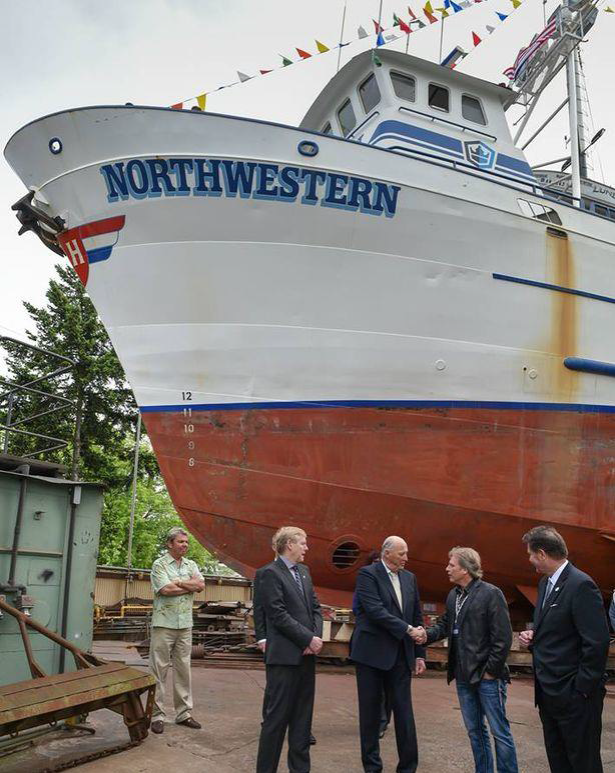 Captain Sig Hansen of TV's Deadliest Catch with Captain Ernie Svasand, the Ambassador and Consul
The Pacific Fishermen Shipyard was chosen as the location for this event because of its rich shipping history and Norwegian tie. Founded in Norway in 1825, the shipyard has employed a slew of famous shipbuilders such as Thomas J. King, who founded the King and Winge Shipbuilding Company in Seattle.
The shipyard has operated out of Seattle, Washington since the 1870's. At the time, it was known as the T.W. Lake Shipyard and was later renamed the Seattle Shipyard & Ballard Marine Railway. In 1946, 400 Norwegian-heritage fishermen purchased the Seattle Shipyard & Ballard Marine Railway as a co-op style shipyard and was renamed the Pacific Fishermen Shipyard.
Today, Pacific Fishermen Shipyard maintains the experienced shipwrights, machinists, boilermakers and electricians at their Lake Washington Ship Canal facility on the freshwater side of the Ship Canal Government Locks. The experienced caulkers on staff in their oakum loft are a diminishing resource in the wooden boat trades. The shipyard specializes in repair and maintains three environmentally contained haul out facilities equipped for the rapid start of off-site work using a City of Seattle roving fire permit for onboard welding and hot work.
The products and services herein described in this press release are not endorsed by The Maritime Executive.