Newport Shipping Signs LOI with ZEME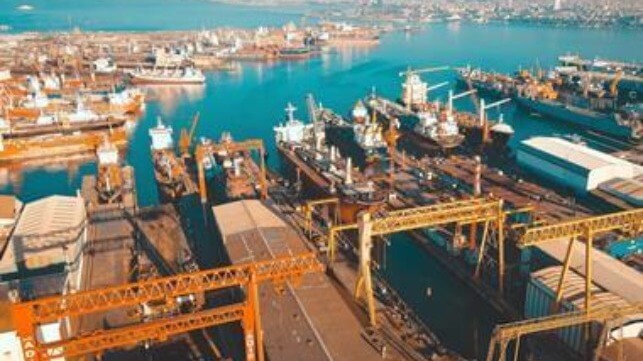 [By: Newport Shipping]
Newport Shipping has signed an LOI with Zhejiang Energy Marine Environmental Technology Co., Ltd. (ZEME), part of Zhejiang Energy Group that will broaden Newport Shipping's offering in environmental solutions.

As a leading state-owned energy enterprise in China, Zhejiang Energy Group has consistently placed emphasis on environmentally friendly and low-carbon development. ZEME developments are environmental solutions such as scrubbers and methanol and alternative marine power (AMP).

The LOI sets out an agreement with Newport Shipping to help it develop sales base leads. Newport Shipping will be working in a two-way relationship in that Newport Shipping will provide its full project management service and access to its 16 partner yards across the globe for projects and in turn help ZEME grow its own market outside of China, whilst providing ZEME's environmental solutions to its clients.

As shipowners look to cut emissions one of the offerings that will be of particular interest will be the AMP that will help vessels meet with requirements for docking in all European ports, which require vessels to be connected to shore-based power whilst they are in port. Lianghui Xia, Managing Director, Newport Shipping comments: "We are excited to join forces with ZEME. ZEME already has a strong presence among reputable shipowners. Newport Shipping is well-known for its extensive service expertise and global yard network. The strategic cooperation between the two companies can greatly expand the service range for our existing and new clients. We have a good working knowledge of how ZEME works and the reputation of the business."

Methanol is also another offering that Newport Shipping will be exploring with ZEME. Already the Chinese-based energy solution provider is seeing increased interest in the fuel along with its other solutions. On the growth of methanol as a potential future fuel, Lianghui Xia notes: "Methanol is now getting popular in China and also around the world."

As part of its offer of green tech solutions to the market ZEME also produces scrubbers. Adding to this Newport Shipping offers a scrubber retrofit solution to its customers. ZEME has an aggressive growth strategy with over 450 scrubbers sold to major maritime players over the past five years. Last year, ZEME takes about 25% share of scrubber retrofitting projects completed around the globe. Teaming up with Newport Shipping the companies see that it will be a growth market for the future.
Ms. Juan Wang, Deputy General Manager, ZEME comments: "It is ZEME's ambition to be a global market leader when it comes to providing solutions for decarbonization of the shipping industry. Having a strategic partner like Newport Shipping will enable us to greatlyextend our market reach and scale up our service offerings towards a wider range of client base."

Overall, the agreement will help build and expand upon the businesses whilst collaborating and sharing services that will be beneficial for the shipping market that is looking to operate more environmentally friendly vessels both now and in the future.
The products and services herein described in this press release are not endorsed by The Maritime Executive.