MSC World Europa Maiden Call to Valletta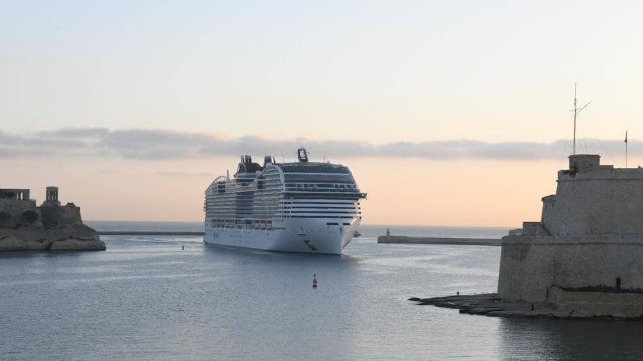 The Port of Valletta welcomed MSC World Europa for the ship's maiden call to the capital of Malta as part of her inaugural 7-night West Mediterranean itinerary..
The vessel is the largest in MSC Cruises fleet and the first to be powered by liquefied natural gas (LNG), one of the world's cleanest marine fuels available at scale, to minimize her environmental footprint.
The maritime tradition of a Crest Exchange to celebrate a ship's first visit to a destination took place on board between the Master of the Vessel, Captain Dino Sagani, and the CEO of Valletta Cruise Port, Stephen Xuereb.
The line also welcomed nearly 200 guests on board MSC World Europa, including Malta's Minister for Tourism Clayton Bartolo and other government officials, plus local tour operators and travel agents, to experience MSC Cruises' ninth vessel to be registered in Valletta first-hand.
The 215,863 gross tonne ship can accommodate up to 6,762 passengers and will visit Valetta with weekly calls throughout summer 2023, winter 2023-24 and summer 2024 during 7-night cruises to Italy, Spain, and France.
Angelo Capurro, Executive Director, of MSC Cruises, said, "Malta has been an integral part of our operation for nearly 25 years, and we have brought hundreds of thousands of holidaymakers to visit this wonderful island. We will continue to bring even more guests to Valletta in the future, and we are very proud that MSC World Europa, an ultramodern metropolis at sea, will be a weekly visitor for at least the next 18 months at her port of registry."
Stephen Xuereb, COO of Global Ports Holding, and CEO, of Valletta Cruise Port, added, "We are proud today to welcome another splendid MSC Cruises' ship for the first time to our grand scenic harbor, MSC World Europa. Valletta Cruise Port will host her this year on a further 36 calls as part of her inaugural Mediterranean season until May 2024 and throughout next year she will call Malta on another 52 occasions. MSC Cruises is the key cruise line calling Valletta, and it is our pleasure to collaborate continuously with MSC, a relationship which has, over the years, left an enduring mark on an evolving cruise industry. On behalf of both Valletta Cruise Port and Global Ports Holding, we congratulate MSC Cruises on its achievements and look forward to many more years of fruitful cooperation."
The ship, from an environmental perspective, is equipped with shore power plug-in connectivity to reduce carbon emissions in port, the most advanced wastewater treatment systems designed in line with the United Nations' shipping body, the International Maritime Organization, comprehensive waste recycling, underwater radiated noise management system to help limit disturbance to marine life and a comprehensive range of onboard energy efficient equipment to optimize engine use and hotel energy needs to reduce emissions further.
MSC World Europa is also equipped with a pilot solid oxide fuel cell (SOFC) that could be a key to unlocking significant environmental sustainability gains in the future.
The 150-kilowatt (kW) demonstrator uses LNG to produce electricity and heat on board using an electrochemical reaction and not by combustion – the way that energy is typically created on cruise ships. The cell is also compatible with possible new sources of low-carbon fuels such as green methanol, liquid hydrogen and bio or synthetic LNG.
MSC World Europa currently is MSC Cruises' most efficient ship in the fleet, with 46 percent less greenhouse gas emissions per passenger per day than an average vessel delivered 10 years ago. The line's own analysis indicates the vessel to be the best performing large cruise ship, from an emissions point of view, operating in the world.
MSC Cruises' nine ships that are registered in Malta are MSC Seaside, MSC Seaview, MSC Meraviglia, MSC Bellissima, MSC Grandiosa, MSC Virtuosa, MSC Seashore, MSC Seascape and MSC World Europa.
The products and services herein described in this press release are not endorsed by The Maritime Executive.