MSC Euribia is Now Offering Fine Dining at Sea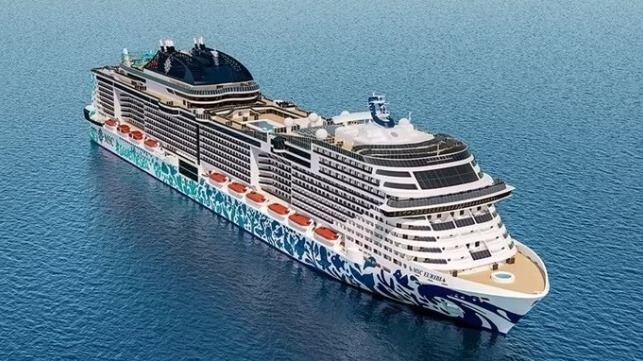 MSC Stepping Up Dining Experiences
• With new spaces and concepts complementing the already expansive Food & Beverage offering on board, MSC Euribia is a feast for the senses
• Helios Wine Bar to offer an immersive digital experience for the next generation of wine lovers
• Le Grill and Kaito Teppanyaki & Sushi Bar's "Robatayaki" offer guests new ways to discover international flavors

MSC Euribia will feature new gastronomic experiences for guests alongside well-known and beloved offerings. From steakhouses to sushi, cocktails to coffee, MSC Cruises' newest ship will offer a delicious variety of food and drinks for everyone.
The new flagship, launching this June, will include heightened experiences and new venues, further expanding the range of onboard eateries and bars. With immersive and informative experiences crafted to enhance the olfactory experience, such as Helios Wine Bar, a new kind of steakhouse, and a unique way to experience Asian cuisine, guests can expand their worldview with each bite.
Jacques Van Staden, Vice President of Food & Beverage, MSC Cruises, said: "We are always looking to anticipate the next big thing in food & beverage and with MSC Euribia, we wanted to offer venues that are unlike anything we have ever done before. The same culinary quality and exceptional service that define our offering will remain at the heart of the experience but will be brought to new heights. We want to offer our guests something to talk about, something to marvel at, and something to remember long after their cruise has ended. Whether through new recipes, venues, or engaging storytelling, our food & beverage offering will set your taste buds alight."

MSC Euribia will offer ten unique dining venues, including five specialty restaurants, five main dining spots, and 21 varied bars and lounges. Among these, new concepts to the fleet include:
Discover the Winemaking Journey
The immersive and digital Helios Wine Bar invites wine lovers to discover the story behind their glass of wine. Seated at state-of-the-art multi-touch tables activated by digital coasters, guests can dive into the history, grape varieties, wine-making regions, and more, learning everything there is to know about the drink in their hand. Providing something for everyone, the venue will offer a variety of 96 featured wines that are sure to delight all guests.

A selection of food pairings will also be offered for those who wish to indulge in cheeses, cured meats, finger food, and nuts, curated to complement each glass.
Throughout the cruise, Helios Wine Bar will host Masterclasses for guests to further expand their knowledge and return home as true wine connoisseurs.

A French Bistro Meets Steakhouse
Le Grill is an elegant new specialty restaurant that offers the quality, flavor and panache for French dining is famous. The new culinary destination is the quintessential French Brasserie centered around shared dishes, such as seafood platters, caviar and chargrilled aged and dry aged Black Angus beef from Meat by Linz. The elegant eatery will feature traditional dishes like Caesar salad, French onion soup, moules frites, blue lobster and fresh tagliatelle, roasted Rockefeller oysters, Dover sole Meunière and a selection of mouth-watering French desserts.
Le Grill is amplified by the perfect bar right outside that blends dessert, live music and fine art, giving the feeling that guests have stepped onto the streets of Paris.
New Flavors to Familiar Locations
Kaito Teppanyaki & Sushi Bar is a mainstay specialty restaurant on MSC Cruises' ships, offering the flavors of the Far East and featuring two teppanyaki grills to delight and entertain. Skilled chefs expertly flip seasonings and cutlery, all while preparing a delicious meal right before guests' eyes. The adjacent sushi bar offers a more intimate experience, with 40 sumptuous items made with the freshest and most carefully sourced ingredients. Combining the two restaurant styles creates a fun and interactive ambiance that will leave guests with new memories from their cruise experience.
For the first time on the MSC Cruises fleet, Kaito will offer a Robatayaki space featuring the Japanese barbecue-like method of cooking that combines seafood, meats and vegetables cooked at varying speeds. Combined with exquisite sushi and sashimi, the space offers large combos to share with signature Futomaki Uramaki (rolls) created by expert chefs and more!
Globally Inspired Menus
In addition to the specialty restaurants, MSC Euribia will also feature:
• The 1,336-seat Marketplace buffet offers a variety of flavors from around the world, including pizza served late and mozzarella made on board
• Main dining restaurants Colorado River, Green Orchid, and Il Campo, as well as sister restaurants Aurora Boreale and Aurora Borealis, offering complimentary meals for breakfast, lunch, and dinner
For guests looking to indulge their sweet tooth, Jean-Philippe Maury Chocolat & Café offers 40 chocolate products and biscuits. At the same time, the adjacent Crêpes & Gelato includes 17 flavors of ice cream and sorbet and ten types of signature crêpes.
The ship will also offer 21 bars and lounges, including five outdoor and 16 indoor, with a range of specialties, from the refined Champagne Bar to the adults-only Sky Lounge, where molecular cocktails can be enjoyed with a panoramic view.
https://www.msccruisesusa.com/
The products and services herein described in this press release are not endorsed by The Maritime Executive.