Michiel de Vliegher: "Choose the Right Software for Every Maritime Project"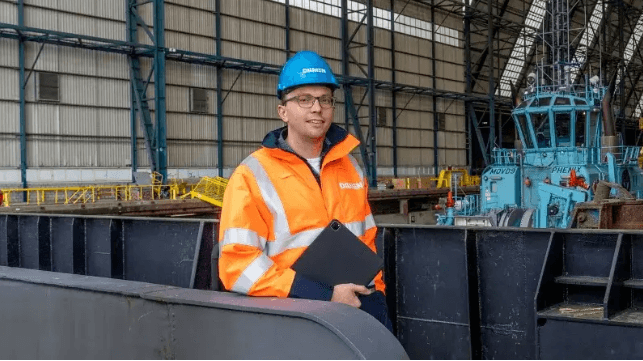 [By: Damen]
Since the beginning of his career, Michiel de Vliegher has been involved with data. One moment, he's working on making ships more sustainable, and the next, he's focused on improving shipbuilding processes. Since April of this year, he has been the Director of Damen Shiprepair Vlissingen. Together, we explore his experience with digitalisation and how he is making advancements in this area at his impressive shipyard. We also delve into the digital future. Will Artificial Intelligence (AI), for instance, be able to provide effective support for shipyards?
Intrinsic choice for the maritime sector
During part-time jobs at logistics companies, Michiel became captivated when delivering goods to large ships over 200 metres in length. Michiel states, "My choice for the maritime sector is intrinsic. I began my studies at the Maritime University of Applied Sciences because I was fascinated by the beautiful ships I saw during my youth. Often, someone knows someone who works on such ship and that's what ignites their enthusiasm. That wasn't the case for me. I found and still find those sailing steel giants truly magnificent. What a feat of engineering."

Search for real-time analysis software
After his studies, Michiel started as a project engineer at Vroon in Breskens and immediately tackled an intriguing assignment: "We were challenged to make ships more sustainable. The financial situation of the shipping industry was simply negative in 2008 and 2009. Sailing more sustainably was a great opportunity to save money. In collaboration with MARIN, we installed additional speed logs in the hull of a ship to gather more information about the influence of speed and other parameters on fuel consumption. This yielded a lot of information, but we lacked software to send real-time analyses to the bridge."

Good software is a matter of vision and 'leading the way'
Investments in software development are often costly. Michiel explains, "When it comes to software development, the maritime sector often waits until someone else takes the first step. It's logical, considering the substantial investments. Having a vision gives you the wider focus you need to achieve your goals. A clever move was forming a consortium to share costs and knowledge, making collaborative development possible. The result was a solid system that provided captains with tools to better understand the ship's operational profile and thereby reduce fuel consumption during voyages."

Adapting methods to software?
After several career steps, Michiel started as a project manager at Damen in Vlissingen in 2015. How did the digital landscape look at the shipyard at that time? "I began with Baan's ERP software. Later, other ERP packages with a stronger financial focus were introduced. It works perfectly for auditability and financial support. However, for project managers, it was initially less smooth due to additional process steps."

Choosing the right software for the job
Digital tools need to support the process. How does Damen in Vlissingen approach this now? "For smaller tasks, we are gradually developing a new approach where we can easily share documents with each other through a SharePoint environment. That suffices for small tasks. For larger, truly complex tasks, it becomes a significant challenge, and precise document control becomes a necessity. That's when we realise this approach doesn't sufficiently support the process. For this challenge, we use Shipbuilder Software as a handy tool to provide support."

The ultimate tool for complex projects: Shipbuilder Software
Shipbuilder Software offers all functionalities to manage large projects. As a contract-driven organisation, we need digital support for precise process steps during extensive and intricate projects. This tool takes care of that for us. In fact, it reduces our workload significantly. With just one click, we can update our clients on the status and send detailed reports of completed tasks. Shipbuilder Software prevents us from missing the mark."

Future vision: AI & Digital Twin as sustainable solutions
Regarding maritime digitalisation, Michiel sees substantial potential in the concept of a digital twin, and he's closely monitoring AI: "Tools like ChatGPT could be valuable additions to our work. However, these tools need to learn more about the complexity of the sector before we implement them.

"I'm also convinced that the Dutch maritime sector can stand out by providing a digital twin upon delivery. When it comes to repairs or refits, we can access and utilise all data in software like Shipbuilder Software. Subsequently, we can provide the digital twin. Currently, we often work based on estimations. That leads to a lot of wasted time, inefficiency, and compromises in sustainability. Consider, for instance, ordering too much or too little material, or having to do a lot of additional work within the same timeframe. It's a waste! A digital twin can truly set a customer apart. Onward to a digital, sustainable future."
The products and services herein described in this press release are not endorsed by The Maritime Executive.