Med Marine Successfully Delivered "Vernicos Scafi III" to Vernicos Scafi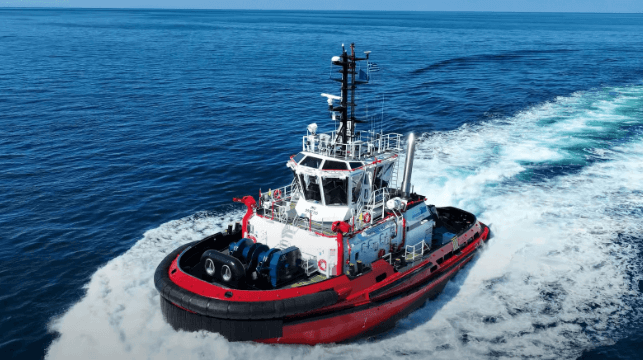 [By: Med Marine]
Med Marine is pleased to announce the successful delivery of a cutting-edge 25-meter, 75-ton bollard pull tugboat to Vernicos Scafi, marking a significant milestone in ongoing partnership. The contract for this remarkable vessel was signed in June, and today, Med Marine proudly unveil it to meet the growing marine demands of Vernicos at the busy port of Piraeus.
The MED-A2575 series Ramparts 2500w series tug was named Vernicos Scafi III. It symbolizes Med Marine's commitment to excellence. Vernicos Scafi III represents efficiency and reliability in harbor operations. Vernicos Scafi selected this vessel for its outstanding performance and unwavering dedication to safe and efficient marine solutions. This tug will serve as a testament to Med Marine's commitment to innovation and excellence in shipbuilding. It is equipped to handle the most challenging maritime tasks, ensuring seamless port operations for Vernicos Scafi.
Med Marine views this delivery as a cornerstone in their long-standing collaboration with Vernicos Scafi. The addition of "Vernicos Scafi III " to their fleet will significantly enhance their capabilities, enabling them to serve their clients even better.
This successful delivery underscores Med Marine's dedication to delivering top-tier vessels that exceed industry standards. We take immense pride in our craftsmanship and unwavering commitment to customer satisfaction.
Med Marine looks forward to further strengthening their partnership with Vernicos Scafi and exploring new opportunities to meet the ever-evolving needs of the maritime industry. This milestone reaffirms Med Marine's position as a global leader in shipbuilding and maritime solutions.
The tugboat's Specifications:
Length: 25.2 m
Breath: 12 m
Depth: 4.6m
Draft: 5.75 m
GRT: <400
Bollard Pull: 70
Speed: 11 knots
Main Engine: MTU / 16V4000M63
Total Power: 2x 2000 kW @ 1800 rpm
Emissions Standard: IMO TIER II
Azimuth Stern Drive: KONGSBERG / US 205S P20 FP
Propeller: 2800MM
Shafting: Composite Shaft
Accommodation: 7
The products and services herein described in this press release are not endorsed by The Maritime Executive.