Med Marine Hosts Keel Laying Ceremony for Port Qasim's Buoy Tender Vessel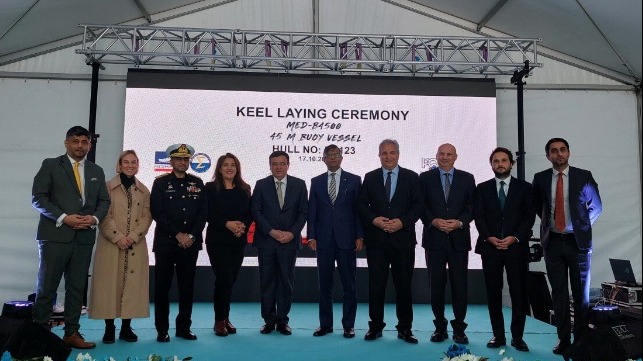 [By: Med Marine]
Med Marine, a leading shipbuilding company, celebrated a significant milestone on October 17, 2023, as it hosted a keel laying ceremony in honor of its esteemed client, Port Qas?m Authority. This ceremony marked the official commencement of the construction of a state-of-the-art buoy tender vessel, as part of a contract signed between Port Qasim and Med Marine in 2022.
The Buoy Tender vessel, designed by Seatech, is set to be an impressive 45 meters in length, specifically tailored to meet the growing demands of Port Qas?m Authority. This remarkable project brings together the collective expertise of Med Marine and the vision of Port Qas?m Authority, reaffirming their commitment to advancing maritime solutions.
The keel laying ceremony was a momentous event, attended by a distinguished gathering of individuals representing both Port Qas?m and Med Marine. Furthermore, Med Marine acknowledges and appreciates the presence of Mr. Owais, C.E.O. of Dynamic Engineering and Automation (DEA), Med Marine's local agency in Pakistan. His attendance at the event reinforces the strong partnership and collaborative spirit that define this project.
From Port Qas?m's side: Chairman of Port Qas?m R/Adm (R) Syed Hasan Nasir Shah and General Director of Port Qas?m R/Adm Shahid Ahmed.
From Med Marine's side: C.E.O. of Med Marine Mr. Hakan ?en, General Manager of YMN TANKER Mr. Yaman ?en,
General Manager of Med Marine Ms. Y?ld?z Bozkurt, Eregli Shipyard Manager Mr. Kemal Bekta?, and
Sales Director of Med Marine Ms. Melis Üçüncü attended the ceremony.
The ceremony also witnessed the presence of esteemed local authorities who graced us with their participation, including the District Governor Mr. Mehmet Yap?c?, Harbor Master Mr. Bülent Ta?demir, Chairman of Chamber of Commerce Mr. Arslan Kele?, and Chamber of Shipping Mr. O?uz Ünlüer. Their support and involvement in this ceremony underscored the importance of this project for the entire region.
Med Marine is confident that this collaboration will not only strengthen the ties between Pakistan and Turkey but also contribute to the growth and prosperity of the maritime industry in both nations. We were honored to have the Pakistan Embassy in Ankara's Deputy Head of Mission, Mr. Abbas Sarwar Qureshi, and Mr. Faraz Khan, Second Secretary, as distinguished guests at this momentous occasion.
The keel laying ceremony represents the beginning of a promising journey that will result in the creation of a vessel that will serve Port Qas?m Authority with excellence. Med Marine looks forward to completing this project successfully and delivering a world-class buoy tender vessel to our valued client, Port Qas?m Authority.
Technical Details of Buoy Tender Vessel:
LENGTH O.A. 45,00 m
BEAM, MOULDED 11,80 m
DEPTH, LEAST MOULDED 5,00 m
DESIGN DRAFT 3,70 m
FUEL OIL 150 m3
FRESH WATER 20 m3
COMPLEMENT 16 Persons
The products and services herein described in this press release are not endorsed by The Maritime Executive.