Latest Speakers Announced for Mid-Atlantic Ship Repair & Supply Summit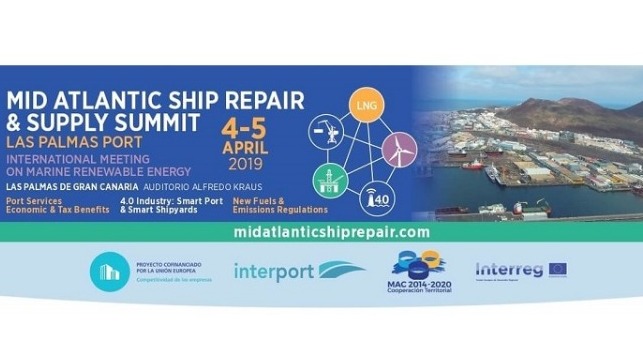 The latest speakers have been announced and the final program published for the Port of Las Palmas Mid-Atlantic Ship Repair & Supply Summit. The high-level international event for the ship repair and supply, smart tech, renewable energy, offshore and bunkering communities takes place in Gran Canaria, Spain from April 4-5, 2019. It will play host to several trade missions so that companies from Norway, Denmark, Sweden, the U.K. and Africa can connect with their counterparts in the Canary Islands and the rest of Spain.
The two-day event will explore changing market dynamics, regulations and technology for port service provision, ship repair and supply and outline new investment and business opportunities in Las Palmas. Key focus areas at the Summit include Industry 4.0 and Smart Shipyards, New Strategies within the IMO Emissions Regulation, Marine Renewable Energies and Port of Las Palmas: Incentives and Experiences.
The latest speakers to be confirmed include Ajay Kumar Verma, Senior Manager – Technical at Oman Shipping Company who will speak in Session III on the Middle East LNG Provision Strategy for 2020 Storm. In addition, Luiz Henrique Fabris, QHSE Manager at Edison Chouest Offshore (ECO), an American company which owns and operates a fleet of supply vessels and five shipyards, has been confirmed to speak in Session 2.
The event will feature the International Meeting on Renewable Energy, a special conference session organized in consideration of The Canaries' objective to have 45 percent of all its energy from renewable sources by 2025. The session will look at government strategies for marine renewable energies and show how the Port of Las Palmas can play a fundamental role in leading growth in this area for the whole of Europe.
The international forum has attracted trade missions from Norway, Denmark, Sweden, the U.K. and Africa, on the back of previous successes that companies have achieved working with the Port of Las Palmas. Rolls-Royce of the U.K. has recently spoken of its experience working with the Port, complimenting the outstanding facilities available and its strategic location. "Las Palmas has great infrastructure, an excellent supply chain and a highly skilled workforce, which are all essential for the type of work we do," a spokesperson for Rolls-Royce said.
"The Port of Las Palmas has a long history in innovation," said Juan José Cardona, President of Las Palmas Port Authority. "Not only do we have one of the most geo-strategic locations in the world, we are committed to providing the very best services for ships and logistics companies. Our upcoming Summit is a fantastic opportunity for global and regional operators, start-ups and researchers to discuss current challenges and opportunities and how we can all benefit."
The products and services herein described in this press release are not endorsed by The Maritime Executive.