KPI OceanConnect Greets Greek Executives at Alternative Fuel & EU ETS Forum
Leading provider of high-quality marine fuels and lubricants hosted more than 100 guests from the Greek market at an exclusive cocktail reception to discuss biofuels and carbon markets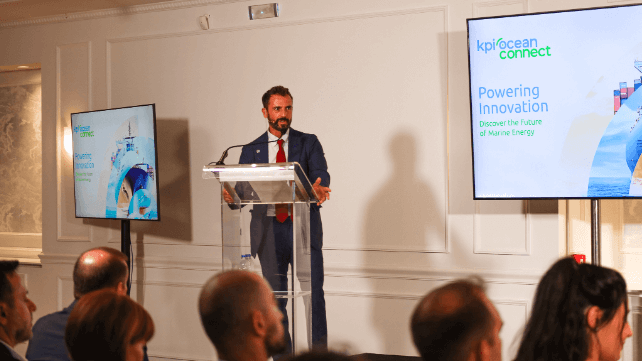 [By: KPI OceanConnect]
KPI OceanConnect, a leading global marine energy solutions provider, held its Alternative Fuels & EU ETS Forum for clients in Greece last Wednesday, where it brought together a line-up of marine energy experts to talk about biofuels, their regulation and adoption and their important role in helping the shipping industry comply with emissions regulations.
For the evening's seminar, speakers included KPI OceanConnect's Jesper Sørensen, Global Head of Alternative Fuels & Carbon Markets, and from Bunker Holding, Valerie Ahrens, Senior Director of New Fuels & Carbon Markets and Manja Ostertag, Head of Biofuels. They were joined by Maria Tzigianni of Bureau Veritas' VeriFuel.
The speakers presented on the range of biofuel products available to the marine sector and how the market for these products is shaped by the oil market, feedstock sectors such as agriculture, and regulations at national, regional and global levels. Delegates also learnt about pilot projects that had tested the performance of biofuels and measured how they would help ship owners and operators to decarbonise.
More than 100 guests braved challenging weather conditions to attend an evening at Golf Privé in Glyfada, Athens, and were welcomed by Michalis Manassakis, Managing Director, KPI OceanConnect Athens. Attendees followed a very interesting seminar and were also able to learn more about KPI OceanConnect's values and main activations through interactive touchscreen technology. After the seminar, they enjoyed networking and KPI OceanConnect's signature cocktail, which was also given to the guests as "green fuel oil sample" to take home and enjoy responsibly.
With EU ETS regulations coming into effect in the shipping industry on January 1st 2024, KPI OceanConnect's guests also heard about the important role that voluntary and regulated carbon markets would have in helping the shipping industry to decarbonise.
The shipping industry, vessel owners and operators in particular, face many important questions about decarbonisation, while ongoing innovation means the alternative fuels market is constantly moving. In its role as a leading provider of high-quality fuels, it is important that KPI OceanConnect shares its knowledge and expertise with its clients and customers.
Thanking guests for attending the evening, Michalis Manassakis commented: "It was a pleasure to host a frank and open discussion for so many of our friends in the Greek market and we are grateful to have had so many join us today. As the shipping sector tackles the decarbonisation challenge, it is important that we help our partners to understand the changes that are happening in the marine energy market. And that we work to build trust in the supply of products that will drive forward the energy transition in our sector."
The products and services herein described in this press release are not endorsed by The Maritime Executive.